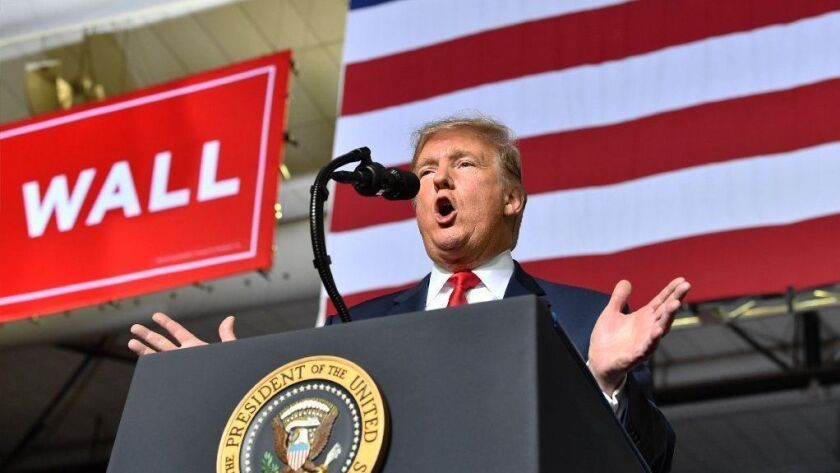 To the editor: President Trump "falsely told a raucous rally in El Paso on Monday night that he is already building a wall." But he also falsely insinuated that he cares if a wall is built.
President Clinton started the modern wall building with a section in San Diego. President George W. Bush dramatically increased the miles of barriers on the border, and President Obama completed the 654 miles of border barriers that exist today.
Trump is the only recent president who didn't extend the miles of border barriers. He even admitted that he had a $1.6-billion allocation for border wall construction last year and didn't spend it, blaming it on the contractors but not explaining why he didn't hire contractors who were capable of actually building barriers.
At this point, it's not clear what Trump wants besides noisy crowds and closed government offices.
Scott Peer, Glendale
..
To the editor: The fact that top Democrats in the Senate supported a bill in 2006 funding the construction of more than 600 miles of border wall, much of which was built under Obama, yet now approve of a mere 55 miles for Trump, tells us all we need to know.
Democrats in Congress are putting the safety and security of the American citizens subordinate to their overwhelming desire to block anything this duly elected president wants.
Rick Kern, Incline Village, Nev.
..
To the editor: Even this "garbage compromise" to prevent another partial government shutdown is an insult — to our southern neighbors.
It is like a slap in the face or the slamming of a door, implying that all Mexicans or Central Americans who want to enter the U.S. are criminals or potential criminals. If our Border Patrol is not effective enough to weed out likely terrorists, why does it exist?
In a world crying out for cooperation (as in the European Union), building a wall along our southern border at huge taxpayer expense would be a disgrace.
Peggy Aylsworth, Santa Monica
Follow the Opinion section on Twitter @latimesopinion and Facebook
---