Opinion: The L.A. Women's March: Exciting, empowering ... and polarizing?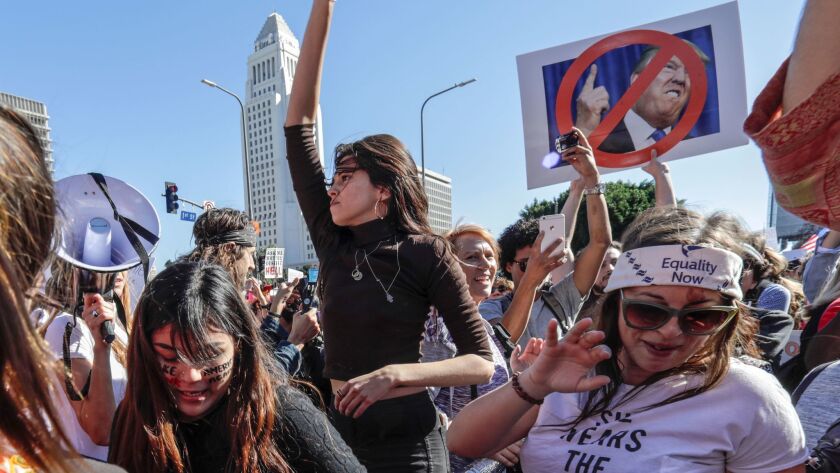 To the editor: The Los Angeles Women's March on Saturday was exhausting but exciting, fun and funny. ("At Women's Marches nationwide, setting sights on the ballot box and hailing #MeToo," Jan. 20)
I had fun reading the protest signs, congratulating those who made and carried them. The signs were mostly about women's issues, of course, but many also touched on LGBT rights, Dreamers and science. Some were absolutely profane; others were profound.
This year, more men were present. I saw more than a few babies wearing pink "pussy hats," and one father was pushing a stroller while wearing a sign saying, "I've got a lot of mansplaining to do for my daughters."
The Metro rail system was ready for us. There were food vendors along with sellers of hats, T-shirts, buttons and banners. Police officers were there and smiling, as were some construction workers on a job site who gave us a thumbs-up as we went by.
After a horrible year of President Trump's ineptness and nastiness, being with these marchers was healing. It reminds us that together, we can resist and we will not stand by silently while our principles and rights are violated. This is what democracy looks like.
Pam Wright, Pasadena
..
To the editor: I didn't attend the Women's March, even though I support women in our struggle for them to achieve their human rights. As I told my sister, I didn't want to be around all of that hostility toward men.
The slogan "the future is female" is the epitome of that hostility. It is unequivocally sexist. Long ago, during the radical 1960 and 70s, I supported the protests until I realized they were just another "Animal Farm."
With this slogan, that's happening again.
When one speaks of equality without speaking of everyone, it rings hollow. We need to work together to achieve our true potential.
Gregg Ferry, Carlsbad
..
To the editor: The Women's Marches have empowered women to speak out about being victims of sexual abuse. Lamentably, we continue to learn about such abuse, and it is disturbing to see the lack of respect our president has toward women.
As a woman who was a victim of sexual harassment and battery throughout my childhood and youth, I can attest to the fact that these experiences leave traumas that scar people for life. The ultimate suffering was having to live in silence about this abuse.
Movements such as the Women's March allowed me to build the courage to speak out and release myself from the chains that held me hostage for many years.
Mireya Torres, Hesperia
..
To the editor: I was not at the Women's March on Saturday, but I sure felt the passion, diversity, hope and cheerful chaos of the crowd thanks to your exceptional Page 1 photo.
Seeing the excited demonstrators in front of an iconic symbol of government power, L.A. City Hall, was a perfect expression of our democracy in action. Kudos to Los Angeles Times photographer Irfan Kahn.
James Regan, Carlsbad
Follow the Opinion section on Twitter @latimesopinion and Facebook
---
A cure for the common opinion
Get thought-provoking perspectives with our weekly newsletter.
You may occasionally receive promotional content from the Los Angeles Times.