Live
California politics updates: Gov. Brown blasts Trump on climate change, state lawmakers weigh in on hundreds of bills by week's end
Sen. Kamala Harris says she hasn't considered running for president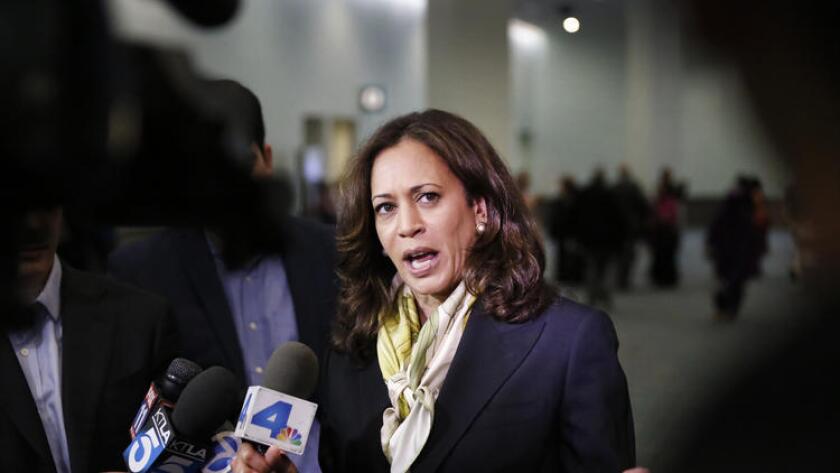 Despite swirling speculation, California's U.S. Sen. Kamala Harris said she's not giving "any consideration" to running for president in 2020.
Harris was appearing at the annual Code Conference hosted by the tech news site Recode in Rancho Palos Verdes on Wednesday night when site co-founder Kara Swisher asked if she had eyes on the White House.
"I'm not giving that any consideration. I've got to stay focused," said Harris, a Democrat who was elected to the Senate in November after serving as California's attorney general. After she won the seat vacated by former Sen. Barbara Boxer, Harris quickly gained a reputation as a potential presidential candidate in 2020.
Harris took questions from Swisher alongside Laurene Powell Jobs, a philanthropist and the widow of Apple founder Steve Jobs.
Though she brushed off the presidential rumors, Harris urged Democrats to try harder to make convincing arguments on issues such as climate change instead of just criticizing those who disagree with them.
She told the audience at the posh Terranea Resort where the conference is being held that it would be a mistake to dismiss the concerns of Americans who supported Trump in the November election. She said the issues that concern them — good jobs and the future of their families — are the concerns of all working-class Americans.
"There is a healthy number of people in our country who are feeling displaced, rightly," Harris said. "I think we have to deal with that."
Still, Harris dished out plenty of jabs at the Trump administration. She criticized Atty. Gen. Jeff Sessions for "resuscitating the war on drugs" and told him to "leave Grandma's medical marijuana alone." Harris also criticized the Trump administration's more hard-line immigration policies, and said she was concerned about allegations of collusion between Trump's campaign and the Russian government.
"These are serious times. These are not issues we can just sit around with a glass of Chardonnay debating and philosophizing about," Harris said. "The decisions that are being made right now are impacting real human beings."
Watch the entire interview: