California's Legislature convenes as a record number of Democrats settle in to govern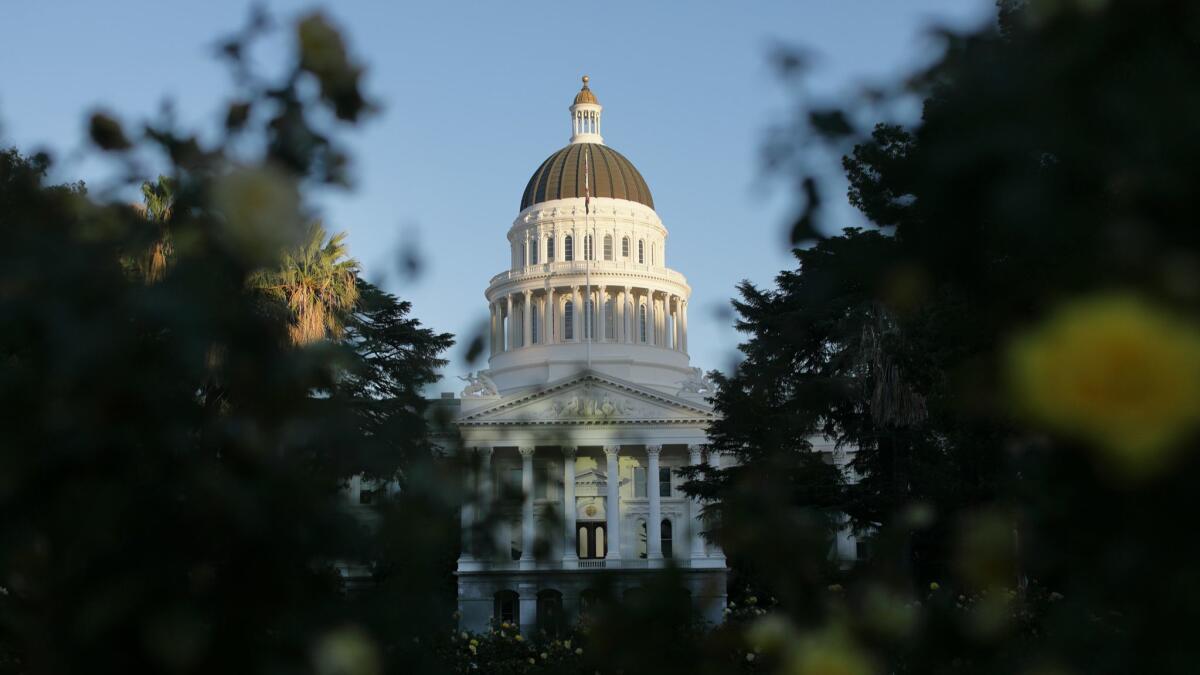 Reporting from Sacramento —
A bumper crop of Democrats convened Monday in the California Legislature, the largest group in the state's modern history, swept into office by an electoral flood that could create a significant change on big-ticket issues including healthcare and child poverty.
Sixty Democrats joined the Assembly, making up three-quarters of the lower house's membership and the party's largest caucus in the chamber since 1883. In the 40-member Senate, 29 lawmakers are Democrats, a high-water mark reached just once before in more than half a century.
Leaders of both houses urged their colleagues to move away from campaigning and toward governing, with a number of pressing issues to tackle in the two-year legislative session ahead.
"I challenge each of you to search within yourselves this session, to find the urgency we will need to match the tasks before us," Senate President Pro Tem Toni Atkins (D-San Diego) said in opening remarks.
How the historically large contingent of Democrats will govern alongside Gov.-elect Gavin Newsom, who takes office in January, is likely to depend on which issues they prioritize among the scores of bills formally introduced on Monday. Although some lawmakers represent decidedly liberal communities in California's sprawling urban landscape, others won in districts that were represented by Republicans as recently as the summer — in some cases, that GOP dominance spanned decades.
For Republicans, whose total legislative representation in the new session could fit inside a couple of passenger vans, the path forward could be challenging.
"I'd like to say that I surfed the blue wave and I landed on the shore, and I'm here to continue my work," Senate Minority Leader Patricia Bates (R-Laguna Niguel) said in remarks during the swearing-in session, drawing laughter from her colleagues.
Practically speaking, their small numbers will require each member to take on extra work to fill the GOP's allotted spots on legislative committees. More broadly, however, Republican legislators must search for relevance in policy debates where their votes aren't needed.
"I'm still going through the 12 steps of grief," Sen. John Moorlach (R-Costa Mesa) quipped.
Republicans must also decide how to interpret the election results — either as the product of a nationalized midterm election under an unpopular GOP president, or as a deeper repudiation of the party's brand and platform. One Republican, San Diego Assemblyman Brian Maienschein, took the oath of office without yet knowing whether he had retained his seat, his lead shrinking as votes continue to be counted.
Still, Monday's ceremonial kickoff to the legislative session — after which lawmakers adjourned until Jan. 7 — was marked by camaraderie, not confrontation. New lawmakers' family members mingled and hugged, posing for photos. Assemblyman Kevin Mullin (D-South San Francisco) brought his twin infants with him, wearing matching sweater vests; Sen. Benjamin Allen (D-Santa Monica) took the oath of office while holding a carrier with his newborn inside. Later, a number of lawmakers gathered with friends for private parties across downtown Sacramento.
One small change to California's wildfire prevention law could spark a huge political fight in Sacramento »
It was also an emotional day given the hardships many Californians are facing. Both houses acknowledged a number of deadly events in recent months. Newsom, presiding over the Senate for the final time as lieutenant governor, led the chamber in a moment of silence for those killed in the Camp and Woolsey fires.
Emotional, too, was the call for action in setting the agenda for the year ahead. Assembly Speaker Anthony Rendon (D-Lakewood) took aim at the oft-repeated maxim of California's "exceptionalism," telling lawmakers that poverty and the affordable housing crisis have tarnished the state's reputation.
"We cannot make housing affordable for the masses when the 1% are earning hundreds and thousands of times" what the average worker makes, Rendon said to applause.
Two Democratic senators announced an early effort on that front, introducing a bill to restore affordable housing funding for local governments that was lost when the state abolished redevelopment agencies in 2011.
"We have an opportunity to establish a renewed partnership between the state and cities, with strict accountability measures, to ensure more affordable housing gets built," state Sen. James Beall Jr. (D-San Jose) said in a written statement.
Others urged lawmakers to embrace the results of a far-reaching study released last month that called for $1.6 billion in additional spending to combat child poverty. A Fresno assemblyman, Democrat Joaquin Arambula, pledged to reintroduce a plan to extend Medi-Cal coverage to all California residents without legal immigration status. Both efforts would be expensive and could test the boundaries of a state budget that has ample cash reserves but has largely avoided the kinds of program expansions that would continue even in the presence of a recession and budget shortfalls.
"I think working people's issues have to be what we address," newly elected Sen. Maria Elena Durazo (D-Los Angeles) said, adding later that the resounding win for Democrats was "a call for government to fill human needs — and human needs means shelter, a place to live; it means that from a job you can do everything that you aspire to do."
Lawmakers also introduced bills to implement universal preschool and new mental health services in the state, and to extend the time to file workplace harassment claims. Another new proposal aims to bolster a spring ruling by the California Supreme Court that limited the power of companies to classify workers as independent contractors, ensuring a heated battle with the business industry.
And new gun-related laws were proposed a month after a mass shooting in Thousand Oaks, including a bill to tax the sale of semiautomatic firearms — the revenue would fund violence prevention programs in California. A second bill, vetoed in the prior session by Gov. Jerry Brown, would allow teachers, employers and co-workers to ask judges to remove guns from people they believe to be a danger to the public.
National politics were not completely absent during the opening events, though not as dominant a presence as it was in 2016 when Democrats were visibly shaken by the election of President Trump. Rendon chastised Trump during his speech Monday for the decision to send troops to the U.S.-Mexico border in response to immigration fears — what he said was an assignment "to do nothing but posture."
"My worst fears have not yet materialized, but the federal reality has been quite bad enough," Rendon said of Trump.
Members of the Asian Pacific Islander, Latino and Jewish legislative caucuses introduced a resolution that denounced a Trump administration proposal to restrict green cards for those likely to receive public assistance, calling it "classist" and "racist." Assemblyman David Chiu (D-San Francisco), chairman of the Asian Pacific Islander Legislative Caucus, said it would force "immigrant families to make impossible choices."
The newly elected members of the Legislature marked a few milestones just by winning office. Twenty-three women — more than one-quarter of the house — now serve in the Assembly, and all but two of them are Democrats. The Legislature, where brothers have served at the same time, now has its first sister act: Baldwin Park Democrats Assemblywoman Blanca Rubio and Sen. Susan Rubio. And with members now eligible to serve longer in a single house — a change brought about by a 2012 ballot measure — the Legislature is welcoming its smallest freshman class since after the 1988 election cycle.
Newsom, who will find himself sparring with many of the new members when he becomes governor, urged lawmakers to move quickly to the work at hand.
"Let us not forget why you are here. And that's not to be something, but to do something," he said.
Times staff writer Melanie Mason contributed to this report.
Sign up for our daily Essential Politics newsletter and listen to the weekly California Politics Podcast
---
UPDATES:
4:40 p.m.: This article was updated with additional quotes from lawmakers and details about proposed legislation.
This article was originally published at 2:15 p.m.
Get our Essential Politics newsletter
The latest news, analysis and insights from our politics team.
You may occasionally receive promotional content from the Los Angeles Times.