Brown sugar shortbread
Yields
Makes 4 dozen bars or 2 dozen wedge cookies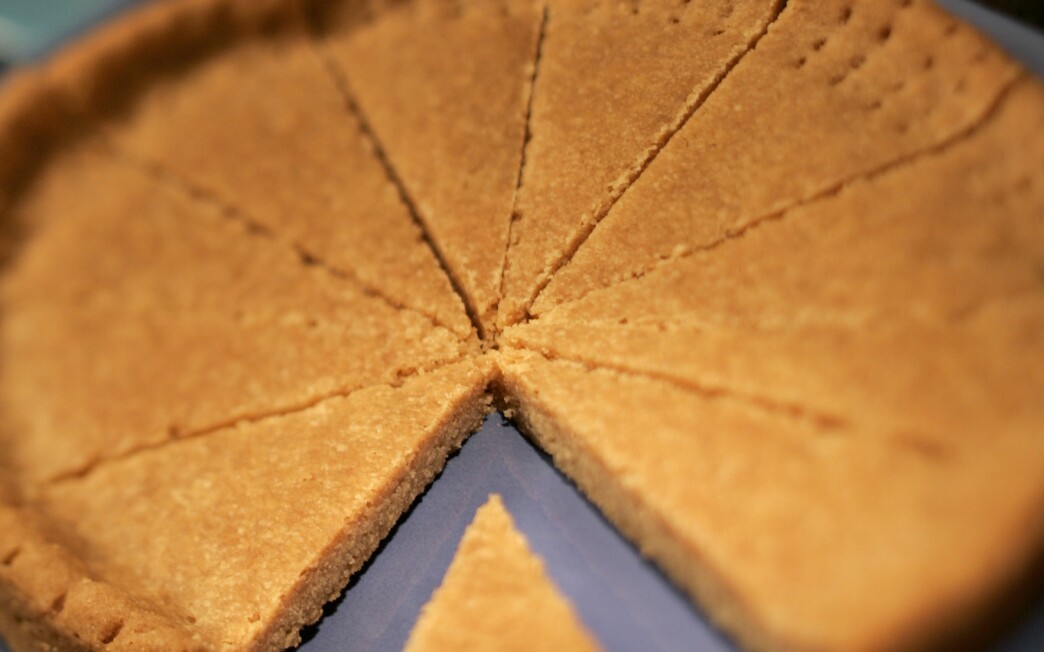 Print Recipe

Print Recipe
Butter, flour, sugar and a little bit of salt. There's not much that's simpler than a shortbread. But for those of us who love to bake, it's the perfect kind of recipe. Despite being made from a limited number of inexpensive ingredients, the dough can be transformed into a seemingly endless number of variations. It's also ridiculously easy to make.
It's the purity of the flavors that makes shortbread so wonderful. There are no leaveners such as baking soda or baking powder to give it off flavors. There's not even any vanilla extract. You can really taste even minor changes made to the recipe, whether it's experimenting with different sugars and flours or sprinkling a little of this and that into the dough.
The earliest shortbreads were lighter on the butter than ones made today and often included ground oats, the staple grain in 16th century Scotland, rather than wheat flour. Modern recipes typically have more sugar. When combined with a generous amount of butter, this gives you the "short" (as in crumbly) namesake texture.
Shortbread is one of those recipes that is so easy you're sure you've forgotten something when you close the oven door.
All you really need to remember is to place the butter in a bowl to soften at room temperature for two hours before you want to make the cookies. It should be completely softened, though not melted. And be sure to beat in the sugar and salt until just combined (overwhipping incorporates air into the dough, which can cause the shortbread to buckle as it bakes). Quickly blend in the flour, and that's it.
Give it shape
Next, decide what shape cookie you want. A round cake pan will lightly steam the dough, yielding a slightly chewier, wedge-shaped shortbread; dough that's shaped on a baking sheet gives you classic crispy rectangles. Press the dough into the cake pan or roll it out into a rectangle. You'll need to prick it all over with a fork to release steam while baking.
For the easiest variations, follow the basic recipe and fold in chopped candied ginger, dried cherries, toasted nuts or whatever you like just before baking. Add a tablespoon of fresh rosemary or thyme for a savory-sweet touch. Cut the amount down to a teaspoon if you're using dried herbs or spices. Cracked pepper or cinnamon shortbreads are nice alternatives to the typical afternoon caffeine-break cookie. How about Chinese five-spice powder?
When butter is the main ingredient, splurging on artisan varieties seems like a good idea. But everyday unsalted butter works great, and it's inexpensive enough for guilt-free experimenting. For a more complex, nutty flavor, try brown butter shortbread. Cook the butter over medium heat until it turns a dark amber color, but be careful not to burn it. You could strain out the brown bits if you don't want little specks in your shortbread, but I like to leave them in for the added flavor. Chill the butter for an hour until it is firm enough to cream and follow your basic recipe as usual.
Flour will alter texture more than the flavor. Everyday all-purpose flour is best for that crispy-crumbly classic shortbread. You can also substitute three-fourths cup of whole-wheat flour for the same amount of all-purpose. The coarser texture of wheat flour, not always a good marriage with delicate pastries, works well because it complements shortbread's already solid structure. Slather with jam, and breakfast is served.
Mix and match
For a really tender crumb, try substituting a small amount of rice flour for the all-purpose. The lower gluten content gives you a delicate texture, but half a cup is plenty. Add more and you'll taste a slight graininess.
My favorite flour substitution is regular rolled oats that I've ground into a fine powder. The only trick is chilling the dough -- this one is shaped into logs like a sugar cookie -- for several hours before slicing it into rounds. The dough is stickier than most, but it's sliced so thin you don't need to prick the cookies to release the steam. It has quite a powerful buttery, toasted oat flavor for such a simple, delicate little cookie.
Sugar affects both flavor and texture, so it's particularly fun to experiment with. Substitute light brown sugar for the granulated and the shortbread gets all caramel-y and slightly chewy from the molasses in the sugar. It's hard not to take another bite just to make sure there's nothing else in there but brown sugar.
With powdered sugar, you'll get a delicate melt-in-your-mouth cookie. Increase the amount of sugar in the recipe by 25% to get the same sweetness because, ounce for ounce, powdered sugar is not as dense as granulated sugar.
Another option is to use the same quantity of powdered sugar as you would granulated and bake part of the powdered sugar dough in a square cake pan. Roll out what's left and place it on a baking sheet. When the shortbread in the cake pan is cool, spread a really good, full-flavored honey all over the top. Crumble the remaining shortbread and sprinkle it over the honey with a dusting of cinnamon-laced powdered sugar.
How about that for a plain old butter cookie?
1
Heat the oven to 325 degrees. In a stand mixer or medium bowl with electric beaters, beat the butter, sugar and salt until creamy, about 2 minutes, being careful not to overmix. Gradually beat in the flour, working in the last one-half cup with your hands if necessary (the dough will be stiff). Divide the dough in half.
2
2a. To make chewy wedge-shaped cookies, butter 2 (8-inch) metal cake pans and line with parchment. Butter the parchment and press each half of the dough into a pan. Smooth the top with the bottom of a buttered measuring cup. Prick the dough with a fork in a decorative concentric circle pattern. Refrigerate the pans, uncovered, for 30 minutes.
3
2b. To make crispy bar cookies, shape each dough half into a 10-by-4-inch rectangle on a lightly floured board. Run a blunt knife or your fingers along the edges to straighten them (it doesn't have to be perfect). Carefully lift each rectangle onto a buttered baking sheet, lifting both edges with your hands. With a blunt knife, score each one once lengthwise without cutting all the way through. Score crosswise 11 times to make 24 rectangles. Prick each one several times with a fork. Refrigerate the sheets, uncovered, for 30 minutes.
4
Bake both the wedge and bar shortbread until lightly brown along the edges, 25 to 30 minutes. Remove and cool for 5 minutes, then slice the shortbread while still warm (if the cookies are allowed to cool before slicing, they will crumble). Unmold the wedge shortbread by running a knife around the edge of the pan to loosen the cookies from the sides. Gently flip the pan over, then slice the shortbread into 12 wedges. Slice the bar cookies all the way through the scored marks before moving to a cooling rack.
This recipe makes enough dough for 2 pans of cookies, so you can try a pan of each variety if you'd like. Because they're baked in pans, the wedge cookies will retain more moisture, giving the cookies a chewy texture. Conversely, the bar cookies will be crisp because they are baked on an open, flat sheet.
---
Get our new Cooking newsletter.
You may occasionally receive promotional content from the Los Angeles Times.