Butter cupcakes
Yields
Makes 20 standard cupcakes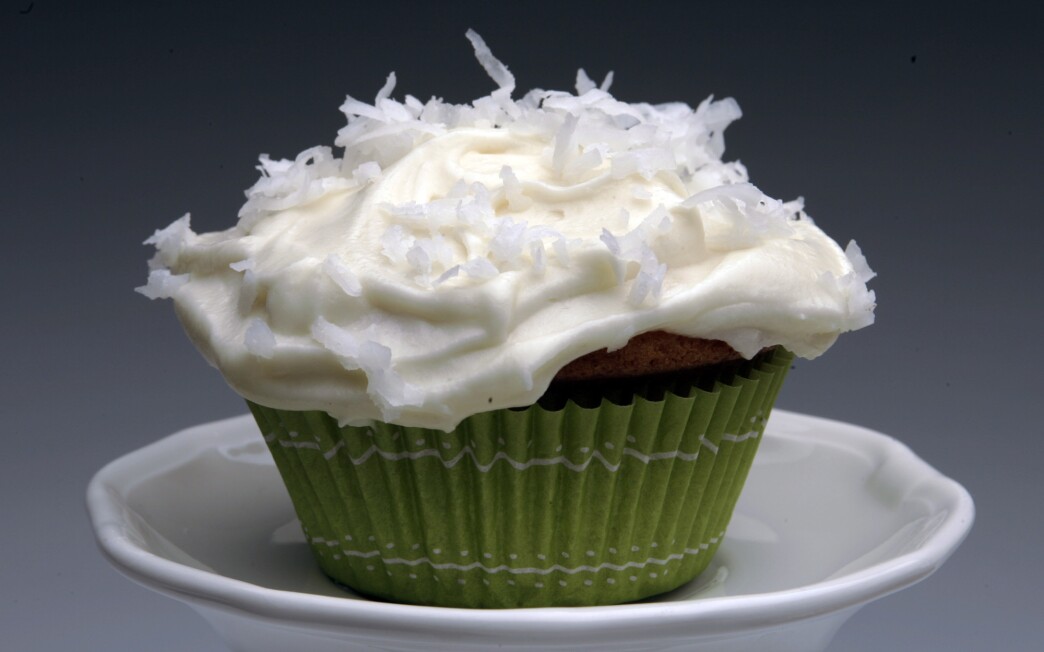 Print Recipe

Print Recipe
Let's face it, cupcakes are fun. Familiar, colorful and oh-so-cute, these whimsical little cakes are famous for full-on flavor and mile-high frosting. And don't forget the decorations.
Best of all? They're small enough that you don't have to share.
It's no wonder that cupcakes seem to turn up at everything from backyard barbecues to formal weddings.
And while you can pick up the latest fancy creations at your favorite shop or bakery, the prices for these designer cakes are more likely to leave you with a bad case of sugar shock than with a good sugar high.
But beneath all their sparkle, cupcakes are really simple creations.
And they couldn't be easier to make at home. Start with a good, flavorful cake, and top with a generous (or very generous) amount of frosting. Decorate the cakes as simply or extravagantly as you like. Set them out and they're as good as gone.
Not only are homemade cupcakes less expensive than the professional variety, but you might also find that the quality and flavor even improve when you control the ingredients and flavors and can bake up a batch just before serving them.
The trick is to have a few basic recipes handy for when the occasion arises.
Start with good butter and chocolate recipes.
And keep in mind that although most cake recipes will make decent cupcakes (you're just baking smaller cakes in muffin tins, so the baking time is decreased), it's a little more complicated to find recipes that excel primarily as cupcakes.
You want a cake with good structure; it should be tender but sturdy. Remember, these cakes will be unwrapped and handled as they're eaten, and you don't want anyone to confront a crumbly mess.
Also, the cake should be moist and flavorful -- unlike so many professional cupcakes, which look great but are dry or lack flavor, as if the cake is nothing more than support for the frosting and decorations.
A great butter cake has sturdy structure and tender crumb, and a rich butter flavor can't be beat. Butter is whipped with sugar until it is light, almost white in color, and fluffy; the sugar creates a bunch of tiny bubbles in the butter that will help leaven the cake (the chemical leaveners, baking soda and powder, will help the bubbles expand).
Egg proteins add structure to support the cake, and extra yolks add moisture. Most great butter cakes are baked with cake flour for tender crumb; but a combination of cake and all-purpose flour will still give a delicate texture, but make for a sturdier overall cake. Finally, a little sour cream will give the cake a nice tang and help to tenderize further.
For a chocolate cake, start with a batter similar to the one for butter cake, but for a rich chocolate flavor, add Dutch process cocoa. It is processed with alkali to neutralize cocoa's natural acidity (it also intensifies the color of the cocoa to a deeper brown).
After you've decided on the cake, pick a few good frostings. A classic buttercream recipe is a must for any home baker; the flavor is rich but delicate, and the basic frosting can be enhanced with a number of flavors and colors.
A classic chocolate ganache is also a must; ganache is often left thick to use as a rich filling for truffles and tarts, but whipped, it makes a light but amazingly rich frosting.
Finally, find a great cream cheese frosting; it's a classic for cupcakes (and cakes), and the tang will complement any number of cake bases.
A basic buttercream is really nothing more than egg whites, sugar and butter. There are various methods to make it, but one of the best, and most stable, is the method used for "Italian" buttercream -- the sugar is cooked to a high temperature and, when added to the egg whites, makes for a stronger meringue.
When it comes to chocolate frosting, there is nothing better -- or simpler -- than a basic ganache. Equal parts chocolate and cream are melted and then combined. And often, the warm, freshly made ganache will be poured over a cake, giving off a dark sheen.
But increase the amount of cream just a bit and whip it with a whisk and the frosting will have the same rich flavor, but with a texture light enough to use as icing.
A basic cream cheese frosting is a necessity for a wide variety of cakes, such as coconut and carrot. Beat together cream cheese and just a bit of butter for lightness, then whip in some powdered sugar. Intensify the flavor if you like by adding a little citrus zest.
Master the basic recipes, then branch out. Experiment by substituting different flavorings for the vanilla, or try adding zest, dried fruit or nuts.
The only thing you need to be absolutely sure of is that you make enough cupcakes. After all, you don't want to run out too soon.
1
Heat the oven to 350 degrees. In a medium bowl, sift together the flours, baking powder, baking soda and salt.
2
In the bowl of a stand mixer using the paddle attachment, or in a large bowl using a hand mixer, cream together the butter and sugar at medium speed until the mixture is light and airy, about 5 minutes. Scrape the sides as needed for even mixing.
3
With the mixer running, mix in the whole eggs, then the yolks, one at a time, until fully incorporated. Mix in the vanilla until just combined.
4
Mix in the combined dry ingredients and sour cream, alternating between the two (one-third of the dry, then half of the sour cream, in stages) until both are thoroughly combined, being careful not to over-beat.
5
Evenly spoon the batter into 20 lined cupcake pans; the batter should fill each liner two-thirds to three-fourths full. Bake the cupcakes, one pan at a time and in the center of the oven, until the cupcakes have risen and a toothpick inserted into the center comes out clean, 15 to 20 minutes. Rotate the pan halfway through for even baking.
6
Remove the pan to a rack to cool before frosting the cupcakes. The cupcakes are best eaten the same day they are made.
---
Get our new Cooking newsletter.
You may occasionally receive promotional content from the Los Angeles Times.