Chocolate sparkle cookies
Yields
Makes about 36 cookies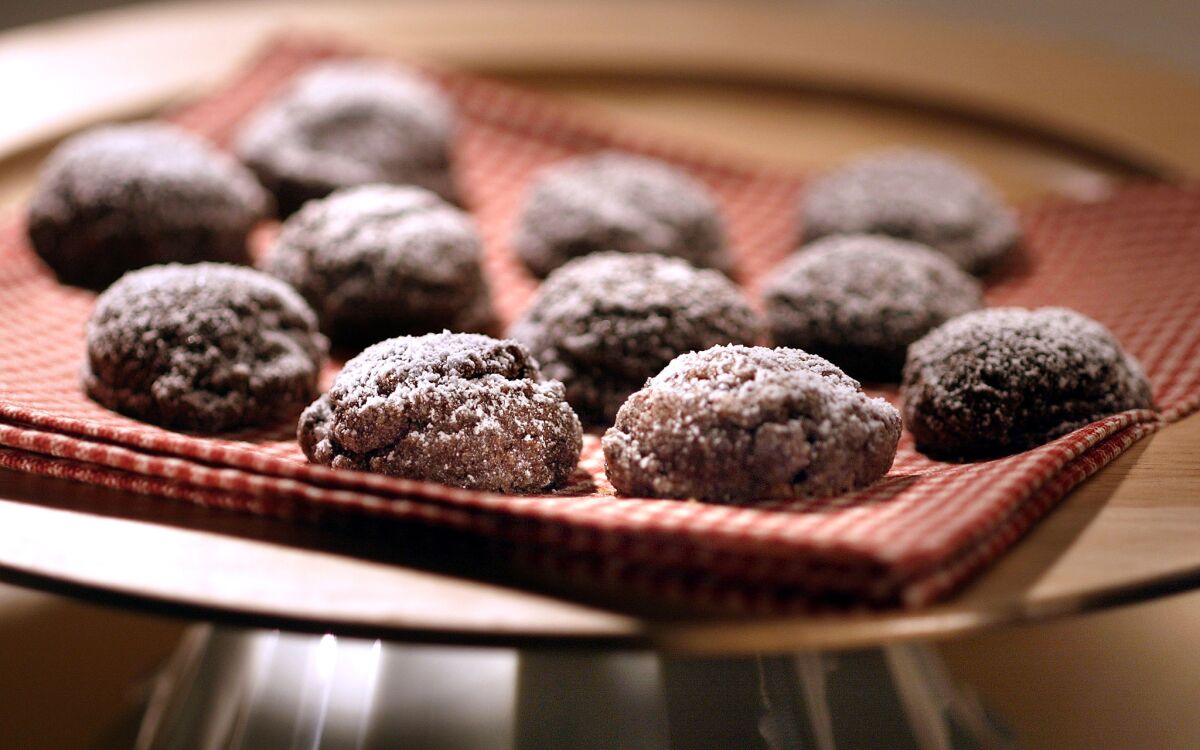 Print Recipe

Print Recipe
Most people traveling to foreign cities fall in love with something like a museum, a restaurant, a local resident who sweeps them unsuspectingly off their feet.
I fell in love with a cookie.
It was a few months ago in Vancouver, British Columbia, when clear blue skies had not yet given in to fall's gray weather, and colorful leaves fluttered onto the sidewalks and streets of this charming city. I ducked into the Senses Bakery near a bustling corner, a small, sleek spot with a glass case neatly filled with sweets. There it sat with others piled primly on the shelf.
It was chocolate, slightly crackled, not perfectly round by any means. One nibble, and I was smitten. Its dark, sensual chocolate taste was powerful, its texture addictive: chewy, almost truffle-like, mysterious. I promptly ate three. I packed a box to bring home.
It is called the chocolate sparkle cookie, and while it doesn't glimmer from its case, those who taste it know why. It is the most popular cookie at this 4-year-old bakery, so popular that when it was pulled to make space for holiday cookies, customers complained. It is now back under the lights, says executive pastry chef Thomas Haas, who created it.
"It is super-popular," he says of the flourless cookie, made with ground almonds, rich dark chocolate and butter.
When I brought mine back, they disappeared quickly. We begged for the recipe and -- surprise -- they're one of the easiest things we've made all year. (Just in time for the holidays.)
Haas, a fourth-generation pastry chef from Germany's Black Forest region, came up with it while planning sweets for the bakery's shelves. He wanted it to be like a chocolate truffle.
"When you work day and night, and you have the tools, ingredients, and toys we have, things come together," he says. Yet inspiration might come too from a chestnut tree outside the shop; the bakery now sells a chestnut cookie.
Before coming to Senses, part of a restaurant company based in Toronto, Haas worked as pastry chef at Daniel in New York and the Four Seasons Hotel in Vancouver. His other sweets are delectable, including pristine truffles, dainty cinnamon rolls and tiny petits fours. But the chocolate sparkle cookies are what you remember.
Even Haas can't put his finger on the cookie's appeal. "It's just so soft and rich inside," he says.
But that's how love is -- you can't explain it.
1
Melt the chocolate in the top of a double boiler set over, but not touching, simmering water. Remove from the heat. Cut the butter into a few pieces and mix into the chocolate until melted.
2
Beat the eggs with an electric mixer, gradually adding the sugar until ribbons form. Fold in the chocolate-butter mixture. Gently add the ground almonds. Cover and refrigerate overnight.
3
Heat the oven to 325 degrees. Line a baking sheet with parchment paper.
4
Use a cookie scoop to form the dough into 1-inch balls. Roll the balls in granulated sugar, place on the baking sheet about 2 inches apart and immediately place in the oven.
5
Bake until the center of the cookies is no longer wet, 9 to 12 minutes. When slightly cool, lightly dust the cookies with powdered sugar.
---
Get our new Cooking newsletter.
Your roundup of inspiring recipes and kitchen tricks.
You may occasionally receive promotional content from the Los Angeles Times.