Cream of Minnesota Wild Rice Soup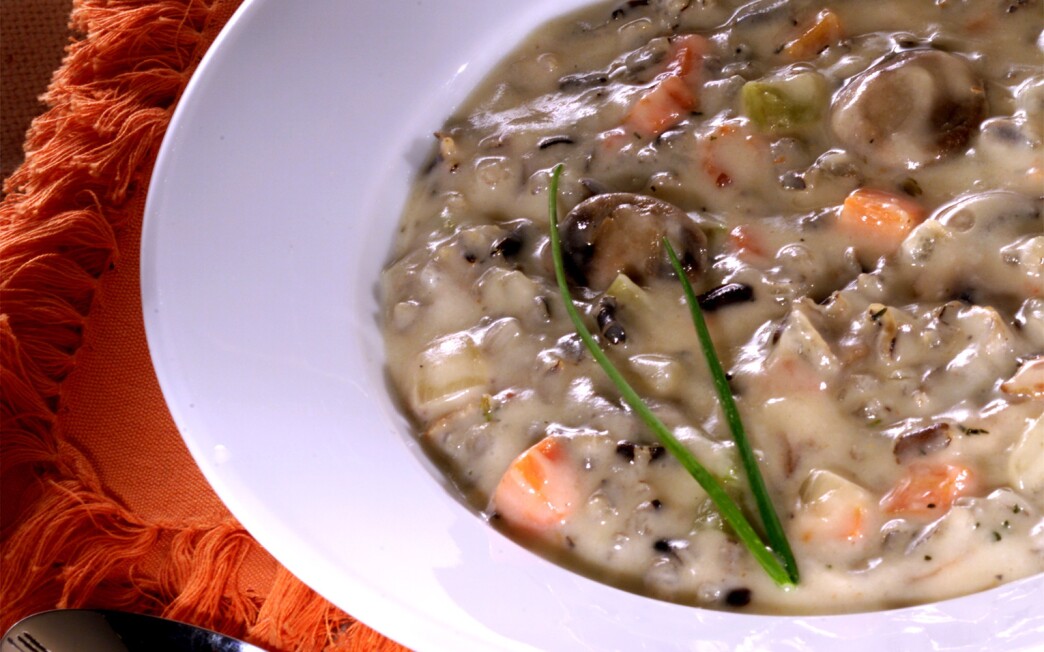 Print Recipe

Print Recipe
Dear SOS: On my last vacation to Minnesota, I purchased several bags of wild rice. Do you have a good recipe for wild rice soup?
Judy Little
Dana Point
Dear Judy: Yes, we do. This recipe was printed in 1992. It's from the St. Paul Hotel in St. Paul, Minn.
1
Bring 2 cups of salted water to boil in a saucepan. Add the rice and simmer, covered, until the rice is tender but still has some bite to it, 35 to 40 minutes. It will not absorb all the water. Drain.
2
Meanwhile, melt the butter in a skillet over low heat. Add the flour and blend well. Cook, stirring, until light golden, 8 to 10 minutes. Be careful it doesn't brown.
3
Heat 6 cups of the chicken stock to a simmer in a large saucepan. Whisk in the flour mixture until smooth. Strain the mixture.
4
Wipe the pan clean and heat over medium-high heat. Add the bacon and cook until almost crisp, 5 to 6 minutes. Stir in the onion, carrots, celery and mushrooms. Cook until tender, stirring occasionally, 10 minutes. Stir in the pimentos, bay leaf and thyme. Season to taste with salt and pepper.
5
Add the stock mixture and wild rice to the pot. Simmer over medium-low heat, 20 to 30 minutes, adding more stock if the soup becomes dry. Stir in the half-and-half and heat to serving temperature. The soup will be thick. Adjust the salt and pepper to taste. Remove the bay leaf before serving.
---
Get our new Cooking newsletter.
You may occasionally receive promotional content from the Los Angeles Times.