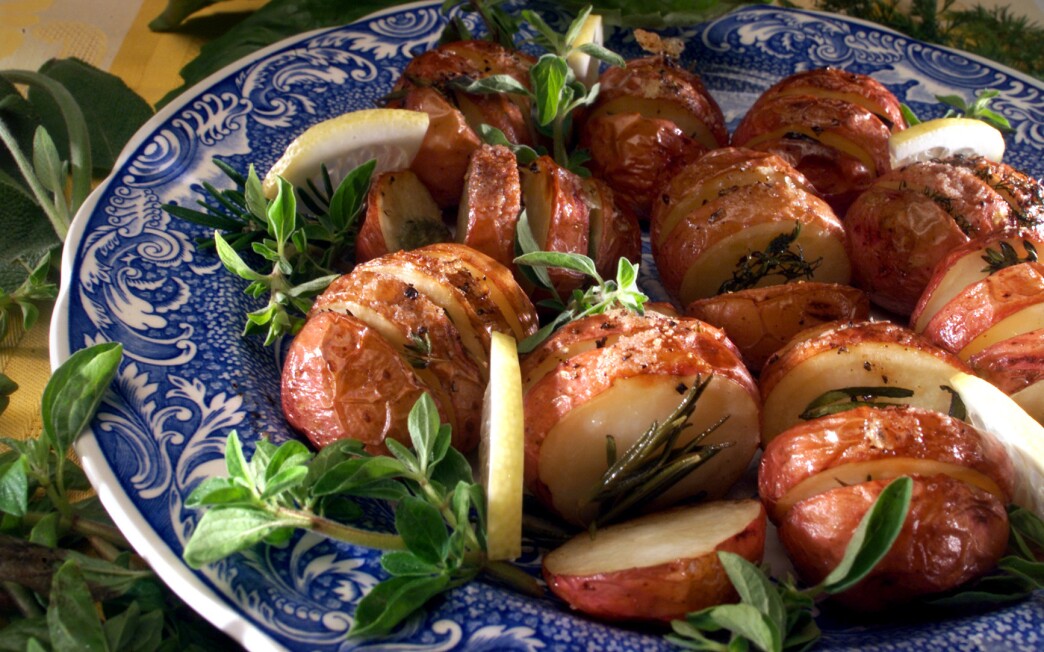 Print Recipe

Print Recipe
New potatoes roasted with herbs make a great accompaniment to the Easter lamb or ham. But these aren't just any roasted potatoes; the herbs are inside them. When your guests slice them open, they'll be delighted by the sight of the herbs — and flavor that infuses the potatoes.
Vary the herbs you use according to the main course. I especially like oregano, tarragon and dill with lamb. Try several herbs and see what you like best.
You can also use a variety of potatoes so you have different shapes and colors. Just try to keep the potatoes about the same size so they bake evenly.
If you prefer, you can mist the potatoes with olive oil rather than nonstick spray.
1
Scrub potatoes under cold running water. Pat dry with paper towels. Make 3 or 4 crosswise slits in each potato, but not through, so potato remains intact. Break off tips of herb sprigs and gently insert pieces into potato slits. (Potatoes are best when you use 1 herb for each potato, rather than mixing them.)
2
Place potatoes on jellyroll pan or in baking dish sprayed with nonstick cooking spray. Lightly spray potatoes. Spoon a little butter into cuts of each potato. Sprinkle potatoes with salt and pepper.
3
Bake at 400 degrees until potatoes are fork tender, about 45 minutes, stirring several times during roasting.
Deane is the author of the cookbook "Low Fat Kitchen."
---
Get our new Cooking newsletter.
You may occasionally receive promotional content from the Los Angeles Times.