Fernando's sherry-infused baked sliced potatoes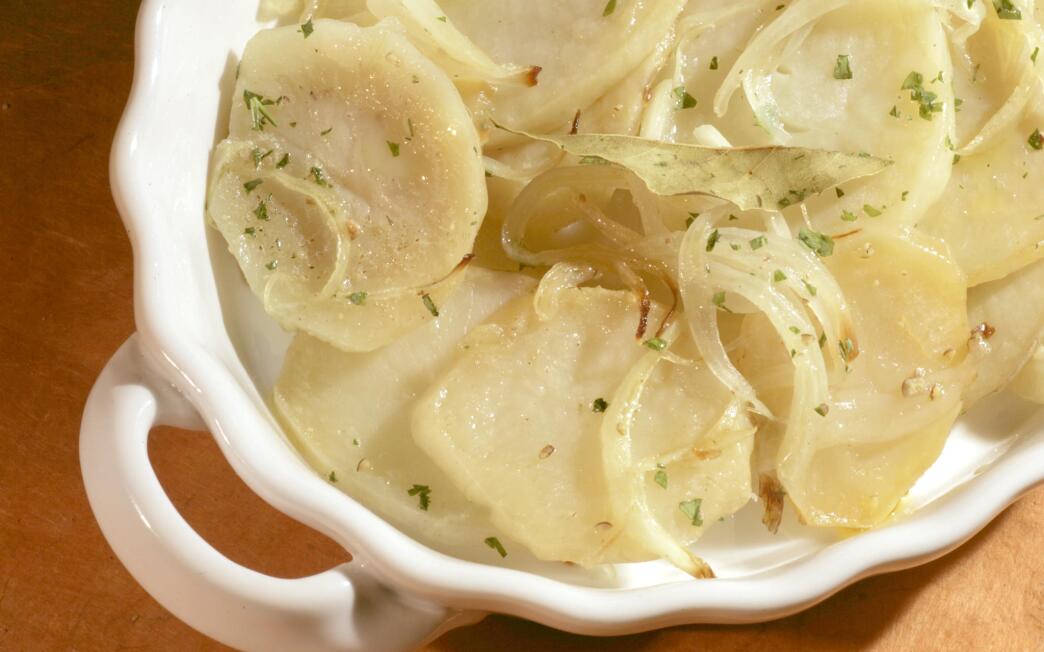 Print Recipe

Print Recipe
The minute I laid eyes on Penelope Casas' latest book, I knew I had to cook from it. The photo on the cover showed some canapes that I just couldn't live without: thin triangles of Manchego cheese with a little dollop of a red-and-green-flecked tapenade-looking concoction on top.
Then there was my history with Casas, a well-respected authority on Spanish cooking. When I toured the Ribera del Duero and Segovia regions of Spain two years ago, I brought along the updated edition of Casas' classic "Discovering Spain: An Uncommon Guide." Casas was a splendid guide to the local foodways -- the roasted baby lamb, the cocidos, the bread -- and her book led me to a number of unforgettable restaurants.
I had loved her 1985 book, "Tapas: The Little Dishes of Spain." When it was published, most Americans didn't know what tapas were. For me, the recipes were ideal for the only kind of entertaining I could usually manage in my tiny New York studio: the cocktail party. I wasn't sophisticated enough to call it a tapateo, but the wonderful little dishes were revelations. My friend Ilene borrowed my well-worn copy of the book for her own party -- and never returned it. Who could blame her?
Authentic dishes
Now the tapas craze has given way to small-plates mania across America, and Ferran Adria -- the mastermind of Spain's avant-garde cooking revolution -- is a household name.
Leave it to Casas to remind us that Spanish food isn't just liquid nitrogen bonbons and powdered foie gras. In Spain, simple home cooking is the basis of the genius that followed. And now that we have access to ingredients such as piquillo peppers, Serrano ham and Marcona almonds, it's easy to cook up something deliciously authentic.
In her new book, "La Cocina de Mama: The Great Home Cooking of Spain," Casas gives us family recipes she's collected over the last 35 years from friends, her Spanish family and acquaintances, including chefs and even the proprietor of Spain's most famous olive oil, Nunez de Prado. She shows us the art of taking inexpensive ingredients -- potatoes, chicken, eggs, string beans and the like -- and using garlic or saffron or piquillos or a little chopped ham, along with some really simple techniques, to elevate them.
Just about everything I cooked from the book was easy and turned out wonderfully.
Gambas al ajillo Mama Pepa -- a garlic shrimp dish that's a tapas bar staple -- takes all of about five minutes to make; the addition of amontillado sherry a minute or two before it's done cooking gives it unexpected complexity. Not surprisingly, it's heavenly with a cool glass of sherry.
Pollo al ajillo -- chicken in garlic and wine sauce -- couldn't be much simpler, yet it had marvelously deep flavor. Chicken gets browned in a casserole; garlic and bay leaves are tossed in, then brandy, which you ignite. Wine is added, then it simmers. At the end, you stir in a paste of garlic, saffron, peppercorns and parsley. The flavor is superb.
Casas calls for "broad flat green beans" for her green beans, Caceres style; Romano beans from the farmers market were perfect, sauteed with a little pancetta and heightened with a touch of Spanish smoked paprika and a dash of vinegar. Regular string beans worked very well too.
Patatas al Jerez de Fernando Hermoso, an Andalusian layered dish of sliced roasted potatoes and slivered onions infused with manzanilla sherry and accented with bay leaves, is a definite keeper.
It's all in the details
And the canapes pictured on the cover? They're simply cured black olives, piquillo peppers, anchovies, parsley and olive oil pounded together in a mortar, then spooned onto slices of Manchego cheese and sprinkled with chopped parsley. They couldn't have been more delicious.
Not everything I tried was wonderful, though. Despite marinating for three days, raxo de porco en zorza de Digna Prieto, a Galician-style pork tenderloin, lacked flavor; it was overwhelmed by the dried oregano and bay leaves. A recipe for rabbit paella from Adria's mother, Josefa Acosta, had a terrible texture -- more like a bad arroz con pollo than a good paella.
Nor are all the recipes fool-proof for the beginning cook. In the pollo al ajillo recipe, the chicken doesn't fit in the casserole in one layer; it must be done in two batches. And Casas neglects to mention how long to let the garlic sizzle. In the recipe for patatas al Jerez de Fernando Hermoso, it's unclear exactly what's meant by " 1/4 medium-large onion, slivered" (slivered how?). In the recipe for the Manchego canapes, she forgets to let us know to trim the rinds of the cheese and to use a large mortar -- there's no way all those ingredients fit in an average one. (We've addressed these issues in the recipes that follow.)
Still, the vast majority of the dishes I tested were terrific. Many will go directly into my repertoire, and I'll definitely keep the book on an easy-to-reach shelf. And you can bet I won't ever lend it to Ilene.
1
Heat the oven to 300 degrees. Coat an 8-by-12-inch baking dish with one-half tablespoon olive oil. Add half the potatoes in a slightly overlapping layer and sprinkle with half the salt and pepper.
2
Scatter the bay leaves and onion over the potatoes and cover with the remaining potatoes, sprinkling again with salt and pepper. Spoon the remaining oil over the potatoes.
3
Bake for 30 minutes. Cover the pan lightly with foil and return it to the oven in a rotated position. Bake 20 minutes, until the potatoes are almost tender.
4
Increase the oven temperature to 450 degrees. Sprinkle the sherry over the potatoes, cover again with foil and continue baking until the sherry is absorbed and the potatoes are tender, about 10 minutes. Sprinkle with parsley and serve.
From "La Cocina de Mama" by Penelope Casas.
---
Get our new Cooking newsletter.
You may occasionally receive promotional content from the Los Angeles Times.