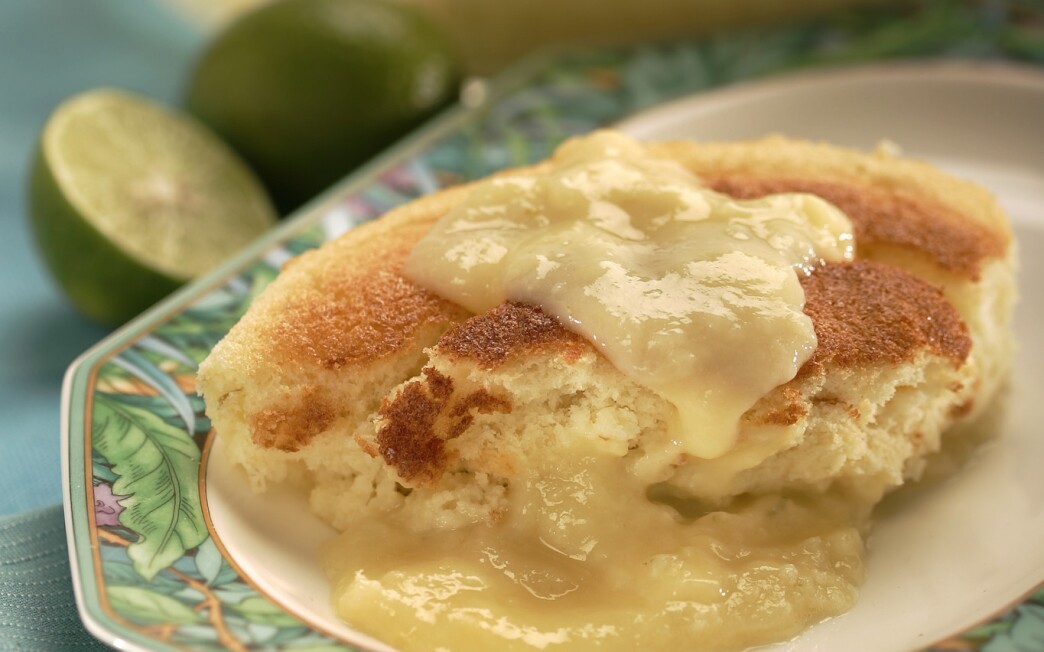 Print Recipe

Print Recipe
In my recurring anxiety dream, hordes of friends are streaming into my apartment for a party while I keep opening kitchen cabinets and finding only two cans of black beans. What's reassuring is that I never dream about dessert. Even my subconscious seems to know there will always be pudding cake.
This old standby from my mother's 1956 Betty Crocker cookbook has saved more than a few last-minute dinner parties when I needed something irresistibly homemade but had no time to run out for special ingredients.
Everyone is always impressed by a cake that makes its own sauce, never suspecting that it starts with ingredients so basic. As long as you have a lemon, milk and eggs, or cocoa, milk and brown sugar, you're halfway to the most classic rendition of a quintessential American dessert. As mood food, a pudding cake is somewhere between a souffle and an apple crisp: dramatic because a layer of cake rises over a pool of sauce as the whole thing bakes, and homey-comforting because you spoon it up like pudding or apples.
The one drawback is that the original recipe now seems more like an invitation to a coma than a dessert for company. Sugar was poured with a much freer hand back in the middle of the last century, and the emphasis was more on that straight-ahead sweetness than on the tartness of citrus, whether lemon, lime or orange. Even the old-fashioned chocolate variation, made with cocoa powder, tastes a little pallid in an age of 83% cacao.
Bringing pudding cakes up to panna cotta speed is surprisingly simple, though. Key limes substituted for the usual lemon or lime juice and zest make a radical difference. The tiny little limes (from Mexico despite their Floridian name) have a much tangier flavor than the usual Persian kind. That, coupled with cutting back the sugar, produces a cake with much livelier flavor.
Even headier is a pudding cake modeled on a beach-worthy drink. Dark rum substitutes for some of the juice while coconut milk supplants some of the regular milk. A splash of Angostura bitters, the secret ingredient in any great rum cocktail, brings all the tastes together.
A few simple tweaks
Chocolate pudding cake is just as easy to update if you start with any of the superb cocoa powders now available.
The pudding cake I grew up eating was made with Hershey's, which is both bitter and bland. Substituting a high-grade Dutch process cocoa makes a deep, dark difference instantly, one that is amplified if you use half-and-half rather than milk and extra butter for chocolaty richness. Valrhona, Fauchon, La Maison du Chocolat are all intense choices as is a cheaper brand, Master Choice.
Pudding cakes are so simple you could make them in your sleep. For the citrus kind, you just mix the dry ingredients (flour, sugar, salt, etc.), then stir in the wet (egg yolks, milk, juice, rum, etc.) and fold in beaten egg whites. As with a souffle or a flourless chocolate cake, you get better volume from the whites if you start with eggs at room temperature. They should be beaten just until stiff peaks form; if they get too rigid they are harder to fold evenly into the batter and the top layer will be more air than cake.
A cocoa pudding cake is made more like brownies, but with no eggs and very little liquid. Baking powder rather than egg whites makes the cake rise, and the sauce forms after very hot water is poured over a mixture of cocoa powder and brown sugar distributed over the top.
With any pudding cake, kosher salt rather than "when it rains it pours" improves the flavor because the crystals are bigger and do not dissolve so thoroughly so that the balance of saltiness to sweetness is better.
Pudding cakes made with beaten egg whites would probably turn into souffles if they were just rammed into the oven. Setting the baking dish into a larger dish filled with hot water guarantees that the batter bakes into cake and the liquid pools into sauce.
A souffle pan looks best for presenting a pudding cake at the table, but you can also use a one-quart casserole. For a chocolate pudding cake, a 9-inch-square pan is your best bet, and there's no need to use a bain marie.
Updating the pudding cake does have one complication, though. You may need to make a special trip for Key limes. Coconut milk and cocoa powder, though, are as shelf-stable as canned black beans.
1
Heat the oven to 350 degrees. Combine the flour, sugar and salt in a medium mixing bowl.
2
Beat the egg yolks in a second bowl. Add the milk, lime zest and juice and stir into the dry ingredients, mixing well to make a smooth batter.
3
In a clean bowl, whip the egg whites until stiff peaks form. Using a rubber spatula, gently but thoroughly fold them into the batter. Transfer to a souffle dish or 1-quart casserole. Place in a larger baking dish and pour hot water into the larger dish to a depth of about 1 inch.
4
Bake 50 minutes. Serve warm or cold, ladling the top and sauce onto dessert plates.
---
Get our new Cooking newsletter.
You may occasionally receive promotional content from the Los Angeles Times.