Lemon-Pistachio Cake
Yields
Makes one 8-inch cake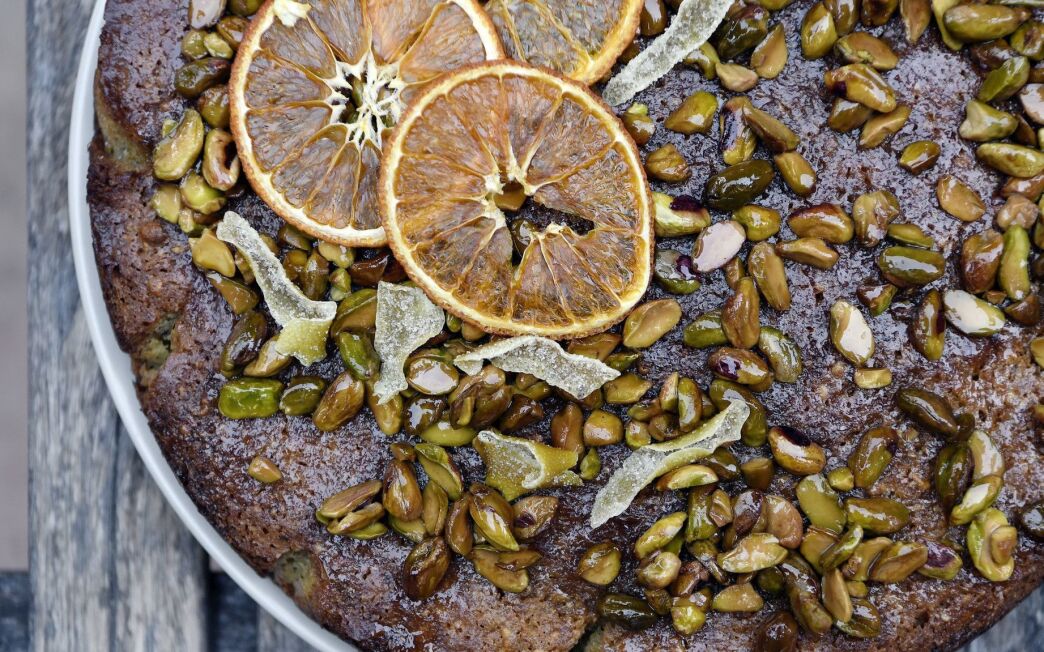 Print Recipe

Print Recipe
A two-minute lemon syrup soaks this simple dessert and infuses it with citrus sweetness. The fruit's floral zest seasons the tender cake batter, which is rich with butter and lots of ground pistachios and almonds. Glazed nuts spooned on top add a bit of crunch to each bite. You can finish the cake with dried orange slices and candied lemon peel — both are available online and at the Santa Monica Farmers Market — but it's delicious without the garnishes.
Cake
1
Make the cake: Heat oven to 350 degrees. Butter the bottom and sides of an 8-inch round cake pan (2 inches deep). Line the bottom with parchment paper and butter the parchment.
2
Sift the ground pistachios, almond flour, flour and baking powder into a medium bowl. In a stand mixer fitted with the paddle attachment, cream the butter, sugar, salt and lemon zest on medium-high speed until light and fluffy, about 5 minutes. With the machine running, add the vanilla and then the eggs, one at a time, beating well after each addition. Scrape the sides of the bowl occasionally. Add the pistachio mixture and mix on low speed until just incorporated. Scoop the batter into the prepared pan and spread evenly.
3
Bake until golden brown and a cake tester or toothpick inserted in the center of the cake comes out clean, 50 to 55 minutes. Transfer to a wire rack and let cool for 15 minutes in the pan.
4
While the cake is cooling, make the glaze.
Glaze
1
In a small saucepan, combine the pistachios, sugar and lemon juice. Place over medium heat and cook, stirring, until the sugar is completely dissolved and the pistachios are nicely coated, about 2 minutes. Remove the pan from the heat.
2
Run a thin-bladed knife around the edge of the pan. Place a flat plate on top of the cake and pan. Carefully invert the cake onto the plate by flipping both upside down. Lift the pan off of the cake and discard the parchment paper. Invert your serving plate over the bottom of the cake and flip both so the cake is right-side-up on the plate.
3
Immediately spoon the glaze and nuts over the top. Let stand for at least 10 minutes to allow the glaze to set before serving.
The cake is best served the day it is made but keeps, tightly wrapped, at room temperature, for up to three days. Adapted from Zoe Nathan, Huckleberry Bakery & Cafe.
---
Get our new Cooking newsletter.
You may occasionally receive promotional content from the Los Angeles Times.