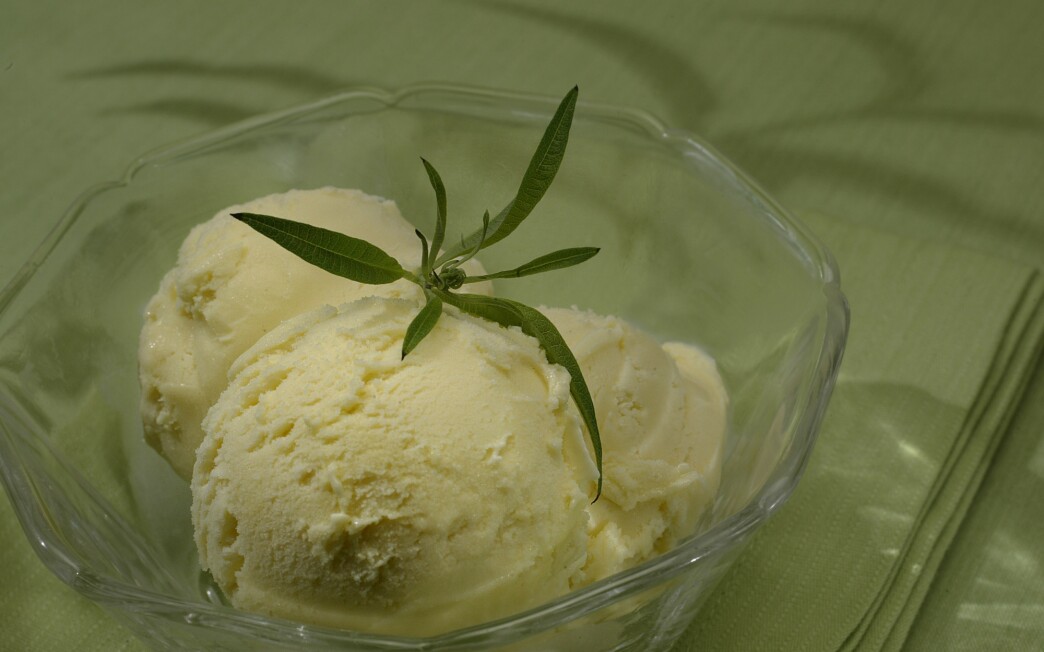 Print Recipe

Print Recipe
Rose, jasmine, honeysuckle, lavender -- are pure romance.
And lemon verbena, that wonderfully aromatic herb with slender green leaves, may be the most romantic of them all. Its captivating perfume is delicate yet almost spellbinding; its flavor, mingling floral and fruit notes, pure magic.
Just ask chefs Diane Forley and Michael Otsuka. Now married and recent parents, their love affair began with lemon verbena. After working with the herb in the South of France, Otsuka (currently chef at Ojai Valley Inn) was intrigued by the successful New York restaurant called Verbena, and, after seeing her picture in a magazine, its chef-owner. Forley named her place Verbena because the herb's qualities, an "intoxicating" aroma and "a particular character of its own," were good ones for a restaurant, especially one with a lovely garden.
Although lemon verbena is widely known, it's elusive. Few chefs and fewer home cooks have used it in cooking, probably because it is an infusing herb rather than a finishing herb such as basil, chervil or dill. Yet simmer it in most sauces, and its nuances will be lost.
Wine and spirits are classic infusing media. At Verbena, Forley created a signature cocktail, the Verbena Royale, an aperitif that manages to take the romance of a Champagne cocktail to new heights.
Michelle Myers of Boule pastry shop in Los Angeles makes a cool summer drink by infusing lemon verbena in vodka, grappa, or an eau de vie. She also uses the herb in combination with fresh fruit in granitas, with poached fruit and in stone-fruit soups. She calls peaches or apricots with lemon verbena a "classic combination" of flavors.
Our recipe for poached apricots and cherries in a sweet lemon verbena-infused wine syrup is easy to prepare and makes a memorable dessert. Experiment with other fruits as the seasons change.
In addition to drinks and syrups, you can infuse delicate sauces and custards with verbena's heady fragrance and flavor. The light lemony flavor of a verbena is wonderful with steamed petrale sole. Place a few lemon verbena sprigs on the top of each piece of sole before steaming, spoon lemon verbena beurre blanc over the warm steamed fish, and garnish with chopped verbena.
To make a plush herbal ice cream, infuse verbena leaves in a hot milk and cream mixture then refrigerate overnight so that the flavor of the herb comes through. Stir a teaspoon of lemon juice into the custard mix just before freezing to keep the colors bright.
If you're a gardener, you may already have some lemon verbena on hand. Plants are available now in farmers markets and some nurseries. It's deciduous, so you can harvest leaves from potted plants throughout the summer and early autumn, then, when the remaining leaves fall, plant and wait for new leaves in the spring.
Lily Baltazar of Herbs International, who sells at several Southland farmers markets, will take orders (www.herbchef.com) for lemon verbena branches or twigs. The leaves on these branches will keep best when wrapped in a dry paper towel and stored in an open plastic bag in the refrigerator.
Once you've embarked on a dalliance with lemon verbena, you'll find yourself tossing it around with abandon. For an intriguing variation on lemon or cucumber water, add a bunch of verbena leaves to a pitcher of water and let it stand in the refrigerator overnight. In the spirit of vanilla-bean sugar, add a handful of lemon verbena leaves to a cup of sugar in a clean glass jar. Cover tightly and let it stand three to four days. You'll have the fragrance of a flower garden to spoon into your tea or over your cereal.
How easy is that?
1
In a saucepan over low heat, bring the milk, whipping cream and lemon verbena leaves to a full simmer. Remove the mixture from the heat, pour into a glass bowl and let cool to room temperature. Cover and refrigerate overnight.
2
The next day, strain the milk-cream mixture into a saucepan (discarding the lemon verbena leaves) and heat to a simmer.
3
In the bowl of an electric mixer, beat together the egg yolks and sugar until thick and lemon colored, about 1 minute.
4
Pour a third of the hot milk-cream mixture into the egg yolk mixture and stir to blend, then pour the entire mixture back into the saucepan.
5
Heat and stir over medium heat until the custard begins to thicken and just begins to bubble around the edge, about 3 minutes.
6
Remove the custard from the heat and pour it into a metal bowl. Set the bowl in a larger bowl filled with ice water. Let the mixture stand, stirring occasionally, until the custard is chilled. Whisk in the lemon juice.
7
Freeze in an ice cream maker according to the manufacturer's directions. Spoon the ice cream into a chilled glass bowl or loaf dish and freeze until ready to serve.
---
Get our new Cooking newsletter.
You may occasionally receive promotional content from the Los Angeles Times.