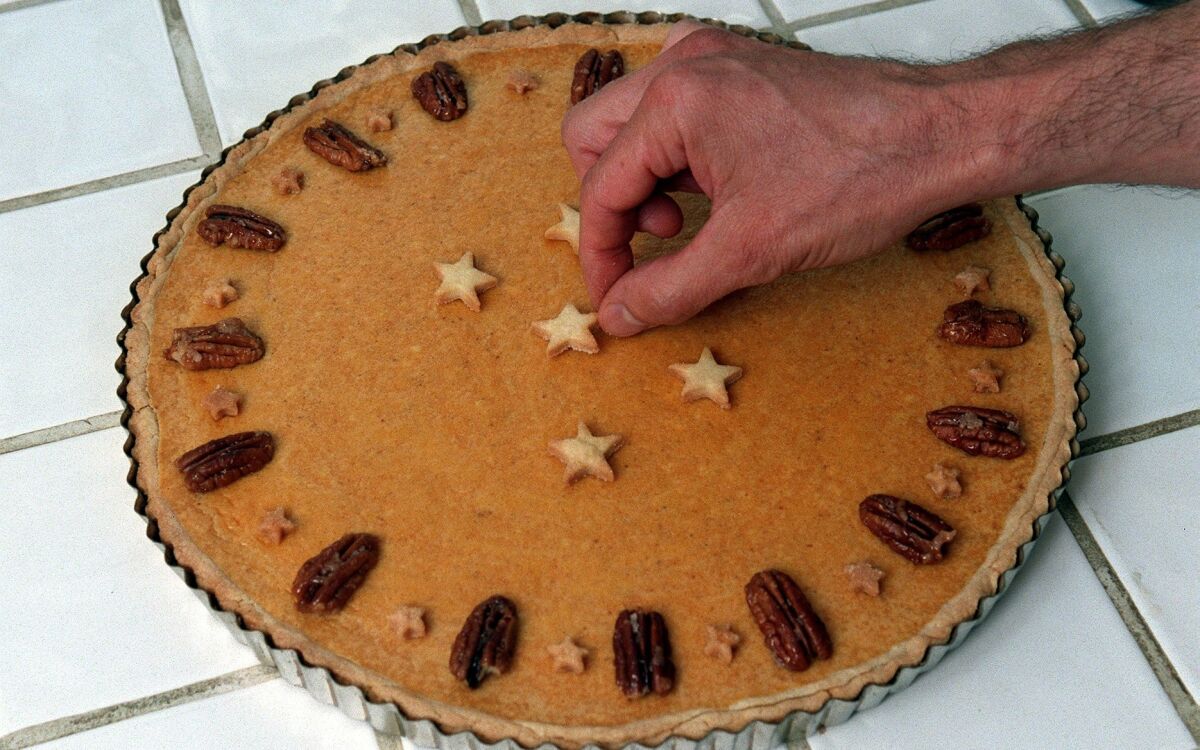 Print Recipe

Print Recipe
This pumpkin cheesecake with caramelized pecans is a terrific alternative to plain pumpkin pie. It is tangier and richer and just as easy to compose. Make one large cake using a 13-inch tart pan or two smaller ones using 8-inch pans.
Crust
1
Beat butter, sugar and salt in bowl until smooth by hand or in food processor, about 3 minutes.
2
Add egg and yolk and mix until well-combined. Add flour and mix until evenly blended. Scrape down sides of mixing bowl several times.
3
Form dough into ball, flatten into disc and wrap in plastic wrap. Refrigerate at least 1 hour or overnight.
4
Spray 13-inch tart pan with removable bottom or 2 (8-inch) tart pans or pie tins with vegetable spray.
5
Roll out dough to at least 16 inches across for large tart. (For 2 standard pies or tarts, divide dough in half and roll dough 9 to 10 inches across and place in pan in same manner as for large tart.) Place dough in tart pan, and trim off excess, leaving 1/2 inch overhang. Fold overhang into side of tart pan so sides are double thick. Use scraps to make decorations for top. Bake decorations separately on baking sheet at 350 degrees 5 to 8 minutes.
6
Place lined tart pan in freezer while you make filling, or refrigerate at least 1 hour.
Filling
1
Cream pumpkin, condensed milk, cream cheese, eggs, cinnamon, cloves and nutmeg by beating until mixture is smooth. Uncooked filling will have thick liquid texture.
2
Pour filling into chilled crust. Do not overfill.
3
Bake at 300 degrees until filling is puffed and firm to touch, 50 to 60 minutes. (If using 2 pie tins, cooking time will be about 10 minutes less.) Cool on rack.
4
When cool, remove cheesecake from pan and place on serving plate. (If using pie tins, do not remove.)
5
If desired, decorate with precooked crust cutouts and Caramelized Pecans. Decorate while still warm so decorations will adhere.
---
Get our new Cooking newsletter.
Your roundup of inspiring recipes and kitchen tricks.
You may occasionally receive promotional content from the Los Angeles Times.