Square One brown-butter pecan coffeecake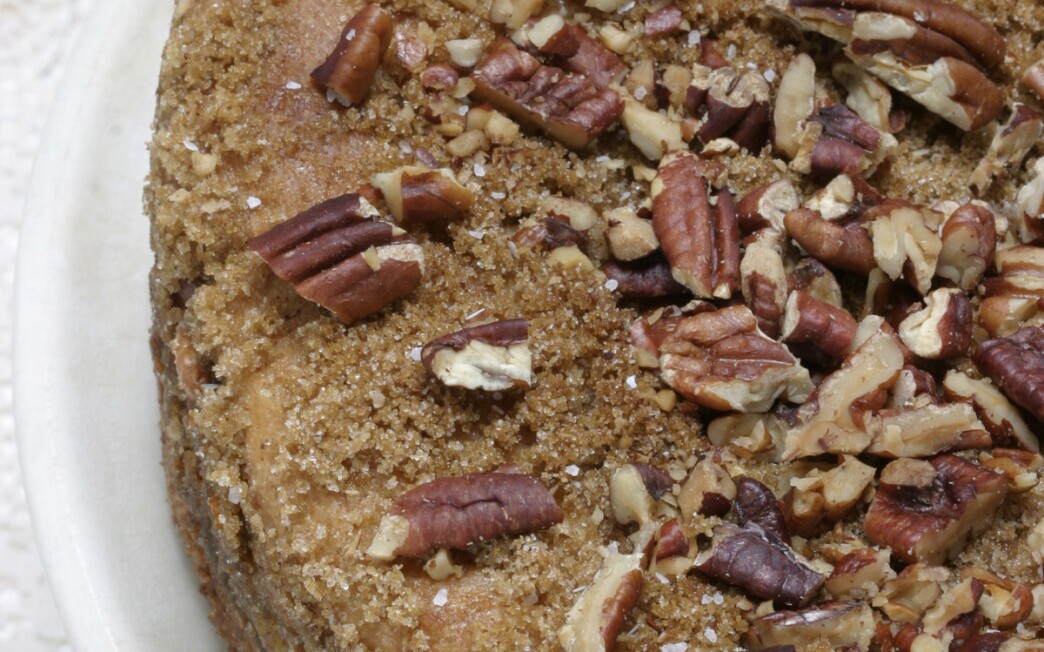 Print Recipe

Print Recipe
Square One in Los Angeles is among the newer restaurants catering to breakfast lovers who dine out. It makes a terrific coffeecake, one that impressed Times restaurant critic S. Irene Virbila with its fluffy crumb and buttery, lush flavor. What makes the flavor so great is the topping -- brown butter and a mixture of chopped pecans and sugar, with dashes of cinnamon, a little vanilla paste and kosher salt. The good news for home cooks, Chef Hayden Ramsey says: "It's basically modified brioche dough and pretty forgiving and wonderful to work with."
1
For the cake, combine the yeast and one-third cup sugar in a mixing bowl. Gently warm the milk to around 85 degrees (be careful not to heat the milk too much as this could kill the yeast). Whisk the milk into the yeast mixture. Allow it to sit until small bubbles form, 10 to 15 minutes.
2
Whisk in one-half cup flour to form a thin paste; cover and let rise for 15 minutes. Using the dough hook attachment of an electric mixer, incorporate the eggs into the yeast mixture. Add the remaining flour a little at a time and mix until the dough is smooth and elastic. Add half a teaspoon of kosher salt and continue mixing.
3
Cut one-half cup of butter into small cubes. Add the butter a few pieces at a time to the dough, mixing until all the butter is incorporated. This will take about 10 minutes. Cover the bowl with plastic and set aside in a warm place until doubled in volume, 30 to 45 minutes.
4
To make the topping, combine the light brown sugar, the remaining three tablespoons sugar, vanilla paste (or extract), cinnamon and one-quarter teaspoon salt in a bowl. Mix thoroughly.
5
Heat the oven to 350 degrees. Butter an 8-by-3-inch round cake pan or wrap foil around the outside of an 8-by-2-inch springform pan to prevent leakage. When the dough is doubled, heat the remaining one-quarter cup butter over medium-low heat until the milk solids are nicely browned and the butter has a toasted, nutty flavor, 4 to 5 minutes. Pour into a shallow container immediately to stop the cooking process. Cool.
6
Place the dough in the prepared pan and spread it evenly. Cover the dough with the browned butter. Sprinkle the topping evenly over, pushing it down to make it stick. Sprinkle with pecan pieces. Sprinkle with the remaining one-quarter teaspoon kosher salt.
7
Place the dough in a warm spot to rise until doubled, 30 to 45 minutes. Bake until golden brown, about 45 minutes. Remove from the oven and let the cake stand in the pan for 15 minutes before unmolding. Place a plate on top, then invert the cake onto the plate, then top with another plate and invert so the cake is right side up. If using a springform pan, remove the outer ring. Slice and serve immediately.
From Chef Hayden Ramsey of Square One restaurant in L.A. The chef toasts a cinnamon stick, then grinds it for this recipe.
---
Get our new Cooking newsletter.
You may occasionally receive promotional content from the Los Angeles Times.