Sweet cherry pie
Yields
Makes 1 (9-inch) pie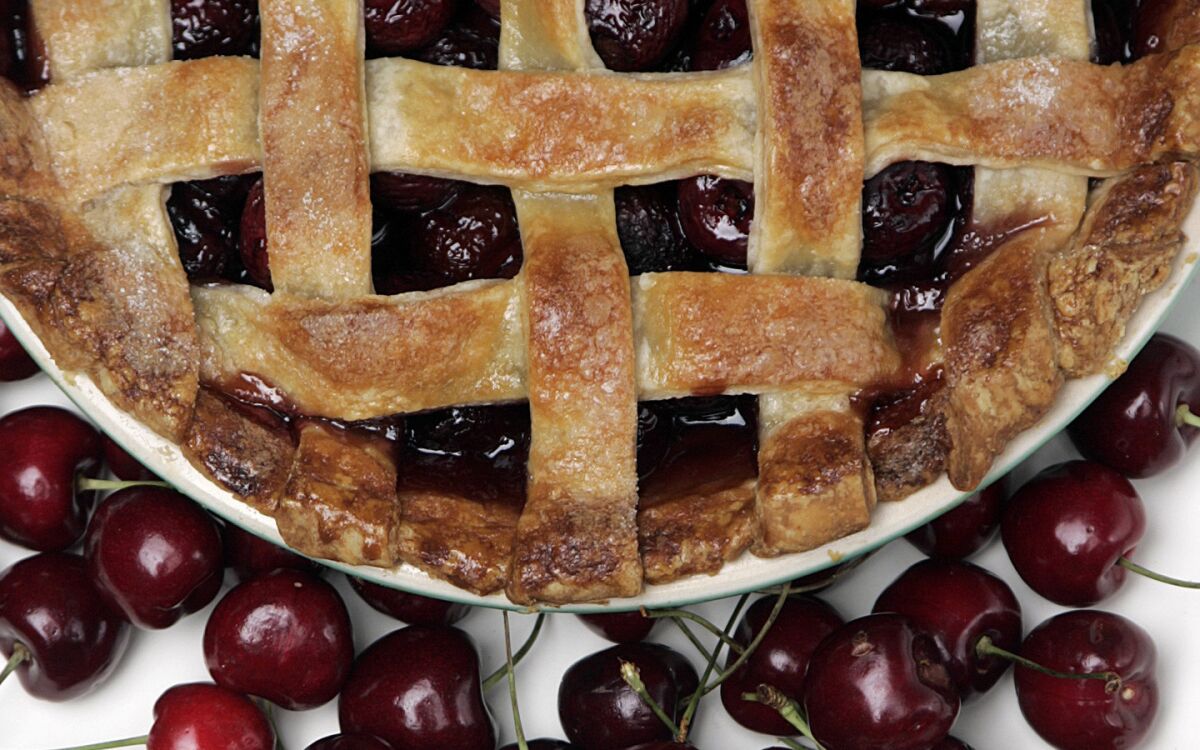 Print Recipe

Print Recipe
This pie is simple but rich with flavor and I love the slightly firmer texture that results from fresh cherries as opposed to jarred. Fresh sweet cherries are much easier to find than sour cherries. A little Grand Marnier and vanilla brighten the flavors and give the cherries a little more depth.
Be sure to give the pie sufficient time to cool after it bakes to give the filling time to set up. It can be hard not to slice into a temptingly fragrant pie as soon as it comes out of the oven, but give it time; patience is definitely a virtue here.
1
Heat the oven to 350 degrees.
2
In a large bowl, whisk together the three-fourths cup sugar with the cornstarch. Stir in the cherries, coating completely, then stir in the vanilla and orange liqueur until evenly combined.
3
Line a 9-inch pie plate with half of the pie crust. Pile in the cherries, sprinkling over the cherries any additional sugar-cornstarch mixture that did not stick to the fruit.
4
In a small bowl, whisk the egg to form a wash.
5
Prepare the top crust, adding decorative cutouts or cutting lattice strips if desired. Cover the top of the pie with the prepared top crust, sealing the edges with the egg wash and cutting vents if needed.
6
Brush the top of the crust with the egg wash, and sprinkle over a light coating of sugar.
7
Place the pie in the oven and bake until the crust is a rich golden color and the filling is bubbly and thick, about 1 hour and 15 minutes; rotate the pie halfway through for even coloring, and tent if needed to prevent over-coloring.
8
---
Get our new Cooking newsletter.
Your roundup of inspiring recipes and kitchen tricks.
You may occasionally receive promotional content from the Los Angeles Times.