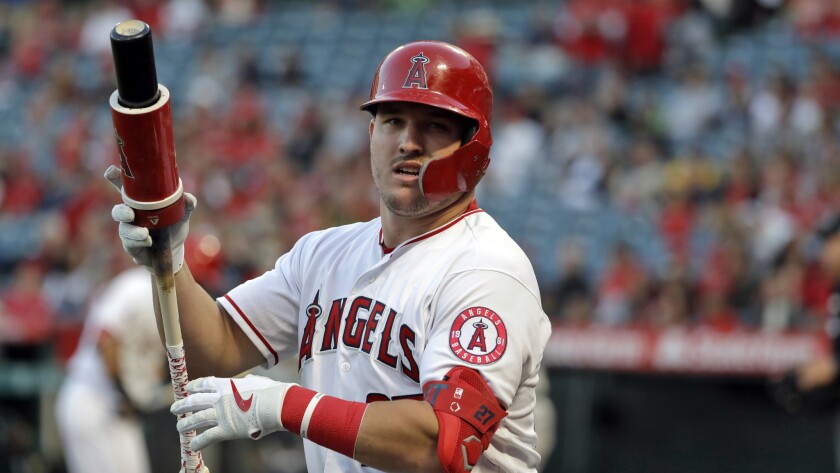 Howdy, my name is Houston Mitchell and "Spider-Man: Far From Home" is a really good movie.
Baseball
Welcome to what are usually the quietest four days of the sports year. No MLB games that mean anything. NO NBA games. No NFL games. No NHL games. What is there to talk about? How about Mike Trout.
How great is Mike Trout? Andy McCullough spent some time asking a few All-Stars about that. Here's what he turned up:
"The best baseball players in the world gathered in Cleveland on Monday for All-Star game media day. The rosters feature participants from three different continents, an assembly of differing philosophies, ideologies and agendas. Among this disparate collection, finding a consensus can be difficult.
"Except, of course, when it comes to determining the best player in the sport.
"Trout, the 27-year-old, eight-time All-Star outfielder for the Angels, stands alone at the top….
"Trout, in the eyes of his fellow players, plays without a visible weakness. That raises a question, which The Times asked of the other All-Stars on Monday: What one skill of Trout's do you most envy? The answers revealed both the depths of his peers' admiration and the breadth of his skills.
"I really have to choose one, out of everything he has?" asked Tampa Bay utility man Brandon Lowe.
"I'd take his entire game, if I could," Milwaukee infielder Mike Moustakas said.
"All of it," Astros outfielder Michael Brantley said. "How's that answer? All of it. He's a great player. Both sides of the ball, you name it — he can do it. I want all of it."
"The omnibus approach seems reasonable. Trout does not astound solely for his power, or for his speed, or for his eye at the plate. His greatness stems from the overlap of those skills and their constancy.
"Trout appears unflappable as a hitter, the players said. Colorado outfielder David Dahl noted that Trout is never rattled by misfortune. "No matter what happens, it seems like you can't take him out of his approach, whether it's a bad call, or he has an at-bat where it doesn't go well," Dahl said. "He seems locked in, every at-bat."
Kansas City's Whit Merrifield said "He just never seems to swing at a pitch out of the zone," Merrifield said. "He's never fooled."
"He can not know a pitch is coming, and I feel like he still takes a swing where I take a step back on defense, where I'm like 'Oh, man, that is scary,'" Lowe said.
"Dodgers infielder Max Muncy struck a similar chord. Say the pitcher throws a well-located slider, down and away from Trout, Muncy explained. Trout can still clobber it. "No matter what kind of swing he takes, it's like it's coming off a trampoline," Muncy said."
---
OK, back to your host here. How great is Trout? Let's take a look at just one aspect of his game, hitting. Using OPS+ as our guide, where does Trout rank all time among players with at least 3,000 plate appearances? (OPS+ compares a players offense to the average offensive player in that player's time frame. An OPS+ of 100 means you are a league average hitter. OPS+ of 110 means you are 10% better than league average. An OPS+ of 90 means you are 10% worse, etc.)
1. Babe Ruth, 206
2. Ted Williams, 190
3. Barry Bonds, 182
4. Lou Gehrig, 179
5. Mike Trout, 176
6. Rogers Hornsby, 175
7. Mickey Mantle, 172
8. Dan Brouthers, 171
9. Joe Jackson, 170
10. Ty Cobb, 168
Other active players in the top 100:
28. Joey Votto, 152
35. Miguel Cabrera, 149
40. Albert Pujols, 148
48. Giancarlo Stanton, 144
61. Paul Goldschmidt, 142
92. Freddie Freeman, 137
92. Bryce Harper, 137
92. J.D. Martinez, 137
Other baseball news
Mets' Pete Alonso wins the Home Run Derby
Dodgers manager Dave Roberts would like a White House invitation to decline
Angels' Jonathan Lucroy sustains a concussion and a broken nose in plate collision
Padres closer Kirby Yates is an All-Star the Angels let get away
Lakers
LeBron James will be the starting point guard for the Lakers next season, according to our own Broderick Turner, who writes,
"The 6-foot-8 James will initiate the Lakers' offense similar to the way Hall of Fame forward Scottie Pippen ran the offense for the Chicago Bulls.
"It's not really new for James, as he has been a ball-dominant player his entire career and a willing passer who has averaged 7.2 assists.
"James averaged 8.3 assists with the Lakers last season to go with 27.4 points. He averaged a career-high 9.1 assists the previous season.
"The Lakers probably will start Danny Green in the backcourt and will have many options with their multitude of guards, including Avery Bradley, who agreed to a two-year contract.
"Bradley, who's started for four other teams in his nine-year career, can use his strong defensive skills to defend opposing point guards. James will defend small forwards."
Other NBA news
The Lakers' key to cohesiveness this season might be DeMarcus Cousins
Clippers, with biggest moves made, bring back key piece from last season
Tennis
Former world No. 1 Simona Halep who ended the storybook Wimbledon run of 15-year-old Coco Gauff that included back-to-back-to-back upsets of Venus Williams, Magdalena Rybarikova and Polona Hercog.
"I hope they learned about me that I'm a fighter," Gauff, who lost 6-3, 6-3, said. "I'll never give up. I hope they learned from me that, I mean, anything is possible if you work hard, just continue to dream big.
"If somebody told me this maybe three weeks ago, I probably wouldn't believe it. But I think just putting in the work definitely raised my confidence because I knew how hard I worked and I knew what shots I could make and what was possible."
Sports poll
Who will win the NBA's Western Conference this season? Click here to vote in our poll. Or, if you prefer, you can email me here.
Your favorite sports moment
What is your favorite all-time L.A. sports moment? Click here to tell me what it is and why, and I'll start running them in future newsletters. And yes, if your favorite moment is about the Angels or Ducks or a team just outside of L.A., I'll count that too. And the moment doesn't have to have happened in L.A., just needs to involve an area team.
Our next one comes from Bryan Beban:
"The 1981 Dodgers. Rick Monday home run in Montreal in the top of the ninth of Game 5 of the 1981 NLCS to send L.A. to the World Series. Incredible moment for the franchise and a memory for me and about 20 friends who were huddled in the playground during lunch recess around a transistor radio to listen to the end of the game, which was a day game. Jerry Doggett, I believe, was doing the play-by-play, and when Monday hit the homer we all sprinted around the playground screaming. So much fun. The Dodgers of course would win their first World Series since 1965 about a week later beating the Yankees in six games."
Odds and ends
Beau Bridges to portray his former UCLA basketball coach, John Wooden…. Julian Alaphilippe claims Tour de France yellow jersey with Stage 3 win
Other newsletters
We also have other newsletters you can subscribe to for free. They are emailed to you and we don't sell your name to other companies, so no spam from us. They are:
Our Dodgers newsletter, written by me. Subscribe here.
Lakers newsletter, written by Tania Ganguli. Subscribe here.
Horse racing newsletter, written by John Cherwa. Subscribe here.
Soccer newsletter, written by Kevin Baxter. Subscribe here.
Today's local major sports schedule
Sparks at Dallas, 10 a.m., Spectrum Sportsnet
MLB All-Star game, 4:30 p.m., Fox, 710 ESPN
Born on this date
1905: NHL president Clarence Campbell
1942: Horse trainer Bob Frankel
1955: Baseball player Willie Wilson
1964: Golfer Scott Verplank
1965: Horse trainer Bob Hess Jr.
1970: NHL player Steve Dubinsky
Died on this date
1966: Baseball player Mule Suttles, 65
And finally
MLB All-Star game in memoriam 2019. Click here to watch.
That concludes the newsletter for today. If you have any feedback, ideas for improvement or things you'd like to see, please email us here. If you want to subscribe, click here.
---