Floyd Mayweather Jr. addresses fight that was never meant to happen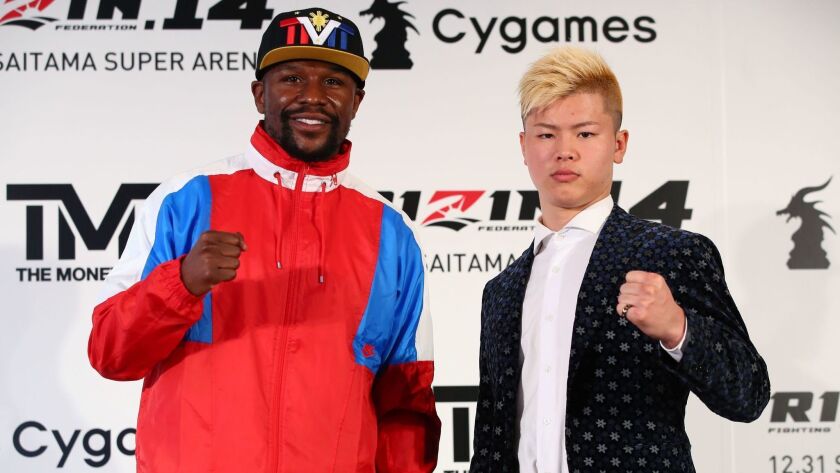 From the start, it didn't make sense — Floyd Mayweather Jr. risking his unbeaten fighting record in a New Year's Eve match with unknown rules against a gifted, young kickboxer in Japan.
Mayweather admitted as much Wednesday, signaling his intention to withdraw from the exhibition against Japanese kickboxer Tenshin Nasukawa.
In an extended Instagram post, Mayweather (50-0 in boxing) said his trip to Tokyo was "long and disappointing.
"I want to make it clear Floyd Mayweather never agreed to an official bout … in fact, with all due respect, I had never heard of [Nasukawa] until this recent trip. I was asked to participate in a nine-minute exhibition of three rounds with an opponent selected by the Rizin Fighting Federation.
"I was originally informed by Brent Johnson of 'One Entertainment' that this was to be an exhibition put on for a small group of wealthy spectators for a very large fee."
Mayweather said he was told the bout was "purely for entertainment purposes with no intention of being represented as an official fight card nor televised worldwide.
"Once I arrived to the press conference, my team and I were completely derailed by the new direction this event was going and we should have put a stop to it immediately."
He said he wants to "sincerely apologize to my fans for the very misleading information that was announced during the press conference and I can assure you that I was completely blindsided by the arrangements that were being made without my consent or approval."
He said he was "hesitant to create a huge disturbance by combating what was said" because several fans in attendance had flown in from "all parts of the world" to attend the session.
"I am truly sorry," Mayweather continued. "I am a retired boxer that earns an unprecedented amount of money globally for appearances, speaking engagements and occasional small exhibitions."
It's been speculated, thanks to a Mayweather appearance alongside Manny Pacquiao at a rave event in Tokyo earlier this year, that the pair were headed to a rematch. Mayweather turns 42 in February.
Pacquiao, who turns 40 in December, is expected to defend his secondary World Boxing Assn. secondary welterweight belt against former four-division world champion Adrien Broner Jan. 19 in Las Vegas.
If Pacquiao wins, expect Mayweather's interest to be far more serious than it was to the exhibition in Japan.
---
Get the latest on L.A.'s teams in the daily Sports Report newsletter.
You may occasionally receive promotional content from the Los Angeles Times.