For UFC's Paige VanZant, star power has more meaning than a belt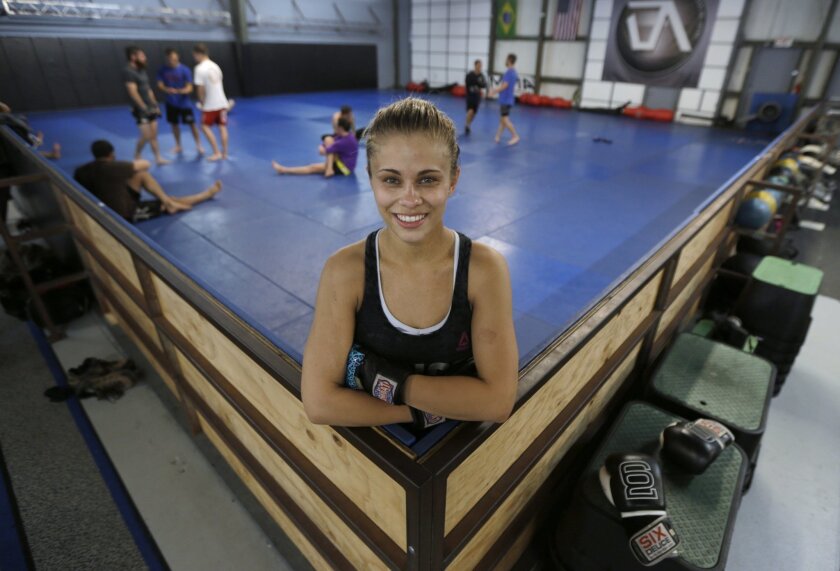 Any questions about Paige VanZant's competitive nature and toughness were effectively answered by the bloody beating she took at the hands of Rose Namajunas a year ago this month.
So when the 22-year-old recent "Dancing With the Stars" runner-up said this week in an interview that "I really haven't thought about" winning a UFC women's straw-weight title, the first reaction is to question her commitment.
In light of the UFC's purchase this year by Beverly Hills talent agency WME-IMG and by considering VanZant's popularity noted in her main-event placement on Saturday's UFC Fight Night card on Fox from Sacramento, it quickly becomes apparent VanZant is deeply driven by a more universal definition of success.
"I take fights as they come. The ultimate goal is to win and win, but I also have many other things outside fighting that I'm pursuing and I'm passionate about," VanZant told the Los Angeles Times while taking tiny bites from a kale salad in an interview at a hillside restaurant on the Westside.
"I'm writing a book. I want to have my own cooking show. I want a gym."
Although she's single, VanZant said the idea of being married and having a child in around five years is appealing, too.
"Winning the belt for me isn't the be-all, end-all," she said. "It's being successful. And being a light for people to see. I'm a Christian, so I feel I was put her for a specific purpose, to use this as a platform. That's what's important to me."
VanZant (7-2) is the UFC's No. 7-ranked straw-weight and she'll meet former Invicta atom-weight champion Michelle Waterson (No. 11) in Saturday's card that will also feature bouts including Sage Northcutt and VanZant's retiring mentor at Team Alpha Male in Sacramento, Urijah Faber.
"It is a unique situation for her compared to other fighters," Faber said. "She's a young girl who's been thrown into the limelight, and she just has this, 'Yes I can' attitude about anything she puts her mind to. The way she's kept poised through it, with media obligations that go beyond being a fighter, is impressive.
"Her challenge is focus as she's pulled in so many directions, but she's handling it now and she's one of the hardest working fighters we have in our gym."
VanZant, encouraged by the UFC to heighten her brand, has risen to No. 3 behind Conor McGregor and Ronda Rousey for Twitter followers, and her magnetic looks ensure casting calls assisted by WME-IMG are coming.
"I'm nothing but positive about the ownership change," VanZant said. "I hope they help us be looked at more as celebrities and get that behind us — that we're looked at as more than just fighters. I wouldn't say I'm in fighting to be a movie star, but with my success in it and the attention that comes from it, someone over here [in Hollywood] will like it. I will look at any opportunity they give me."
In the meantime, television time comes in fighting, and VanZant said that defeating Bec Rawlings by a second-round head kick instilled needed confidence after the Namajunas defeat that was a savage beating but also certified her commitment to fighting.
"I know I'm ready for [Waterson]," VanZant said. "You just have to believe in yourself. It's a huge mental game where you have to go into it knowing you're going to win. I loved the way I finished [Rawlings]. It gave me a sense that I can finish fights however I want to, showing I have more tools in my arsenal."
"I hate losing, but the loss helped my career somehow."
Although she lives in Reno, VanZant usually spends about half the year training in Sacramento, receiving daily support about her fight at visits to 24 Hour Fitness and grocery and department stores.
"Sure, the UFC put me [in the main event] for their reasons, and I don't think about why I'm where I am, but I know I work very hard and I'm going to try to be very successful at whatever I do," VanZant said.
"I find things I'm passionate about and I do them. Fighting, I love, so I'm going to keep doing it until I don't like it anymore. And I have a lot of other things I want to do with my life, avenues I want to pursue, and when the timing is right, I'm going to go for those. I have opportunities that come up with my success, and if I'm passionate, I'm going to go for it."
---
Get our high school sports newsletter
Prep Rally is devoted to the SoCal high school sports experience, bringing you scores, stories and a behind-the-scenes look at what makes prep sports so popular.
You may occasionally receive promotional content from the Los Angeles Times.