UFC 235 live updates: Round-by-round, fight-by-fight coverage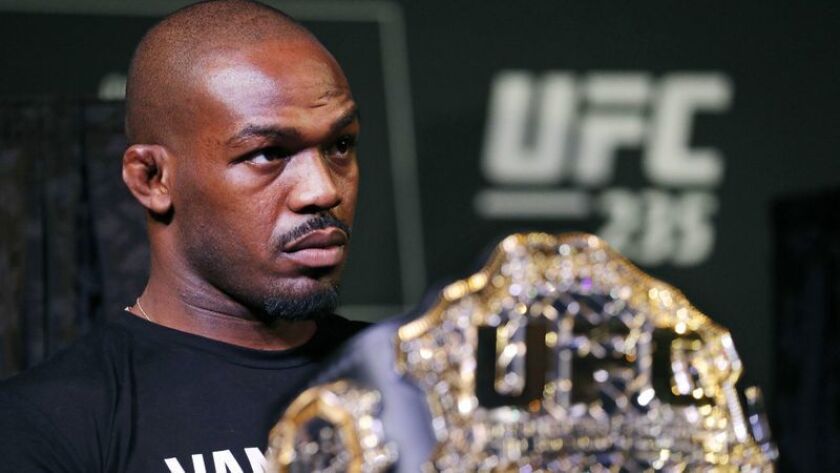 The UFC 235 main event has Jon Jones (23-1) defending his light-heavyweight title against challenger Anthony Smith (31-13). Join us for round-by-round, fight-by-fight coverage from Las Vegas. The card also features: Tyron Woodley (19-3-1) vs. Kamaru Usman (14-1) for Woodley's welterweight belt; Ben Askren (18-0) vs. Robbie Lawler (28-12), welterweights; Tecia Torres (10-3) vs. Weili Zhang (18-1), women's straw-weights; Cody Garbrandt (11-2) vs. Pedro Munhoz (17-3), bantamweights.
UFC light heavyweight title: Jon Jones vs. Anthony Smith
Jon Jones is universally viewed as one of the best fighters of all time and he is looking to fight more often after drug test failures and out of competition issues kept him out of action for long stretches in recent years. Anthony Smith is a massive underdog. He earned this shot with three straight wins, albeit against a couple of fighters past their prime.
Round 1. Smith lands a hard leg kick, the first solid shot by either fighter. Jones swings wildly a couple times and doesn't land. Jones does connect with a spinning back kick to the body. Jones misses with an ax kick. Jones lands another spinning back kick to the body. Smith lands a head kick. Jones catches the leg and clinches. Uneventful round. 10-9 Jones.
Round 2. Jones opens with a few kicks at different angles. Jones connects with a front kick that forces Smith to back away. Jones lands a spinning elbow. Jones is continually attacking with kicks; those have been his primary weapon in this bout. Both men land punches in an exchange. 10-9 Jones.
Round 3. Jones looks for a takedown. Smith stops him but Jones does land a heavy knee to the body in the process. They end up in a clinch stalemate for an extended period before Jones finally slams Smith down with two minutes left. Nothing really happens with Smith and Jones on the ground. 10-9 Jones.
Round 4. Jones attacks with kicks including a hard spinning back kick to the body and then follows that with some elbows to the head. Jones throws Smith to the ground. Smith is bleeding now from the face. Jones lands some punches on the ground. Smith stands up but then is taken back down. Jones lands some punches, elbows and knees on the ground. Jones lands an illegal knee to the head as Smith is still down. Referee Herb Dean deducts two points for some reason. 10-8 Jones, so 8-8 with the point deduction.
Round 5. Smith comes out swinging with power punches. Jones shoots in for takedown but doesn't get it. They end up back in a clinch. Jones lands some punches and shoulder strikes but isn't doing all that much while Smith is just hanging on. This hasn't been a fan friendly fight. 10-9 Jones, 48-44 Jones.
Winner: Jon Jones, unanimous decision (48-44, 48-44, 48-44).
That wasn't a fight that's going to be talked about when remembering Jones' career. It was a flat fight where Jones was clearly better. Questions remain about how good Jones is now relative to a few years back before all the issues arose.
UFC welterweight title: Tyron Woodley vs. Kamaru Usman
As Tyron Woodley continues to successfully defend the UFC welterweight title, he is establishing himself as one of the best welterweights in the history of the sport. With excellent wrestling and striking, he poses a difficult challenge for any opponent. Kamaru Usman is younger and longer with an excellent wrestling pedigree of his own. Usman has won nine UFC fights in a row to earn this title shot.
Round 1. Usman immediately moves into range and Woodley throws a right hand. Usman goes for a takedown and Woodley grabs a guillotine. Woodley doesn't have Usman in danger and Usman just repeatedly attacks Woodley's body. Woodley looks to stand up while Usman lands a few knees to the body. Woodley stands up and separates. Usman throws a lead jab and then shoots in for another takedown attempt. Woodley blocks it. Usman lands a straight right hand and returns to the clinch. Usman can't set anything up. Usman and Woodley both land punches from close range before they end up back in another clinch. 10-9 Usman.
Round 2. Usman again throws a jab and then moves in for a takedown. He can't get it but Usman lands a heavy elbow on the break. Woodley is bleeding right around the eye. Usman then scores a takedown and secures full mount. Usman lands some punches and elbows from there although on balance Woodley is doing a good job defending. Usman looks to set up an arm triangle choke but Woodley prevents that. 10-8 Usman.
Round 3. Woodley throws one of those big right hands as Usman moves in. They end up back in the clinch where Usman lands one punch after another to the body. They break but Usman goes right back in to the clinch where Usman is landing punches and knees. After a break, Woodley lands a nice shot as Usman is moving in. Usman gets that clinch again. 10-9 Usman.
Round 4. Woodley lands an uppercut as Usman comes in. Woodley grabs a guillotine choke and pulls guard but he loses the choke in the process and ends up on his back. Usman uses some shoulder strikes and controlling Woodley. They are stood up and end up back in the clinch. Woodley lands punches while Usman lands knees. Usman opens up with punches and has Woodley in trouble. Woodley is getting punished but fires back with a knee. Usman is beating Woodley up by the cage. Woodley's facial expression at the close of the round is not good at all. 10-8 Usman.
Round 5. Usman moves right back in for the clinch. Woodley grabs a guillotine choke. Usman slams him down and attempts a Von Flue choke from the top. Woodley gives up the guillotine. Usman lands some punches and elbows to the body and then attacks the head as well. Woodley looks to finally stand back up at the end of the round but Usman won't even allow him that. 10-8 Usman, 50-42 Usman.
Winner: Kamaru Usman, unanimous decision (50-44, 50-44, 50-45).
That was a masterful performance by Usman, who put it on a great champion and dominated for 25 minutes. Usman has been underappreciated for some time and he proved his skill level in that bout. It was the sort of performance that makes you think he might be able to hold that title for a while.
Robbie Lawler vs. Ben Askren
Robbie Lawler is the former UFC welterweight champion and he has beaten some of the top names in the sport. He welcomes to the UFC Ben Askren, the former Bellator and One champion. Askren is unbeaten in MMA and is an NCAA champion and Olympic wrestler.
Round 1. Askren immediately grabs a hold of Lawler. Lawler slams Askren down and opens up with a vicious series of punches and elbows. Askren is just barely holding on. Askren gets up and eats a hard knee to the body. Askren walks into an uppercut. he's bleeding badly. Askren clinches again. Askren lands a knee but Lawler answers with a knee of his own. Askren finally gets a takedown with two minutes left. Askren looks for a bulldog choke and the fight is stopped.
Winner: Ben Askren, submission, round 1.
That's sure to be a controversial stoppage. Lawler's arm dropped down quickly, giving the impression that he was choked unconscious. Referee Herb Dean stepped in and stopped the fight. Lawler protested immediately but it certainly seemed possible that Lawler went unconscious and then woke up. Either way, that was a heck of a comeback from Ben Askren after getting badly damaged at the beginning of the fight and barely surviving.
Weili Zhang vs. Tecia Torres
Weili Zhang has won 18 straight fights and is looking to become the first UFC star fighter from China. UFC has invested in that market and is hoping with its martial arts tradition that it can become an MMA hotbed. Tecia Torres is likely the toughest opponent thus far in Zhang's career and Torres is motivated coming off two straight losses against elite fighters.
Round 1. Both fighters come out throwing plenty of kicks. Zhang looks for a takedown in a scramble but Torres avoids that and returns to the feet. Zhang again looks for a takedown and she jumps on Torres' back in the effort. Torres is eventually able to get out of that. Torres gets Zhang down late but Zhang rolls through and takes top position at the close of the round. 10-9 Zhang.
Round 2. Zhang opens with a few low kicks. Torres and Zhang both connect with punches on the other in an exchange. Torres lands a nice combination of punches, one of the best for her in the fight. Zhang looks for a takedown. Torres defends well initially but Zhang is able to get her down and lands a few punches. Torres is able to reverse into top position and hit Zhang a few times before the round concludes. 10-9 Torres.
Round 3. Torres connects with a few heavy punches early. She has turned things around from an output standpoint in the second and third rounds of this fight. Zhang clinches and looks for a takedown but Torres blocks it. Zhang gets a takedown at the midpoint of the round. Zhang lands a series of punches and elbows from in Torres' half guard. Zhang keeps landing until the fight comes to an end. 10-9 Zhang, 29-28 Zhang.
Winner: Weili Zhang, unanimous decision (29-28, 30-27, 30-27).
It looked like Zhang's takedown in the third might have been the difference in the fight but ultimately the judges had her ahead anyway. That was a competitive fight and certainly not a dominant performance from Zhang but she got the win against a ranked opponent. It also likely showed her she has some things to work on if she is going to make the top of her division. Zhang confirmed as much in her post fight interview.
Cody Garbrandt vs. Pedro Munhoz
Cody Garbrandt won the UFC bantamweight title and was a burgeoning star of the sport before losing twice via knockout to T.J. Dillashaw. Now Garbrandt will seek to rebound against Pedro Munhoz, who has won 6 of 7 and now receives the biggest opportunity of his career.
Round 1. Munhoz catches a kick and looks for a leg submission but he can't get anything and gives it up. Both fighters are relying more on one strike at a time rather than throwing combinations, particularly Munhoz. Munhoz keeps attacking the leg of Garbrandt and Garbrandt is walking a little awkwardly. Garbrandt is stunned following a clash of heads and Munhoz follows him to the ground. Garbrandt gets up and comes up with a wild knee that connects. Garbrandt then starts wildly swinging and Munhoz swings back. They go toe to toe throwing hard punches back and forth, each landing big blows. Finally, in the closing seconds of the round, Munhoz lands a heavy right hook. Garbrandt goes down, Munhoz lands a few more punches on the ground and that's it.
Winner: Pedro Munhoz, TKO, round 1.
Once again, Garbrandt got reckless while doing well and got knocked out. That's three straight fights that has happened. He's a dangerous striker and has great confidence in himself but his chin is a vulnerability and he doesn't protect it sufficiently against top flight opponents.
Zabit Magomedsharipov vs. Jeremy Stephens
Zabit Magomedsharipov has made a lot of believers with his early performances in the Octagon. The Dagestani competitor is 4-0 in the UFC with 3 submissions and has a unique style that is tricky to deal with. Jeremy Stephens presents less of a mystery: he's a durable, heavy handed who has fought top notch competition for over a decade now.
Round 1. Stephens moves forward with Magomedsharipov backing away and looking to find the proper range. Both fighters are cautious with their hands and kicks have been the primary weapons in the early part of the fight. Magomedsharipov connects with a couple of particularly solid leg kicks. Stephens continues to pursue while Magomedsharipov prevents him from getting in range. Magomedsharipov throws a wild spinning kick and then goes for the showtime kick ala Anthony Pettis off the cage but misses with that. 10-9 Magomedsharipov.
Round 2. Magomedsharipov lands a hook kick and then a series of straight punches. Magomedsharipov scores a takedown but Stephens quickly gets back up. Magomedsharipov retains body control and tries to pull Stephens back down. Magomedsharipov eventually gets Stephens on the mat and lands a few elbows from there. Magomedsharipov gets full mount and Stephens gives him his back. Stephens gets out as the round closes. 10-9 Magomedsharipov.
Round 3. Stephens comes in swinging and has a little success landing a few punches in the early part of the third. Magomedsharipov is a very different fighter depending on whether he is moving forward or backward. Magomedsharipov shoots for a takedown and has it stuffed. Stephens throws a wild punch as Magomedsharipov backs away. Magomedsharipov is fighting like he knows he has two rounds in the bank and there isn't the same priority to win. He looks up at the clock multiple times. Stephens lands a few nice straight punches as Magomedsharipov moves in swinging. 10-9 Stephens, 29-28 Magomedsharipov.
Winner: Zabit Magomedsharipov, unanimous decision (29-28, 29-28, 29-28).
The crowd boos given Stephens came on at the end but that was an easy fight to score. Magomedsharipov got the better of Stephens in the first and second, with Stephens coming on in the third when it was too late. That wasn't the most impressive of wins for Magomedsharipov but he showed many flashes of his ability against a quality opponent.
Johnny Walker vs. Misha Cirkunov
The buzz is strong on Johnny Walker right now as he is coming off a spectacular victory a month ago. He has the opportunity here to move into the upper ranks of the light heavyweight division as Cirkunov is a capable contender with excellent submission skills and a well developed overall game.
Round 1. Walker lands a massive flying knee to the head and knocks Cirkunov out in less than 35 seconds.
Winner: Johnny Walker, TKO, round 1.
Johnny Walker looks like he could be a major star. He's finishing fights in devastating fashion and has an electric personality to boot. There's a ton to like about him. Unfortunately and strangely, Walker injured himself celebrating as he collapsed to the canvas apparently looking to do the worm but injured his shoulder in the process. He was very amused by this turn of events in his post fight interview.
Cody Stamann vs. Alejandro Perez
Cody Stamann has accumulated an impressive 17-2 record including 3 UFC wins. Alejandro Perez is one of the best Mexican fighters and he has really upped his game recently, going 6-0-1 in his last 7 fights.
Round 1. Stamann moves in with a quality right hand early. Stamann looks for a takedown but Perez fires back with punches and forces Stamann to back off. In the process, Stamann connects with a nice hook. Perez lands with a strong two punch combination by the cage, probably the best strikes of the fight. Stamann looks for a late takedown before the round comes to a close. 10-9 Perez.
Round 2. Perez throws some leg kicks early to establish range. Stamann lands a nice left hook. Stamann looks for a takedown but Perez defends it well. Neither man was able to land a lot in that round and it was very close. 10-9 Perez.
Round 3. Perez grabs Stamann and slams Stamann down right on his head impressively. Perez lands a few kicks before Stamann gets up. Perez connects with a hard punch by the cage. The fighters exchange kicks. Stamann looks for a takedown with a minute left and gains a deep double leg. Perez is able to prevent the takedown and the round expires. 10-9 Perez, 30-27 Perez.
Winner: Cody Stamann, unanimous decision (30-27, 29-28, 29-28).
The crowd boos the decision but it was a close one with rounds that could fairly have been judged either way. Stamann seemed displeased with his performance.
Diego Sanchez vs. Mickey Gall
Diego Sanchez is the longest tenured UFC fighter as the Ultimate Fighter 1 winner has been competing in the organization since 2005. Now 37, he is 4-4 in his last 8 fights. Mickey Gall has received some name opponents in his short career, taking on CM Punk, Sage Northcutt and now Sanchez. All of Gall's wins have come via rear naked choke.
Round 1. Mickey Gall comes out swinging and lands a few big punches to the head of Sanchez. Gall continues to press, throwing power punches in bunches repeatedly. Gall slows down a little 90 seconds in and stops throwing quite so much. Sanchez clinches and secures a takedown. Gall stands up but Sanchez pulls him back down. Gall again returns to his feet but Sanchez keeps control of the body and takes Gall back down. Gall lands some punches from the bottom while Sanchez attacks the body with elbows from the top. Sanchez lands some quality punches from the top and gains side control. 10-9 Gall. Sanchez had extended ground control but the best offense of the round by far was Gall standing at the beginning.
Round 2. Sanchez opens with a few leg kicks and clinches again. Sanchez doesn't get the takedown and eats a massive looping punch from Gall. Sanchez looks in a bit of trouble but Gall isn't able to capitalize. Sanchez lands a nice knee to the head in a clinch and Gall goes down. A wild scramble ensues and Gall is clearly very fatigued. Sanchez gets top position and moves into full mount. He loses that position but works from side control. Sanchez lands a series of elbows there. Sanchez regains mount and keeps throwing those elbows. Sanchez lands punch after punch and finally the bout is stopped.
Winner: Diego Sanchez, TKO, round 2.
Sanchez is a decade older than Gall but his conditioning made the difference against the younger man. Gall was dangerous early but Sanchez kept pressing forward until eventually Gall could no longer keep up.
Edmen Shahbazyan vs. Charles Byrd
Edmen Shahbazyan is a young, unbeaten prospect with knockouts in almost all of his wins. Charles Byrd is 14 years his senior and has had success with submissions lately.
Round 1. Byrd shoots in for a takedown. They end up by the cage where Shahbazyan opens up with a series of elbows to the head. Byrd goes down and covers up, forcing the fight to be stopped.
Winner: Edmen Shahbazyan, TKO, round 1.
In recent years, that has become a more common weapon in MMA, as fighters realize they can finish opponents with elbows when those foes go in for takedowns. Shahbazyan won that fight quickly and convincingly.
Gina Mazany vs. Macy Chiasson
Gina Mazany competed on the Ultimate Fighter but has struggled in the UFC since, going 1-2. Macy Chiasson won a different season of the Ultimate Fighter and is undefeated as a professional. She is the second heaviest favorite of the night behind only Jon Jones in the main event.
Round 1. Chiasson, moving down from featherweight to bantamweight, looks much bigger than Mazany. Chiasson is throwing a lot of kicks in her combinations while charging forward with punches. Chiasson aggressively pushes in with punches and drops Mazany with a series of punches. Chiasson follows with more punches on the ground and the fight is quickly called off.
Winner: Macy Chiasson, TKO, round 1.
That was an impressive win for Chiasson, who made quick work of Mazany. Chiasson may have to demonstrate greater caution as she moves up the ranks as her aggression in that fight left openings that future opponents could capitalize on.
Polyana Viana vs. Hannah Cifers
UFC 235 kicks off with a women's bout in the 115 pound division. The Brazilian competitor Polyana Viana is 1-1 thus far in the UFC and is a finisher with a knockout or submission in every career victory. She takes on the American Hannah Cifers who dropped her first UFC contest to Maycee Barber and is 8-3 overall.
Round 1. Both fighters exercise caution in the early striking, not throwing much with respect for the other's power. Viana pulls guard and looks for a heel hook. Cifers gets her to give that up with punches and stands back up. Cifers drops Viana with a hard straight right hand, easily the bigger blow of the bout. Cifers lands some kicks to the legs while Viana is on the ground and Viana eventually returns to the feet. Cifers connects well again late in the round. 10-9 Cifers.
Round 2. The second round begins with a much quicker pace than the first. Cifers opens up with a flurry of leg kicks and also some punches. Viana knocks Cifers off balance with an open hand hook but ends up on bottom in the scramble. From the bottom, Viana is aggressive with repeated elbows while controlling Cifers with her full guard. Cifers responds with a few punches from the top. Viana continues to attack with punches and elbows from the bottom. Viana spent most of the round on the bottom but controlled the fight there. 10-9 Viana.
Round 3. Viana opens with a few kicks. She lands a solid head kick in an exchange. Cifers nails Viana with a crisp overhand punch. Viana lands some knees to the body in a clinch. On the separation, Cifers lands a strong punch. They completely open up at the end, swinging wild punches back and forth before the round concludes. 10-9 Viana, 29-28 Viana.
Winner: Hannah Cifers, split decision (29-28, 28-29, 29-28).
A close fight merited a close decision. It's understandable Cifers got the nod because the clearest round was her round in the first. That meant Viana needed to win both the close second and third from two judges in order to get the decision.
Jon Jones among the fighters facing day of reckoning
Opportunities abound for the key players of Saturday's UFC 235, and now come their moments of truth.
Light-heavyweight champion Jon Jones, having submitted to a record number of drug tests following four years of career turbulence, has the potential to thrust himself beyond the negativity by defending his belt barely two months after recapturing it.
Welterweight champion Tyron Woodley, in his fifth title defense, looks to extend his unbeaten run dating to 2014 against a remarkably fit challenger in Kamaru Usman and elevate his position in the UFC's pound-for-pound rankings.
And Woodley's close friend and training partner Ben Askren makes his anticipated UFC debut after already displaying a captivating personality that carries potential to make him a forceful draw.
Woodley and Askren bond means they'll never square off in octagon
Rules are meant to be broken, or at least questioned, and with the gifted tandem of Tyron Woodley and Ben Askren testing authority, the UFC's typical hard-line policies are going to have to budge.
Not only do the longtime training mates refuse to fight each other even though both are elite members of the 170-pound welterweight division, the situation begs for the UFC to cave and create a new 165-pound division.
"It probably will be presented," Askren (18-0) said of the likelihood this year that UFC bosses will press him to fight champion Woodley should both win their separate Saturday UFC 235 fights at T-Mobile Arena. "We'll just say no."
Added Woodley: "Come to the gym and watch us."
Covington claims 'corruption' and hints at exit from UFC
Wearing a "Make America Great Again" cap that was perhaps the same one he donned while visiting President Trump, welterweight Colby Covington stormed a fighters' public workout Thursday and demanded a title shot.
Covington, who was bypassed for a welterweight-title shot against champion Tyron Woodley by Kamaru Usman for UFC 235, threatened that if he isn't assigned to fight Saturday's winner for the title, he'll ask for his release and join a different mixed martial arts company.
"I better be next or I'm going somewhere else. It's title next, or I'm out of the UFC," Covington said.
He estimated 80% "of the fans wanted me to fight. They didn't want to see Usman. This is corruption from the UFC," the Clovis, Calif.-born Covington, 31, told reporters after being escorted away from Usman's workout at the MGM Grand by UFC security guards.
---
Get the latest on L.A.'s teams in the daily Sports Report newsletter.
You may occasionally receive promotional content from the Los Angeles Times.