Deontay Wilder is thankful Tyson Fury has helped him pin down Anthony Joshua
Deontay Wilder sought to make Anthony Joshua fight him sooner rather than later. It wasn't until recently that he realized he had a partner in that pursuit, his Dec. 1 opponent at Staples Center, Tyson Fury.
World Boxing Council champion Wilder (40-0, 39 knockouts) and lineal, former three-belt champion Fury (27-0, 19 KOs) will arrive at L.A. Live's Novo club Wednesday (doors open to the public at noon for a 1 p.m. news conference) to conclude a three-stop tour of hyping their Showtime pay-per-view bout.
"Most definitely, we're going to prove what a great fight town this is on Dec. 1," Wilder said after the Leo Santa Cruz-Abner Mares featherweight battle in June and Mikey Garcia's lightweight unification victory in July have sold well. "You've got the second biggest media capital in the world here, with all those stars who'll come out. What better place could there be? I'm glad I'm going to revive it and start everything back up with this fight here."
Joking that he'd lost his voice from the trips to London and New York, Wilder expressed appreciation for the bold stroke Fury made in taking himself away as an immediate chess piece for Joshua to play by instead pursuing a showdown with Wilder.
"It really had nothing to do with anyone but me and Fury," Wilder revealed in a telephone conversation with the Los Angeles Times on Tuesday. "Fury contacted me himself and he was ashamed of what Joshua was putting me through" by choosing a mandatory title defense last month.
"Fury said: 'Deontay, I promised you a fight a long time ago, and let's make that happen. Let's make the biggest fight in the world happen, and do it now.' It's the right fight at the right moment and it gives me all the leverage I need."
England's Joshua (21-0, 20 KOs) has an April 13 date reserved at London's Wembley Stadium, and he'd clearly appear to be dodging the Wilder-Fury winner if he chooses anyone except the man who prevails Dec. 1.
"I said a long time ago that we were going to smoke him out, and the process has begun," Wilder said. "His countrymen understand, and they're on him. He's feeling the pressure. When I beat Fury, it'll be a hell of a lot of pressure. I'm saying go to his house and tell him."
Alabama's Wilder is coming off a gut-check, 10th-round stoppage of Cuba's Luis Ortiz in March after being severely rocked, and Fury has won two fights and got himself back into shape following a fall from grace marked by a positive drug test, an excessive weight gain and offensive opinions following his 2015 upset of longtime heavyweight champion Wladimir Klitschko.
As much as he's looking to knock out the 6-foot-9 Fury, Wilder has found some appreciation in the charismatic, unpredictable former champion.
"I like change and this has been good to have a dancing partner. It's a breath of fresh air that he can talk as well as he does. It's a blessing. Some people can say it's staged, but there's no smirks, nothing fake about us," Wilder said.
"Now we get to see who the one champion is. We're both great talkers, do things in our own way. I like to motivate people. He's on to somewhere else. We're all different. When it's time for the night of the fight, that's all that's going to matter."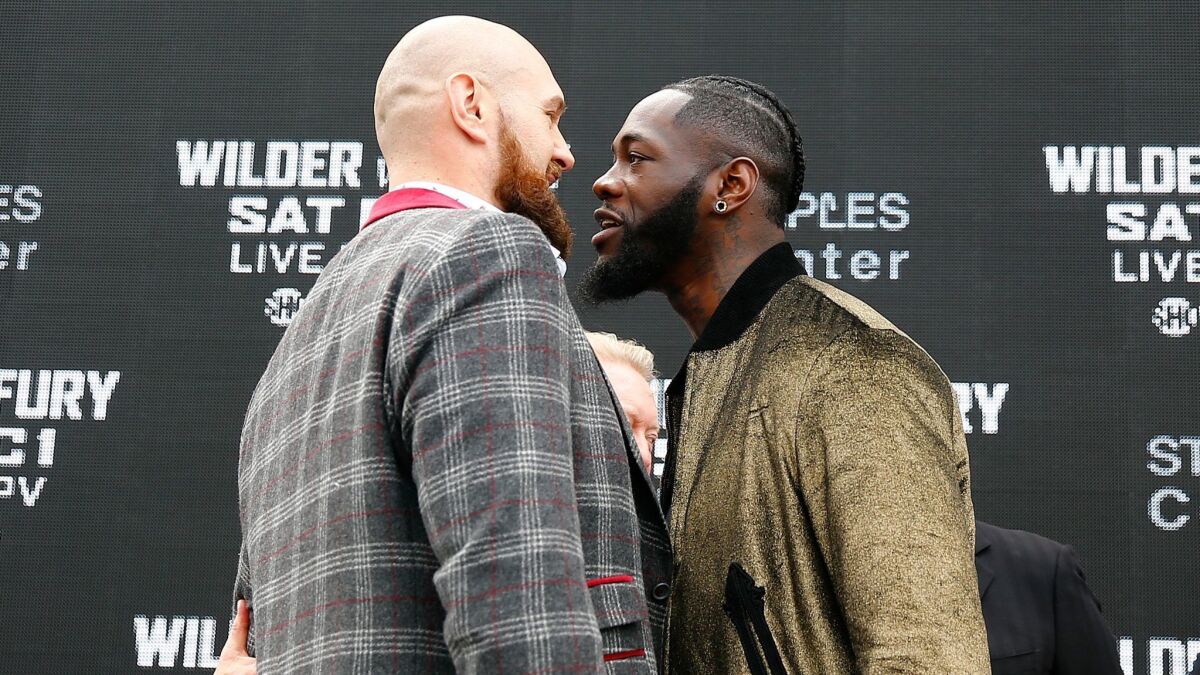 Wilder, a fitness buff, didn't buy the suggestion that Fury's past lapses make Wilder a deserved favorite.
"His mindset is somewhere else now. Everyone has done something they're not proud of. I'm not someone who judges," Wilder said. "He knows what to do to overcome things and he's overcome them. I can't wait for this fight. It's going to be great.
"It's going to be an interesting, challenging fight. I'll find all the loopholes in his defense. We're each going to get hit. It's about who can withstand it. I'm very calm. I'm well experienced, and I have all that along with my power."
Twitter: @latimespugmire
Get our high school sports newsletter
Prep Rally is devoted to the SoCal high school sports experience, bringing you scores, stories and a behind-the-scenes look at what makes prep sports so popular.
You may occasionally receive promotional content from the Los Angeles Times.