What we learned from the Chargers' 20-19 win over the Titans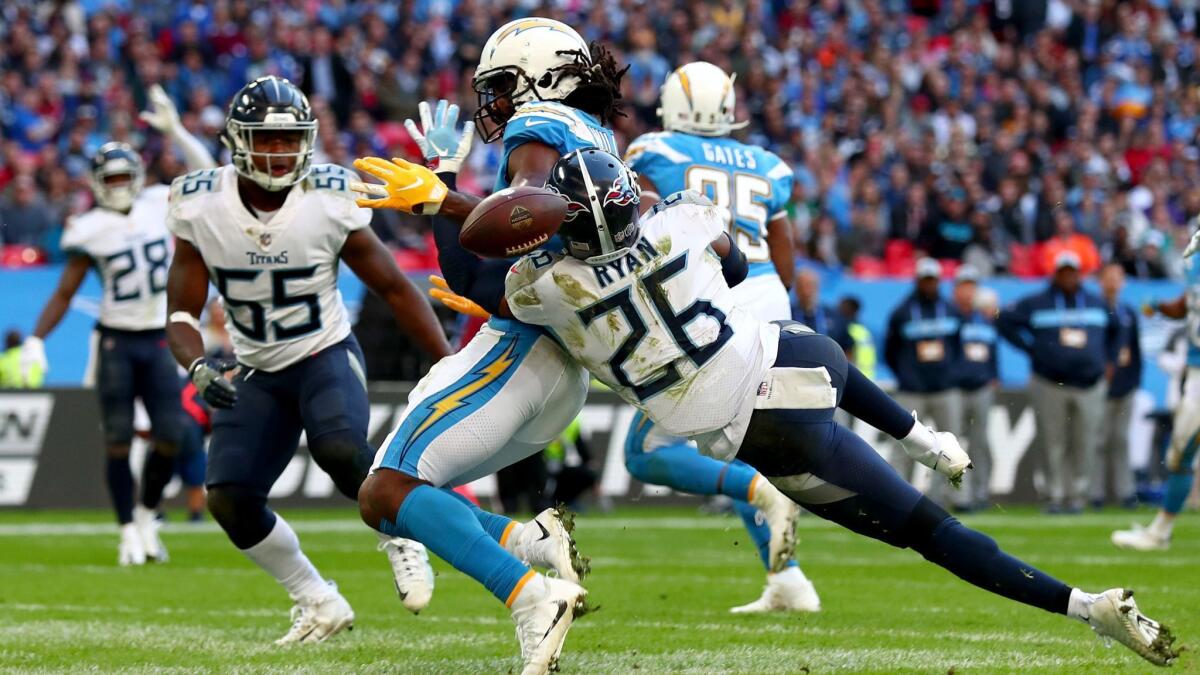 What we learned from the Chargers' 20-19 victory over Tennessee on Sunday
THIS TEAM CONTINUES TO SHOW TOUGHNESS
In the final 82 seconds, the Titans snapped the ball inside the Chargers' 10-yard line six times and only once reached the end zone. Tennessee did pull within a point with a 13-play, 89-yard touchdown drive that consumed 4:24. But then the Chargers twice stopped the Titans on two-point conversion attempts, although the first was nullified by a Casey Hayward holding call. "We practice those situations," coach Anthony Lynn said. "So those guys mentally have been there before. They have a saying — they protect every inch. And they really do." The Chargers have held their last three opponents — Tennessee, Cleveland and Oakland — under 20 points. "This team has a lot of grit," Lynn said. "This is a tough football team. We emphasize it, and these guys go out and they execute it. They demonstrate it, I feel, every single week."
THE CHARGERS HAVE BEEN STINGY WITH THE BALL
Linebacker Denzel Perryman produced the game's only turnover when he intercepted a Marcus Mariota pass that had been deflected by edge rusher Melvin Ingram. The play came inside the Chargers' 10-yard line, robbing the Titans of a scoring chance. The defense now has nine interceptions — four in the red zone — and 11 takeaways total. The offense has turned the ball over only six times. "We haven't given it away," Lynn said. "So we have to keep doing what we've been doing. That speaks to your toughness, the toughness of the football team. … We've taken care of the football. I expect us to keep taking care of the football." Perryman returned his interception 16 yards before going down. "My mindset was to catch and secure," he said. "My old Pop Warner running back days came out. That's why I was able to get loose and break two tackles."
PRESSURE HASN'T SHAKEN THE CHARGERS
Although before Sunday's contest they hadn't played a game that came down to the final seconds, the Chargers have shown an ability to handle things when the moment tightens. "Everybody's emotions were flying high on both sides of the ball," safety Adrian Phillips said. "If they tell you they were calm, cool and collected, I believe they're lying to you. Everybody's emotions were flying." Phillips made the key play to preserve the win, tipping Mariota's final pass. "At the end of the game like that, that's when teams pull out everything, everything they've been working on since training camp," Phillips added. "We just had to make sure we were on top of our checks."
MELVIN GORDON IS MISSED
The running back attempted to go through a pregame routine at London's Wembley Stadium before kickoff but was unable to make it through because of his ailing hamstring. Gordon's slumping shoulders made it obvious he wouldn't be playing. Just as obvious was how much the Chargers were affected by his loss. Gordon leads the Chargers with 466 rushing yards and has scored all six of their touchdowns on the ground. He is second on the team with 30 receptions for an additional 279 yards. Without him, the Chargers amassed only 47 rushing yards. Running backs Austin Ekeler and Justin Jackson combined to catch six passes for 37 yards. "He's a big part of this team," cornerback Casey Hayward said. "He's been playing like the best running back in this league. We knew [that] without him it was going to be difficult." The Chargers are hoping Gordon can return for their next game, Nov. 4 at Seattle, but there are no guarantees.
THIS NICE LITTLE RUN COULD GET NICER
Having won four in a row, the Chargers are off this week before returning to play at Seattle. Beating the Seahawks and their celebrated 12th man is never easy. After that game, the Chargers are set to play at Oakland and then have consecutive home dates against Denver and Arizona. All three of those games appear to be abundantly winnable. A tougher stretch follows, but the next four could position the Chargers well as it relates to playoff possibilities entering December. The victory Sunday was a game the Chargers easily could have lost, and one in recent past seasons they probably would have lost. "It shows you how far we've come over the years," receiver Keenan Allen said. "Losing these tough games … losing close games over and over and over. We understand what's going on now. We're not rushing, not putting our backs against the wall because it's a close game. We understand what's going on, and we got the job done."
Twitter: @JeffMillerLAT
Get the latest on L.A.'s teams in the daily Sports Report newsletter.
You may occasionally receive promotional content from the Los Angeles Times.