Thomas Davis and Chargers ecstatic about Derwin James' return versus Broncos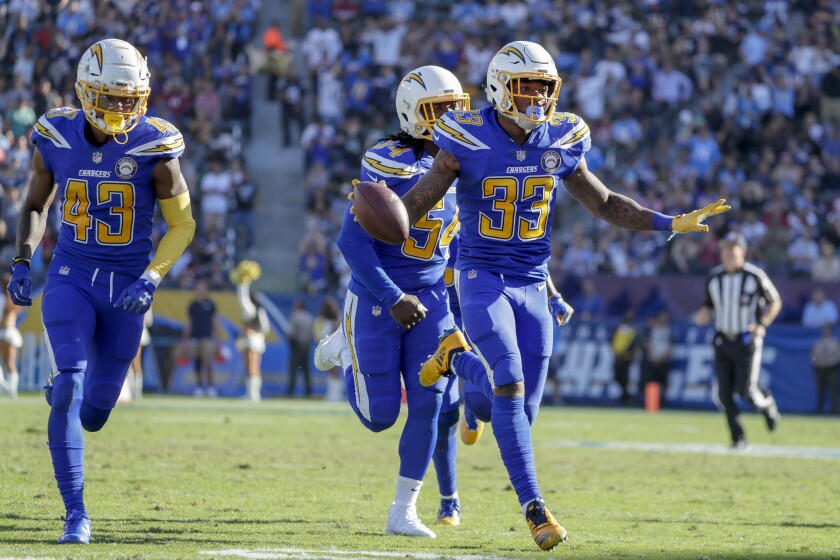 DENVER —
He has seen all the clips, watched the games from 2018 and shared the same practice field.
On Sunday, though, Thomas Davis — a 15-year veteran, past Super Bowl participant and Walter Payton Man of the Year winner — is going to experience a career first.
He's going to line up in an NFL game and have Derwin James out there with him.
"The guy is a 100-mph guy, 100% of the time," Davis said. "I've seen the tapes from last year. He's always going to bring high energy."
As a group, the Chargers could be in unusually lofty spirits against Denver, particularly for a team that has lost two in a row and is 4-7 and barely breathing as a playoff hopeful.
They're about to welcome back James, their All-Pro strong safety who turned his rookie season a year ago into a crusade of highlights.
James last appeared for the Chargers in early August, during their 2019 preseason opener, playing 11 forgettable snaps in a mostly meaningless loss at Arizona.
A week later, he suffered a stress fracture in his right foot during practice, had surgery and began the season on injured reserve.
The Chargers on Saturday activated James, meaning he'll make his much-anticipated, more-belated 2019 debut in Week 13 against the Broncos.
Sports producer Fred Gaudelli, who works on NBC's "Sunday Night Football," has been in the booth for several of the NFL's greatest plays.
It took until the first day of December, but the Chargers defense finally has its full swagger back.
"He's always going to be where he's supposed to be," Davis said of James. "He's a sure tackler. He makes plays when the ball is in the air. He's all that you would want in a safety."
The Chargers also activated Adrian Phillips from IR on Saturday, bringing back another key member of their defensive backfield and a 2018 All-Pro on special teams.
Phillips had been out since breaking his right arm in a Week 2 loss at Detroit. He replaced James at strong safety to start the season but played only 111 snaps before getting hurt.
Now, the Chargers defense is as complete as it has been all season, even with starting cornerback Michael Davis beginning a two-game suspension because of a substance abuse violation.
On offense, the Chargers also are close to having their starting tackles return. Russell Okung (groin) and Sam Tevi (knee) both practiced to some degree last week and are listed as questionable for Sunday.
With James and Phillips back, the only full-time starter still on IR is center Mike Pouncey.
It might be too late to salvage their season, but the Chargers are at least in position to now go down with most of their pieces finally in place.
"We kind of know the odds are stacked against us," coach Anthony Lynn said. "But this group's gonna fight, I can tell you that. … We're gonna figure out a way to win some of these close games that we've been losing."
With the team's physical health at a season high, the next question is the health of Philip Rivers' game.
The veteran quarterback is coming off a two-week stretch in which he threw seven interceptions, a glaring, career-worst performance that has brought rampant speculation that Rivers' abilities are dwindling.
This game against the 3-8 Broncos is not one that will capture the interest of the rest of the country or even notable chunks of the NFL.
But that doesn't mean it lacks significance to a franchise icon who is unsigned beyond this season and wants to remain with the franchise.
"I've been through rough stretches before," Rivers said. "It's by no means any fun. But I think you can find something [in] it. You grow from it, and you keep going.
"I'm not the first person who's dealt with some tough things in this sport. You hate it from our team standpoint … [but] there are a lot of worse things that could be going on than a rough two-game stretch in a football season."
Rivers has 14 interceptions and two lost fumbles, his 16 turnovers the second-most in the NFL. The opposition has scored on seven of those miscues, with six touchdowns and a field goal.
As a team, the Chargers have 15 turnovers since Week 5. Only Tampa Bay has more during that stretch.
The Chargers are playing with effort and energy, but keep hurting themselves with fumbles and interceptions. They are minus-nine in turnover ratio.
"Guys know what we have to do," Lynn said. "We're turning the ball over and not taking it away enough. They know I'm not going to keep talking about it, too. We're gonna take care of the football or else."
He didn't specify what "or else" could entail. But it's clear that the 4-7 Chargers, as a whole, have reached a point of "or else," the return of someone as important as James perhaps coming too late.
Asked what he expects to see from Rivers on Sunday, Lynn said: "Most great athletes respond well. I believe Philip's going to respond well."
Responding otherwise will only further advance a story that threatens to eclipse a season that's already quickly setting.
Etc.
The Chargers placed wide receiver Geremy Davis (hamstring) on injured reserve Saturday and promoted wide receiver Jalen Guyton to the active roster.
Defensive tackle T.Y. McGill and safety Shalom Luani were waived.
Will third-string quarterback Easton Stick ever see significant playing time for a Chargers franchise that could be looking beyond the Philip Rivers era?
---
Get the latest on L.A.'s teams in the daily Sports Report newsletter.
You may occasionally receive promotional content from the Los Angeles Times.