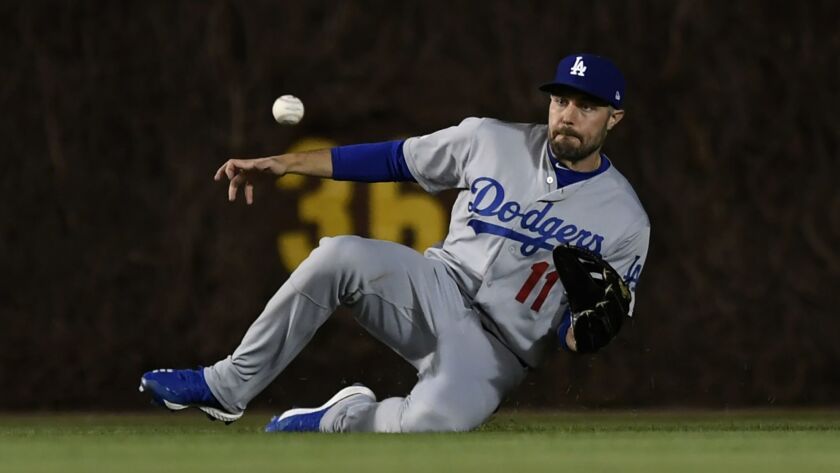 Reporting from SAN FRANCISCO —
A right-elbow infection that sent A.J. Pollock to the injured list on Tuesday could be a considerable cause for concern for the Dodgers and their struggling center fielder.
Pollock, who signed a four-year, $55-million deal with the Dodgers last winter, has twice had surgery to repair a fractured growth plate in his right elbow. The first was in 2010, in his first spring training camp after he was a first-round pick of the Arizona Diamondbacks in 2009, and the second was in 2016.
Pollock fractured his elbow when he dove for a ball in an exhibition game in 2010 and missed the entire minor league season before returning to play in the Arizona Fall League. A plate and a screw were inserted into the elbow, and Pollock played the next five years, reaching the big leagues in 2012 without the elbow flaring up.
But Pollock re-injured the same growth plate early in 2016 and underwent a similar procedure. That injury, combined with a strained groin, limited him to 12 games that season. He played 112 games in 2017 and 113 in 2018.
Pollock wasn't even sure if his second elbow injury was caused by something he did on a baseball field.
"What I learned about the thing is there's a lot of people who grow up and don't even know they had a growth plate that fused open," Pollock told the Arizona Republic at the time.
"You could have fell on it when you're a kid when everything was growing and just caused a little trauma to it. I don't quite know, but I think if you have a perfect fall or a perfect something, then something like this can happen."
Utility player Matt Beaty was recalled from triple-A Oklahoma City to replace Pollock on the 25-man roster. Beaty, a 15th-round draft pick in 2015, batted .277 with a .789 OPS for Oklahoma City. He has played first base, third base and left field this season.
Pollock started in Sunday's 7-6 win over the Pittsburgh Pirates, going 0 for 4 to drop his season batting average to .223 and his on-base-plus-slugging percentage to .617. Pollock has two homers and 14 RBIs. He did not play in Monday night's 3-2 loss to the San Francisco Giants in Oracle Park.
But manager Dave Roberts did not reveal Pollock's condition until after Monday night's game, when reporters questioned why the right-handed-hitting Pollock did not pinch-hit for the left-handed-hitting Joc Pederson in the ninth inning against Giants closer Will Smith, a left-hander.
Sign up for our daily sports newsletter »
"This was something that kind of came up out of nowhere, and over the last few days it got worse," Roberts said. "He was playable [on Sunday], but the plane ride aggravated it somehow. We put him on antibiotics, but they haven't taken. Now, we need some doctors to take a look at it."
Roberts said the team believed the infection stemmed from the past surgeries on Pollock's elbow, but "as far as the severity of this, I don't know right now."
Pollock's setback will open up the center-field spot for rookie Alex Verdugo, who had already carved out a more prominent role by hitting .333 with four homers, four doubles, two triples and 16 RBIs in 29 games and providing strong defense at all three outfield spots.
Right-handed-hitting utility player Chris Taylor also has extensive center-field experience but is batting only .167 with one homer, seven RBIs, 22 strikeouts and 14 walks in 30 games.
---