Last week, after the Dodgers extended their improbable streak to five consecutive walk-off victories, manager Dave Roberts was asked if it was difficult for his team to continue performing at a high level without the pressure of intense competition within the National League West.
"I think that's actually pretty easy for us," Roberts said. "We've been in this situation where you have a big lead and you have to continue to stay focused. We've also been with this core group of guys, where we've had to come from behind last year."
The Dodgers proceeded to lose three consecutive games to the San Diego Padres ahead of the All-Star break. It was their first three-game losing streak since they lost six straight from April 8 to 13. And it did not set off any alarms.
Los Angeles, three-game skid and all, will enter baseball's de facto second half Friday against the Boston Red Sox at Fenway Park with baseball's best record (60-32) and run differential (plus-129). They own a 13-1/2-game lead in the NL West. They are cruising to their seventh division title in a row. They are the favorites to represent the National League in the World Series for the third year in a row.
A lot of that was said two years ago. Some wondered if the 2017 Dodgers were the best team in history. They were 91-36 on Aug. 25 that year with a 21-game division lead. Then they went 5-19 before recovering and advancing to Game 7 of the World Series. Last season, they needed a 163rd game to seize the division crown before falling in the World Series.
This year, the Dodgers, displaying a grand confidence supported by their standing, are treating the regular season like an October rehearsal. They've had Joc Pederson, an outfielder, play first base for the first time as a midseason experiment. They've held back pitcher Julio Urias so they can unleash him, possibly as a starter, in October. They're not afraid to give important cogs days off and don't rush players back from the injured list.
They'll likely acquire a reliever or two before the July 31 trade deadline to bolster the bullpen, clearly their weakest link, but this team, club officials believe, is better suited for October baseball than the previous two pennant winners in one regard: Their offense is a relentless machine.
At the macro level, they're tougher to shut down. At the micro level, they're tougher to strike out.
This year, the Dodgers are striking out at a rate of 20.3%, tied for fourth in the majors. Last year, they struck out 22.6% of the time, ranking 17th. In 2017, they ranked 19th with a 22.3% strikeout rate. Those percentages skyrocketed in the World Series.
"If you look at our time on the biggest stage, offensively, I think that we expanded [the strike zone] and weren't as patient as we could have been," Roberts said. "So those things, when you've lived it, and you can see it right in front of your face, that's kind of the biggest way that people learn. And so to the credit of our guys, to recognize that and then know that we can be better as an offense and now to apply it, that's exactly what we're doing."
Further, Roberts has insisted, this year's club practices greater discipline. They grind through at-bats and make pitchers work.
"It's just about having high-performing offensive players," Dodgers president of baseball operations Andrew Friedman said. "Then when you can set up your lineup in a way where it's not riddled with high-strikeout guys one through nine, which we're not, that has more value."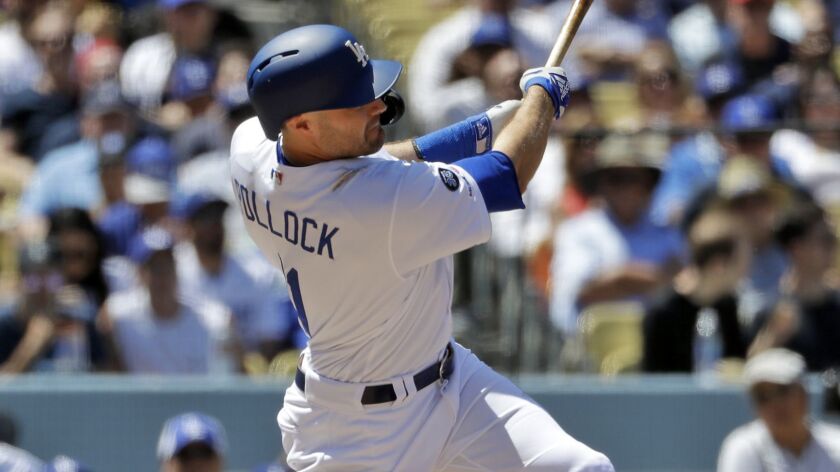 The Dodgers anticipate opening their three-game series against the Red Sox boasting their group of position players from opening day for the first time since late April. First baseman David Freese was activated from the 10-day injured list Monday after dealing with a hamstring injury. Shortstop Corey Seager, who strained his left hamstring June 11, followed Wednesday. Center fielder A.J. Pollock, out since April 29 with an elbow infection, is expected to be reinstated from the 60-day injured list before Friday's series opener. The Dodgers must make a corresponding move to create a spot on the 40-man roster.
They replace Matt Beaty, Kyle Garlick, and Edwin Rios, three bat-first rookies in their mid-20s who produced at an adequate level. The three combined to bat .263 with a .764 OPS and seven home runs in 199 plate appearances.
On the pitching front, the Dodgers expect left-hander Rich Hill will return in September. He suffered a flexor tendon strain last month. Ross Stripling replaced Hill in the starting rotation. He is slated to pitch Saturday against the Red Sox, the Dodgers announced Thursday. Kenta Maeda is scheduled to pitch Friday. Hyun-Jin Ryu, who started for the National League All-Star team Tuesday, will take the mound Sunday.
Absent from this weekend's probables are all-stars Clayton Kershaw and Walker Buehler, each of whom logged an inning in the All-Star game. The Dodgers opted to give them additional rest — Kershaw will get at least nine days and Buehler will accrue at least 11 — rather than have them oppose Boston's potent lineup. They will start against the Philadelphia Phillies on Monday and Tuesday, in some order.
Sign up for our Dodgers newsletter »
The Red Sox will counter with left-handed starters — Eduardo Rodriguez, Chris Sale and David Price — who have given Los Angeles more trouble this season than right-handers. Two of the three losses to the Padres going into the All-Star break came against left-handed starters. But the disparity is not as stark as in the last two seasons, and the return of the right-handed hitting Freese and Pollock should help the Dodgers combat southpaws.
Those two, plus Seager, will deepen a roster already among the deepest in baseball, one the Dodgers believe is primed for another deep October run.
Twitter: @jorgecastillo
---