X-rays on Trea Turner's finger negative; status for Game 4 unclear
SAN DIEGO — The Dodgers lost Game 3, but they may have avoided losing their star shortstop for Game 4.
Trea Turner, who injured his right ring finger sliding into first base in the eighth inning, said X-rays on the finger were negative. His status for Game 4 on Friday will depend on how the finger feels. He said the biggest test will be whether he can grip a bat.
Padres reliever Robert Suarez caught Turner leaning the wrong way leading off first base with no outs in the eighth. Turner managed to rush back in time with a slide, but he jammed the finger. He had the finger taped up and stayed in the game. He was left stranded on base.
This isn't the first time Turner has encountered finger injuries in his career. He played through a broken right index finger in 2019 and another fractured finger last season. He said he will wear mitts on both hands on the bases if he plays Saturday; he normally only wears a mitt on his left hand.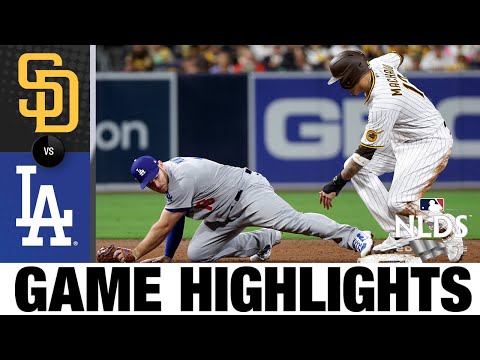 Dodgers vs. Padres highlights in Game 3 of the NLDS
"Quick turnaround because we're playing tomorrow, which is fine," Turner said. "But, yeah, have played through a lot in my career. Just another challenge."
Turner jumped out to a good start in the postseason, clubbing home runs in two of his first six plate appearances but he's since scuffled. He's made two errors on defense, one in each of the last two games, and made another poor defensive play in Game 2 that was ruled a fielder's choice. He struck out twice on Friday, including once in the third inning with two runners on base and one out.
If Turner doesn't play Saturday, the Dodgers have Gavin Lux and Chris Taylor as options to play shortstop. Neither has started a game at shortstop this season. Hanser Alberto, who isn't on the Dodgers' NLDS roster, is the only player besides Turner to have started a game there. Alberto started two.
Lux, a shortstop through the minor leagues, has played 31 innings at shortstop in 2022. Taylor has logged just one inning there.