Column: Rivals Fairfax and Westchester will face off for City Section Open Division title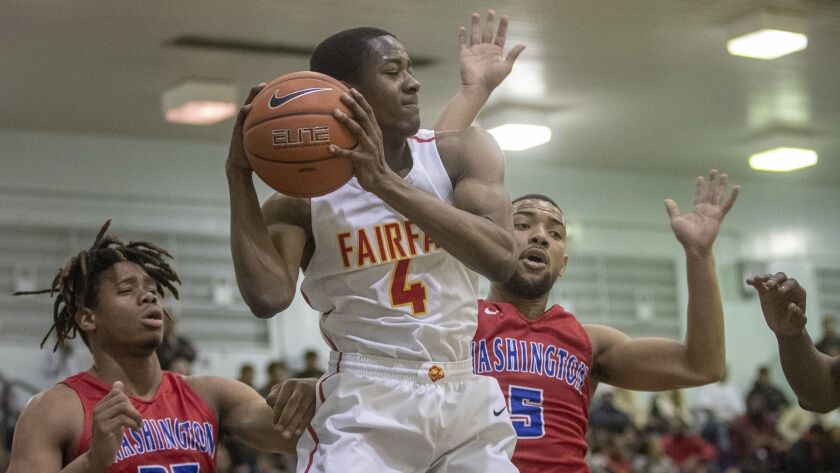 Get ready for Round 3 in the annual Fairfax-Westchester basketball rivalry, except the next game is for more than just bragging rights. It will be for the City Section Open Division championship next Saturday at L.A. Southwest College.
Top-seeded Fairfax (26-1), the best team during the regular season, started fast and then held off a determined Washington Prep 84-74 in a semifinal playoff game Saturday night at Venice.
In the other semifinal, No. 2-seeded Westchester (23-3) overcame foul trouble to its standout center, Kaelen Allen, and lots of missed shots to knock off Birmingham 69-53.
Westchester lost twice to Fairfax in league play, but point guard Jeremiah Turley said while walking out of the gym, "It's a brand new game. We don't remember the last two games. We're coming in with a different mind-set, a different game plan and just playing basketball."
The Comets better hope the Fairfax team that performed in the first quarter Saturday doesn't make a return appearance. The Lions opened a 28-11 lead over Washington behind All-City guard Ethan Anderson, who scored 14 points. The lead grew to 21 points in the second quarter before Noel Scott and Hassan Hughey pulled the Generals to within 12 at halftime.
Anderson finished with 25 points and Ronald Mitchell 17. Scott had 21 points, 13 rebounds and 10 steals. Hansen Clarke added 29 points, including five threes.
As for Westchester, Ky-mani Pollard contributed four threes to rescue the Comets (23-3) until Allen got untracked. It finally happened in the fourth quarter when Allen scored 11 of his 17 points and ignited an 8-0 surge to start the quarter.
"We didn't shoot the ball well in the first half and refused to get the ball in the paint," coach Ed Azzam said.
Jordan Brinson scored 15 points and Turley 13. But it was Pollard's shots from the baseline that bailed out the Comets.
"I shot the ball when I was open and made it," he said.
Corey Cofield scored 20 points and Elliott 18 for the Patriots (16-10), whose zone defense was forcing the Comets to rely on the outside shots.
But Allen woke up to start the fourth quarter. His three-point play, followed by two free throws after a technical on coach Nick Halic left Birmingham down 48-37. Then Turley hit a three, and the Comets could book their trip to the final seeking a 15th title.
In City Section Division II, Granada Hills Kennedy defeated Manual Arts 69-66 in double overtime. Eagle Rock won in double overtime over Banning 72-61.
Southern Section
Onyeka Okongwu finished with 28 points to help top-seeded Chino Hills advance to the Southern Section Division 1 championship game with a 49-47 victory over Windward. The Huskies will play Santa Margarita, a 50-45 winner over Studio City Harvard-Westlake. Jake Kyman led the Eagles with 19 points.
In 3AA, Caden Starr made a shot inside the half-court line at the buzzer to give Santa Clarita Christian a 52-50 win over Palmdale Highland. Rolling Hills Prep received 20 points and 12 rebounds from JT Tan to defeat Oxnard 64-56.
Sign up for our daily sports newsletter »
Twitter: @latsondheimer
---
Get the latest on L.A.'s teams in the daily Sports Report newsletter.
You may occasionally receive promotional content from the Los Angeles Times.