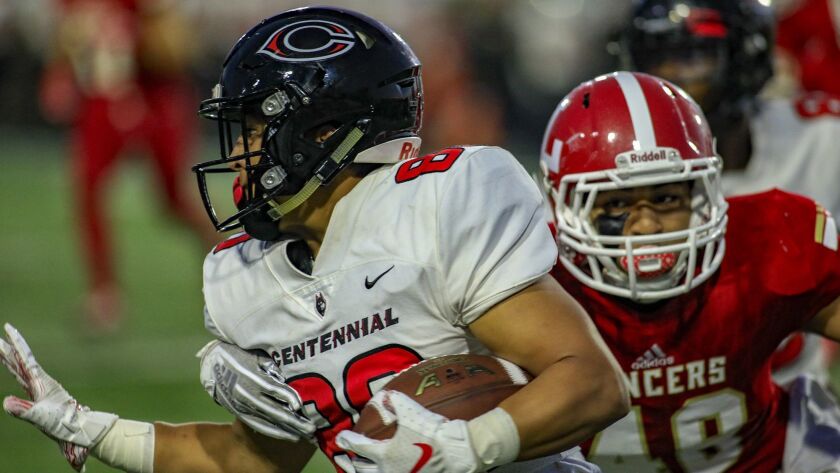 Someone needs to check if Corona Centennial coach Matt Logan is driving around in a modified DeLorean. It's "Back to the Future" time for the Huskies.
Logan is going back in time and borrowing something that's worked in the past — alternating position players each series. In 2012, Tre Watson and Austin Ranken were so good they took turns playing running back on a championship team. In 2014, Anthony Catalano and Nate Ketteringham shared quarterback duties on a Division 1 championship team.
Through two games, Logan is sticking with a mad scientist-like scheme: He's alternating series with two quarterbacks and two running backs. Quarterbacks Carter Freedland and Ala Mikaele joined running backs Octavio Cortes and Thomas Kinslow on Friday night sharing time at Orange Coast College against Orange Lutheran.
"We're team oriented," Logan said. "We're not worried about individual stats. We have a lot of unselfish players on this team."
If there were any doubts about the sacrifices players make to play for the Huskies, how about this: Reggie Retzlaff, a third-string quarterback, caught a 69-yard touchdown pass during a third-quarter Centennial surge that saw the Huskies rally and come away with a 45-28 victory to improve to 2-0.
"That was a lot of fun," Retzlaff said. "Logan decided to move me over in the summer, and it's been great ever since. That's all that matters — we all want to win."
Freedland's five-yard TD pass to Amari Esclovon on fourth down put the Huskies on top for the first time in the third quarter at 31-28. Then a Gary Bryant 51-yard punt return for a touchdown with 7:02 left gave the Huskies a 10-point margin against Lancers quarterback Ryan Hilinski.
Orange Lutheran vs. Corona Centennial
Hilinski completed 27 of 34 passes for 321 yards and three touchdowns. Kyle Ford finished with 12 receptions for 147 yards and two touchdowns.
For Centennial, Cortes rushed for 117 yards and one touchdown. Freedland ran for two touchdowns. Drake Jackson recovered two fumbles. The Huskies' powerful defensive line took control in the second half.
In the first half, Orange Lutheran demonstrated it has improved greatly on defense in opening a 21-10 halftime lead. The Lancers didn't allow big plays, tackled with precision and also picked up interceptions from DeShawn Craig and K.J. Trujillo.
Offensively, Hilinski knew the Huskies would have trouble covering Ford, so he kept going to him. Ford caught nine passes for 127 yards, including touchdown receptions of nine and 10 yards.
Down 14-0 in the second quarter, Centennial finally started to run the ball effectively, and it led to a 12-yard touchdown run by Freedland. After a 35-yard field goal by Michael Velasco made it 14-10, Hilinski drove the Lancers quickly down field with completions of 15, 13, 28 and finally a 14-yard score to Logan Loya with 11 seconds left before halftime.
Twitter: @latsondheimer
---