Keith Dinwiddie, Fairfax complete regular-season sweep of Westchester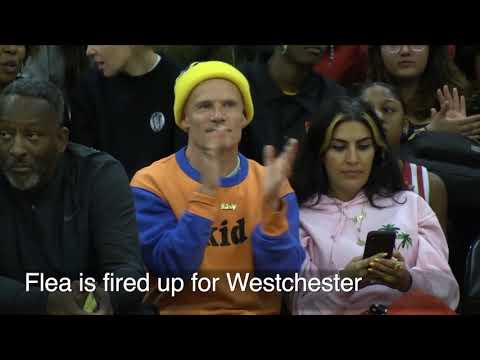 Keith Dinwiddie scores 34 points
On a night when super fan Flea of the Red Hot Chili Peppers chose to be in a front-row seat at Fairfax High instead of watching LeBron James at Staples Center, the Lions delivered a smashing 87-73 victory over Westchester behind a career-high 34 points from junior guard Keith Dinwiddie.
"Keith was special tonight," All-City guard Ethan Anderson said.
Dinwiddie made seven threes to help Fairfax (23-1, 9-0) clinch the Western League championship on Thursday night and wrap up the No. 1 seed for the City Section Open Division playoffs with a two-game sweep of the Comets (20-3, 7-2).
About the only shot Dinwiddie missed all night was a breakaway dunk attempt in the final minute.
"My legs were dead," he said.
Dinwiddie, a transfer from Culver City who had to sit out the first month of the season, was a nonfactor last week in a two-point win over Westchester. He said he had a difficult time focusing because his grandfather had died the day before.
"It was a hard thing to play," he said. "It got to me."
This time, Dinwiddie was focused and on target from the beginning.
"I was feeling it," he said.
The Lions needed him to come through because starters Anderson, Robert McRae and Daylen Williams all got into foul trouble. Stepping up to contribute were Dinwiddie and Ronald Mitchell (13 points). Fairfax led by 10 points at halftime and refused to let the Comets back into the game.
Kaelen Allen scored 25 points and Jeremiah Turley added 15 points for Westchester. All-City guard Jordan Brinson was limited to four points.
Westchester coach Ed Azzam picked up a technical at the end of the second quarter and Fairfax coach Steve Baik was given a technical in the third quarter. The intensity level on the court and in the stands kept getting raised.
"We didn't do a very good job protecting the basket," Azzam said. "They got into the paint at will."
Anderson, who scored 12 points, was able to drive and dish to Dinwiddie, who was automatic on outside shots from the baseline.
Former Fairfax standouts Josh Shipp, Jerren Shipp and Chace Stanback watched from behind the Lions' bench. It was the sixth win in eight days for the Lions, who close the regular season on Friday at University.
The playoff seedings will be announced on Saturday. Fairfax players are expecting to see Westchester a third time in the Feb. 23 City final at L.A. Southwest College.
"Definitely," Anderson said.
Said Azzam: "We'll practice. We'll get better."
Sign up for our daily sports newsletter »
Twitter: @latsondheimer
Get our high school sports newsletter
Prep Rally is devoted to the SoCal high school sports experience, bringing you scores, stories and a behind-the-scenes look at what makes prep sports so popular.
You may occasionally receive promotional content from the Los Angeles Times.