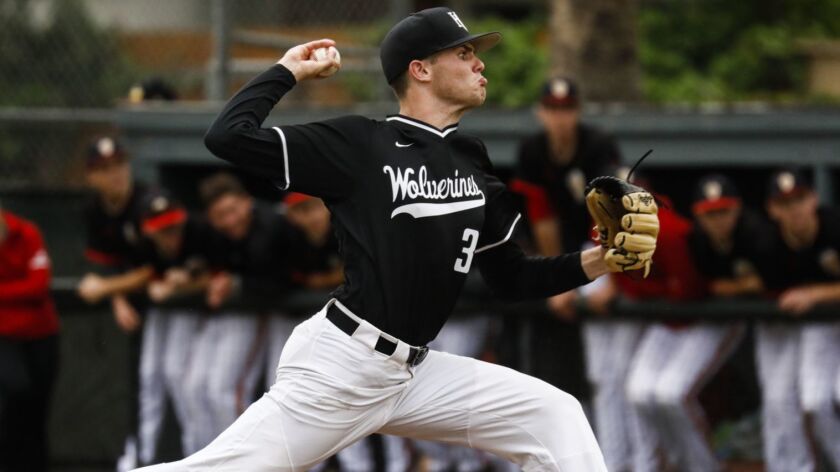 You're going to need to rent a helicopter, hire an Uber driver or borrow a motorcycle this weekend to get around to see Southern California's many high school championship events in a variety of sports.
Thanks to the CIF moving up its sports calendar, there will be state regional championships in volleyball, tennis and badminton, Southern Section championships in softball and baseball, City Section championships in track and field and softball, as well as Southern Section state qualifying in track. Plus there's the first major seven-on-seven passing event in football.
Here's your weekend guide while hoping there will be no SigAlerts:
BASEBALL
Dodger Stadium is the site Saturday from noon to 6:30 p.m. for the Southern Section Division 1, 2 and 3 championship games. They'll be serving Dodger Dogs and high school baseball at its best for the Division 1 final matching Studio City Harvard-Westlake against Cypress.
Cypress pitchers Cameron Repetti and Brett Wozniak, who have ERAs of 1.29 and 1.25, respectively, are headed to Cal State Fullerton and Nebraska, respectively. Harvard-Westlake pitcher Sam Hliboki is a Vanderbilt signee. In 2013, Cypress won the Division 2 title at Dodger Stadium and Jack Flaherty pitched Harvard-Westlake to the Division 1 title. This is the grudge match deciding No. 1 six years later.
Sign up for our daily sports newsletter »
In Division 2, watch out for Santa Margarita and junior pitcher Matt McClure taking on Norco and senior pitcher Michael Forbes. Runs will be hard to come by. In Division 3, it's La Cañada facing Temecula Great Oak at noon. The Division 4, 5, 6 and 7 finals are being playing at UC Riverside.
SOFTBALL
The Southern Section Division 1 final between Norco and Great Oak is set for Friday night at Bill Barber Park in Irvine. Norco (30-1) is probably the No. 1 softball team in America. Pitcher Sarah Willis doesn't lose. All the other divisions are Friday and Saturday at Barber Park.
The City Section Open Division final is at 3 p.m. Saturday at Cal State Dominguez Hills, matching West Valley League rivals Woodland Hills El Camino Real and Granada Hills. ECR's Jordyn VanHook, an Arizona State signee, has eight home runs this season and 27 in her career.
TRACK AND FIELD
The City Section track and field championships take place Friday night at El Camino College. One of the story lines involves freshman Sofia Abrego of Granada Hills. She will be trying to pull off the rare triple in winning the girls' 800, 1,600 and 3,200.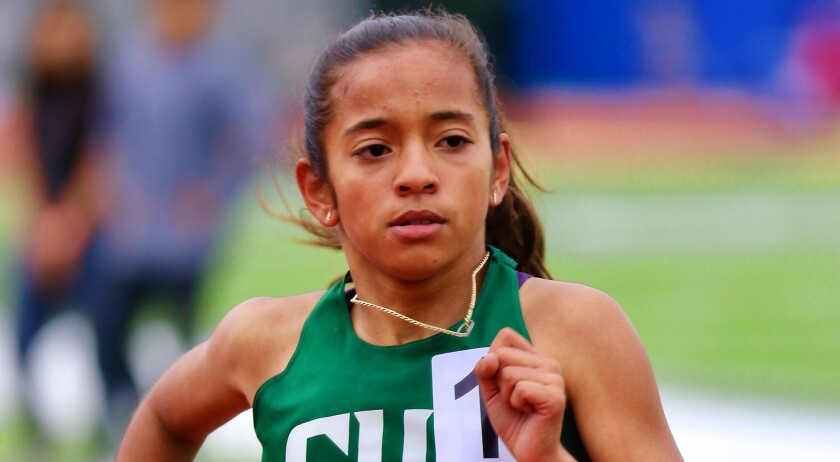 The Southern Section Masters Meet is Saturday at El Camino College. The competition is going to be ridiculously good, from the 100 meters to the 400, from the hurdles to the shot put.
Christian Grubb, a new UCLA signee for football and track out of Sherman Oaks Notre Dame, will be trying to win the 100 and 200 in preparation for a state championship showdown next week in Clovis against USC-bound Kenan Christon of San Diego Madison.
Paige Sommers, a sophomore at Westlake Village Westlake, is an athlete pushing herself to a different level. Last week, while winning the Division 2 pole vault, she also won the high jump. The events were run simultaneously.
VOLLEYBALL
The Southern California volleyball championships will be held at home sites on Saturday in Divisions 1, 2 and 3. Newport Harbor, the Southern Section Division 1 champion, is trying to finish No. 1 in the nation.
TENNIS
The CIF USTA regional boys tennis championships are Friday and Saturday at the Claremont Club.
BADMINTON
Arcadia High is the site for the Southern California badminton championships on Saturday.
FOOTBALL
Finally, if you have any free time, the seven-on-seven football passing season gets underway on Saturday morning with the Orlando Scandrick tournament at Los Alamitos. Santa Ana Mater Dei, led by USC-bound quarterback Bryce Young, will be competing, along with Bellflower St. John Bosco, led by Clemson-bound quarterback DJ Uiagalelei.
Twitter: @latsondheimer
---