Arcadia's unbeaten, unprepossessing baseball team is for real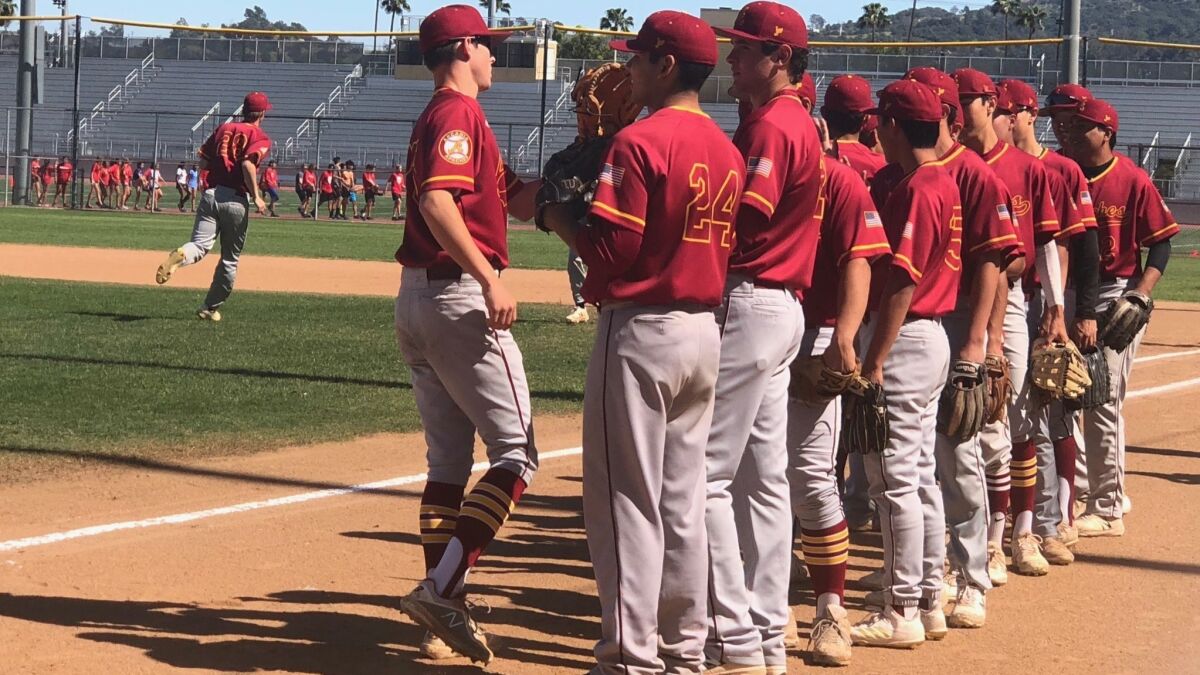 Arcadia High is less than a mile from Santa Anita, so it's easy to surmise there's been plenty of former students who developed into pretty good handicappers of racehorses. If any of them specialize in long shots, what would they make of the odds for the baseball team to go unbeaten in 2018?
Arcadia is 18-0 and the only unbeaten team left in Southern California that's played a minimum 10 games. Ranked No. 1 in Southern Section Division 3 and No. 2 by The Times, there's many wondering just how good the Apaches might be.
They don't have any certain future major leaguers. They don't have any "can't miss" college prospects, according to the so-called experts. So in the hype competition, they disappoint. But in the categories that matter most — execution of fundamentals, team chemistry, pitchers who throw strikes — the Apaches are legit.
Coach Nick Lemas, in his 12th season, said "It's probably the best defensive team I've seen."
With the powerful arm of shortstop Jeffrey Castillo, the consistent play of third baseman Dominick Tello, the exceptional play of catcher Tyus Santa Anna and the ability of outfielders Tim Van Kirk, Jacob Lopez and Dustin Allen to run down and catch fly balls, Arcadia is in an ideal position to turn the ball over to pitchers Caden Ross and Chris Wilson and let the fielders do the rest.
"They're a good team that's well coached," Crescenta Valley coach Phil Torres said. "They can beat anybody."
They're 8-0 in the Pacific League, which isn't particularly strong on competition with the exception of Crescenta Valley (17-4), a team the Apaches will face to end the regular season in a two-game series May 8 and May 11. The games will be played under the lights and should be standing-room only.
Arcadia also hosts San Dimas (20-2) in a makeup championship game of the Babe Herman tournament on Saturday.
Regardless what happens, to win 18 in a row to start the season is impressive no matter what level in baseball. It means a team has pitching depth, plays strong defense and has enough quality hitters to deliver in the clutch.
"One through nine in the lineup, they were the most solid team we've faced," El Camino Real coach Josh Lienhard said.
Ross is 6-0 with an 0.62 ERA. He has three walks in 34 innings. Wilson, a sophomore transfer from Pasadena La Salle, is 6-0 with an 0.68 ERA. He has five walks in 31 innings. Baseball is a pretty simple game when you're winning — don't make mistakes and don't give the opponent chances to score.
As for hitting, Allen batted .182 in limited time as a freshman. Now he's batting .349 as as sophomore. Castillo is hitting .393 "with a killer arm," Lemas said. He tries to tell college coaches about him but then they ask about his size — 5 feet 8. They might want to go see him in person.
Most of all, Arcadia has great team chemistry. Lemas was concerned about players on the bench accepting their roles with so many returning players. But if you watch and listen to what's happening in the dugout, everybody is on the same page.
"They support one another," Lemas said. "We've got guys on the bench who can play. They're having fun. It's getting rare to have this many kids who love baseball."
Asked who was the best baseball player/handicapper he's had, Lemas cited Joey Harmon, a 2014 grad now at Chapman. "He had good intelligence," Lemas said.
My intelligence tells me these Apaches are for real.
Recruiting rule changes
The NCAA has passed legislation that changes recruiting rules for high school students in all sports but football and basketball.
You will stop seeing college scholarship offers for freshmen and sophomores in all sports other than football or basketball. Now, official visits begin Sept. 1 of a prospect's junior year. Also athletic departments can't participate in an unofficial campus visit until Sept. 1 of the recruit's junior year. That means sophomores and freshmen won't be getting escorted by coaches or receiving free tickets.
This is huge for baseball and softball. College coaches were offering scholarships to and getting commitments from eighth- and ninth-graders.
Follow Eric Sondheimer on Twitter @latsondheimer
Get our high school sports newsletter
Prep Rally is devoted to the SoCal high school sports experience, bringing you scores, stories and a behind-the-scenes look at what makes prep sports so popular.
You may occasionally receive promotional content from the Los Angeles Times.