Column: Justin Campbell, at 6-foot-7, and Andrew Devine, at 5-8, form quite a pitching duo for Simi Valley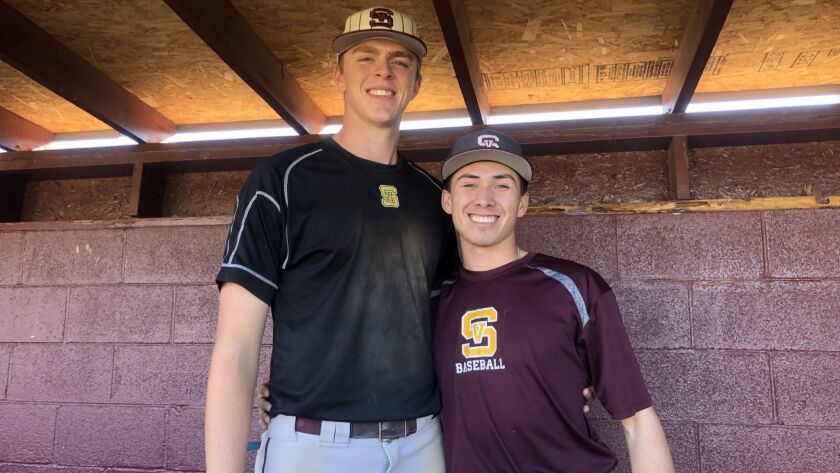 Justin Campbell is 6 feet 7. Andrew Devine is 5-8. They've known each other since they were 10 years old.
"Friends forever," Devine said.
Standing side by side, it's quite a sight, these two Simi Valley High pitchers who will form one of the best duos in the Southland even though neither pitched last season because of injuries.
Devine was in the final phase of recovering from Tommy John surgery last season after missing the entire 2017 season. Campbell was recovering from a shoulder procedure. Each contributed as a hitter in 2018.
During the summer, each was throwing fastballs in the 90s, and their comebacks are right on schedule as the season begins on Saturday.
"Watching him compete against the best, it was amazing," Devine said of Campbell's summer pitching.
"It was like a kid in the candy store," Campbell said of watching Devine pitch. "Having not seen him pitching since his freshman season, it was electrifying."
Sign up for our daily sports newsletter »
These two seniors are more than just top pitchers. They're loyal to their communities, loyal to their teammates, loyal to each other. They represent everything that is great about growing up in a neighborhood, making friends and trying to succeed at each level.
They've helped each other through their injuries. Devine missed his entire sophomore year. He's known as someone who always gives 100%, so forcing himself to slow down and have patience until he was completely healthy was a challenge.
After pitching to a couple batters last season, he was shut down to make sure there were no setbacks. He played outfield, using his speed and hitting ability to make an impact.
At least Campbell was able to be a standout first baseman last season while waiting to heal from his injury.
6-7 Justin Campbell, 5-8 Andrew Devine are 'friends forever'
"Honestly, take your time and don't rush through anything," Campbell said. "If you rush, it's going to set you back even more."
Said Devine: "You have to be positive through the whole process keeping yourself up, never letting one fall down. Bring each other up."
Campbell showed great promise on the mound as a sophomore with his changeup and curveball. The word on Devine is he can overpower batters with a 94-mph fastball. Both are right-handers and their size difference is misleading.
"Andrew has always been bypassed a lot because of his height," coach John Arisohn said. "It gives him a chip on the shoulder. He might be one of the most athletic kids I've seen. Justin has grown up a lot. It [the injury] made him want it more and want to prove he would come back strong."
Together, Campbell and Devine are quite a team. They joke about dunking a basketball. Campbell used to play the sport at Simi Valley.
"I can get up," Devine said.
"I do miss basketball," Campbell said.
Campbell is headed to Tulane for college. Devine is headed to Texas Tech in Lubbock.
There was a debate about which city has better food choices.
"I got steak," Devine said of a Texas favorite.
"I got gator bites," Campbell said of visiting New Orleans. "I got jambalaya. I got oysters."
"OK, we can come feast in your area," Devine concluded.
They'll be a short plane ride away in 2020. But in 2019, their plan is to make their final year together one to remember on and off the baseball diamond.
"We both want what's best for each other," Devine said.
Friends forever.
Twitter: @latsondheimer
---
Get the latest on L.A.'s teams in the daily Sports Report newsletter.
You may occasionally receive promotional content from the Los Angeles Times.