Column: Sierra Canyon's Ashley Chevalier got double dose of coaching from her basketball-savvy parents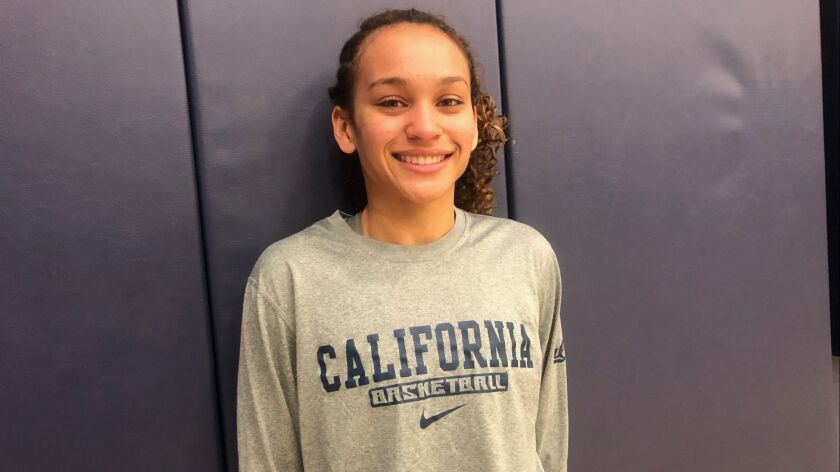 There's a toughness, a determination and a relentless desire to disrupt that is evident when you watch Ashley Chevalier of Chatsworth Sierra Canyon play basketball.
You see it as she sacrifices her body tumbling on the court for a loose ball. You feel it as she falls to the ground taking a charging foul. You sense it as she claps her hands following a turnover.
"She's a good reflection of a child of a coach," Sierra Canyon coach Alicia Komaki said.
Chevalier isn't the child of just one coach — try two very good coaches. Her father is Andre Chevalier, a former Cal State Northridge point guard who's head coach of Sierra Canyon's boys' team. Her mother is Michelle Esparza-Chevalier, a former CSUN guard who's head coach of the Pierce College women's team.
"It's a nightmare," Komaki joked about coaching someone whose parents are coaches. "She knows the game very well. She pays attention. She wants to get better."
Except Chevalier wasn't always exactly thrilled with being the daughter of two basketball coaches. In the early years, there was a rebellion of sorts.
"I was dragged from one gym to another, so I kind of hated the way it affected my life at the time," she said. "I couldn't hang out with friends. I couldn't go to sleepovers because I was running around so much. It took me a while to fall in love with it. At end the end of the day, I clearly did."
Sign up for our daily sports newsletter »
She was in fifth grade when Chevalier told her mother she wanted to play basketball. She had played other sports growing up. Given the OK, the parents went to work.
"She's the one who laid the foundation in my game," Chevalier said of her mother. "When I told her that I was ready to play basketball, she asked me, 'Are you ready to take it seriously or just wanting to play?' I told her, 'I'm ready to take it seriously,' and that's when we trained every day. One year it was just straight training. Didn't play a single game.
"Obviously, that's not fun. The fun part is playing. She's the one who instilled in me getting better was fun. My dad is the one who finessed my game. He's the IQ guy. He helps my thinking. I have conversations with both, but with my dad, it's like picking his brain and he focuses on my jumper."
Chevalier's improvement during her junior season is one reason Sierra Canyon is 28-0 and one win away from qualifying for the Southern Section Open Division championship game. The Trailblazers play host to Torrance Bishop Montgomery on Saturday. They improved to 2-0 in pool play on Wednesday with a 49-48 win over Redondo. The 5-foot-7 point guard is averaging 13 points, 5.7 rebounds and 5.5 assists a game this season.
As for taking charges, Chevalier clearly has learned from both parents, since that used to be a big part of both their games.
"That's why she likes taking charges," her mother said. "She learned very early."
Said Chevalier: "My mom taught me the importance and I took it as a challenge. Sometimes she'd give me an incentive — $5 a charge. That kind of stopped."
Considering inflation, maybe taking a charge should be worth $10 today.
"That would be nice," Chevalier said.
Twitter: @latsondheimer
---
Get the latest on L.A.'s teams in the daily Sports Report newsletter.
You may occasionally receive promotional content from the Los Angeles Times.