Female referee replaced after LaVar Ball threatens to pull team off court during AAU game in Las Vegas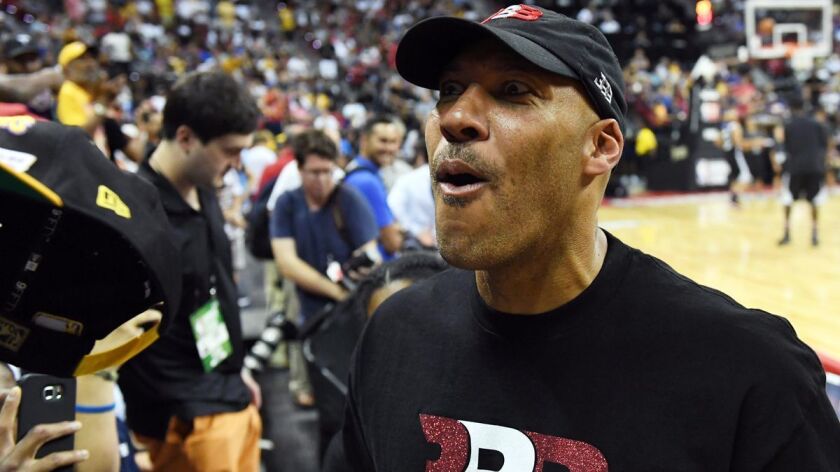 LaVar Ball threatened to remove his AAU basketball team, Big Ballers Brand, off the court Friday after receiving a technical foul during an Adidas Summer Championships game in Las Vegas, which led to the female referee who gave him the technical being replaced mid-game.
"She's got a vendetta," Ball said after the game. "She needs to stay in her lane because she ain't ready for this."
Ball went on to comment how poorly the female referee officiated the game.
"I get she's trying to break into the referring thing, but just giving techs and calling fouls, that's no way to do it .… Just call the game. If you're going to be qualified, you better be in shape and you better know the game," he added. "And she's bad on both of them."
According to Adidas, which runs the event, it was their decision to replace the referee. The same referee, who was not identified, had also officiated the Big Ballers' game Wednesday night.
"There was some miscommunication," Chris Rivers, Adidas director of global basketball sports marketing, told ESPN.
Ball was given the technical foul in the first half of his team's game against Team BBC. He had pointed to an official and yelled, "We need to get someone else in here."
He then looked at his team and told them to leave. The players began to pick up their bags and walk off the court.
After a long delay in which the coaches from both teams, referees and Adidas representatives met on the court, the game resumed but with a different official.
The game eventually ended early when Ball received his second technical foul and was ejected. Tournament organizers decided to end the game rather finishing it. Team BBC beat Big Ballers 53-43.
Twitter: @edmgonzalez
---
Get the latest on L.A.'s teams in the daily Sports Report newsletter.
You may occasionally receive promotional content from the Los Angeles Times.