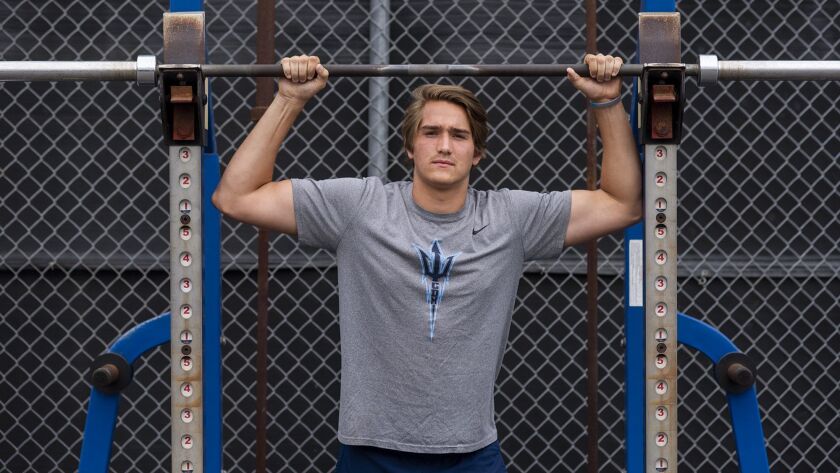 Mess with 6-foot-6, 240-pound tight end Mark Redman of Newport Beach Corona del Mar at your own peril. It's like watching a cartoon superhero waking up after he's been provoked.
"He's a nasty son of a buck in the run game," coach Dan O'Shea said.
Call it a controlled anger that he unleashes on anyone in his way, churning his giant thighs and using his strength and size to become a moving shield for the quarterback or running back.
"Every once in a while, I'll get heated on one side of the ball," said Redman, a junior. "Then, for a good series, I'll literally want to run block. I want to hit somebody."
O'Shea said he thinks Redman has the chance to be "the premier tight end over the next two years, not only in Orange County but across the nation."
Versatility is a key requirement for tight ends in 2018, and Redman has it, combining good hands with mobility, size and strength. He caught three touchdown passes as a sophomore, and Corona del Mar plans to use him as an H back, stand-up receiver and blocker during games.
"As you see in the NFL, the tight-end position has reemerged with Rob Gronkowski and these massive guys," O'Shea said. "But the big thing is their athleticism. A DB is not big enough to defend him, and a linebacker is too slow. Mark was born to play this position."
Said Redman: "It's the best position on the field because of how versatile everyone is. I definitely love the position."
Southern California is home to a group of outstanding tight ends with major-college potential. Redman has picked up more than 10 scholarship offers.
6-foot-6 junior from Corona del Mar can be nasty
Michael Martinez, a 6-6, 245-pound senior at Santa Ana Mater Dei, is committed to UCLA. Jude Wolfe of Bellflower St. John Bosco and Ethan Rae of Orange Lutheran are committed to USC.
Redman has a blue-collar mentality. He was spending a lot of Saturdays and Sundays this summer working eight-hour shifts at Ace Hardware to earn spending money.
He learned how to mix paint and caulk, cut glass and make keys. He learned how to deal with customers, good and bad. He learned how to show up on time.
"There's such simple stuff you learn and it's so cool because it's stuff you're going to need later on in life," he said. "It's different. You're working while your other friends are out maybe on a boat or at a party. You're kind of introducing yourself to the real world."
Redman is part of an elite trio of junior players at Corona del Mar, joining quarterback Ethan Garbers and receiver John Humphreys to give the Sea Kings a formidable offensive group. All are good students, dedicated workers and thrive on helping each other succeed.
"It's fun to be out here," Redman said.
TOP TIGHT ENDS TO WATCH THIS SEASON
Name; School; Ht.; Wt.; Yr.; Comment
Seth Figgins; Westlake; 6-7; 240; Jr.; size offers major advantage
Henry Ikahihifo; Paraclete; 6-3; 240; Sr.; Nevada player is physical specimen
Michael Martinez; Mater Dei; 6-6; 245; Sr.; UCLA commit was dominant during the summer
Elijah Mojarro; Orange Lutheran; 6-5; 230; Sr.; has committed to Cal
Jake Overman; Servite; 6-5; 240; Jr.; has worked on improving strength, quickness
Bryce Pierre; Rancho Cucamonga; 6-6; 215; Sr.; has the potential to be a standout
Ethan Rae; Orange Lutheran; 6-4; 240; Sr.; USC commit is healthy after ACL injury
Mark Redman; Corona del Mar; 6-6; 240; Jr.; a powerful blocker and big-time athlete
Duncan Smith; Burbank; 6-4; 220; Sr.; caught 11 TD passes last season
Jude Wolfe; St. John Bosco; 6-4; 240; Sr.; USC commit has size, agility and athleticism
Others
Carson Smith; Saugus; 6-5; 245; Sr.; has the size to make an impact
Kyle Stanback; Newbury Park; 6-7; 250; Sr.; let's see how he develops
Twitter: @latsondheimer
---