Sierra Canyon girls win fourth state basketball title, first in Open Division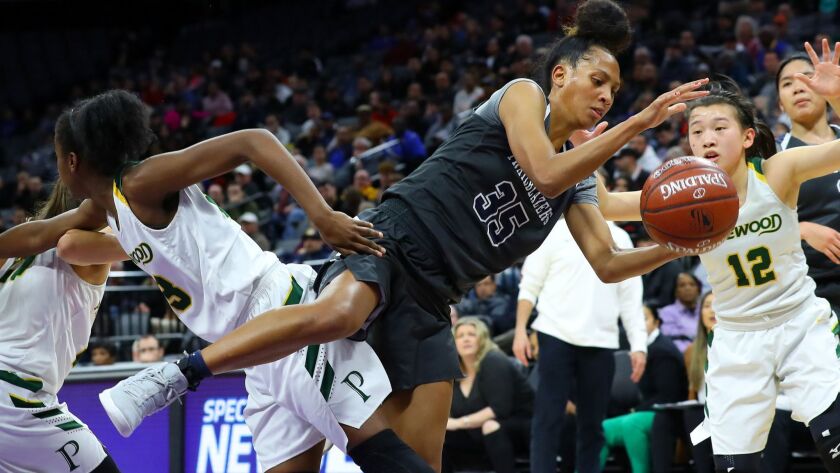 Reporting from Sacramento —
Four appearances, four victories.
The Chatsworth Sierra Canyon girls thumped Los Altos Hills Pinewood on Saturday night at Golden 1 Center, 69-51, to claim their fourth state title, but this time in the Open Division. Just six years ago, Sierra Canyon and Pinewood played for the Division V championship, with Sierra Canyon winning 47-33.
Ashley Chevalier led the Trailblazers with a game-high 20 points. Vanessa DeJesus added 17 points and Amanda Olinger had 15. DeJesus scored 11 of her team's first 17 points.
It was the defensive game plan of Sierra Canyon coach Alicia Komaki, and the Trailblazers' execution, that gave her program its fourth title in four tries. Pinewood's two stars — Stanford-bound Hannah Jump and Yale-bound Klara Astrom — were held to a combined 15 points and eight rebounds.
"We were really playing a man-and-3 where we denied three players and let [Annika Decker] get as many shots off as she wanted," Komaki said. "We could live with that."
Decker got off 20 shots and had a team-high 17 points.
"They had us well-scouted," Pinewood coach Doc Scheppler said. "And then they did a great job getting some easy baskets. Allowing 14 offensive rebounds didn't help either."
Pinewood cut its deficit to 31-25 at the half and Schlepper said he thought his team would win.
Sign up for our daily sports newsletter »
Sierra Canyon started the second half with a 12-0 run and Pinewood scrambled for every point thereafter.
Every time Pinewood made a second-half run, Sierra Canyon answered with either a three-pointer or a nifty drive and dish for a basket.
Amanda Olinger had one series of plays in which she answered a three-pointer with one of her own and emphatically blocked a shot on Pinewood's next possession.
Sierra Canyon (32-1) is ranked No. 1 in the nation by Cal-Hi Sports and third by MaxPreps. Pinewood (27-5) is ranked second by Cal-Hi and fifth by MaxPreps.
Komaki said she motivated her team by reminding them of the Trailblazers' lone loss this season, 73-58 to L.A. Windward.
"I wanted our girls to remember how much that hurt," Komaki said. "Had we had that type of loss earlier in the season I'm not so sure we would have been here. That one loss really motivated us."
Chevalier, a junior, has committed to the Texas. Both teams are young, with a combined four seniors who play significant minutes.
"She is a tough cover," Scheppler said. "Her skill set is at such a high level that you try to close her driving lanes down, but she manages to make the others a lot better.
Chevalier, the daughter of Sierra Canyon boys' coach Andre Chevalier, contributed seven assists, five rebounds and two steals.
"I gotta back here (next season)," Chevalier said. "There's no better rush and I really want this experience again before I go off to college."
Komacki knows this is the best girls' team yet at Sierra Canyon.
"People ask me all the time if any of those first three title teams could beat us this season, and they could not," Komaki said. "And that's because they weren't as deep. I had eight girls one season."
---
Get the latest on L.A.'s teams in the daily Sports Report newsletter.
You may occasionally receive promotional content from the Los Angeles Times.