Taft football coach Jeff Kearin resigns; new details emerge in matter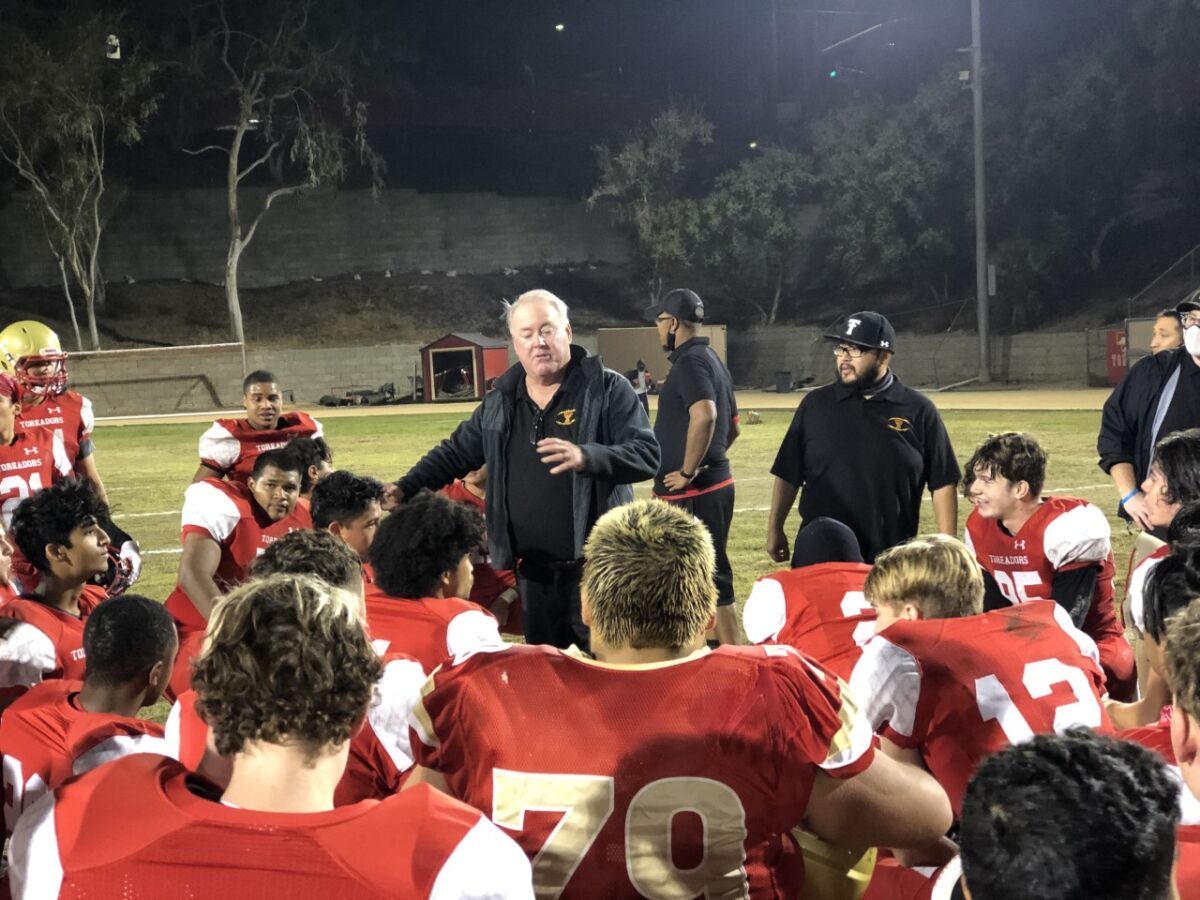 When Jeff Kearin was hired as football coach at Woodland Hills Taft in 2021, the school had 27 players out for the team and was coming off a winless, shortened COVID-19 season. The Toreadors also were facing a 2022 season with no home field while waiting for a new one to be finished.
Taft won a City Section Division III championship in 2021, and now there are more than 100 players out for the team, with a new stadium featuring an all-weather field set to open this fall.
However, the Toreadors will need a new coach after Kearin resigned last week. He said he made the decision in support of assistant principal in charge of athletics Neezer McNab, who has been facing disciplinary action and possible demotion by the school's principal, Daniel Steiner, for allegedly repeating a racial epithet while asking students to turn down their music.
"This was not my plan," Kearin said of his resignation.
Taft's Jeff Kearin turned around a program with a 26-game losing streak to become the Los Angeles Times' high school football coach of the year.
"We thank the football coach for his contributions to the Taft Charter High School community," the Los Angeles Unified School District said in a statement. "While personnel matters are confidential, administrative matters are thoroughly reviewed by the District in close consultation with the school. Throughout the administrative process, we prioritize a school environment that fosters respect, kindness and compassion."
The district is reviewing an incident from October, when a group of Taft track and field athletes were playing loud music that included obscene words. McNab asked the students to turn down the music. When asked why, McNab told them it was inappropriate because of a racial epithet and a vulgar word used in the lyrics. McNab repeated the racial epithet, according to a witness, volunteer coach and parent Kim Tjenalooi.
Tjenalooi said she was surprised to learn recently that McNab was facing disciplinary action and said no one from LAUSD interviewed her as the only other adult witness.
"I didn't think it was a major thing," Tjenalooi said in a phone interview Tuesday. "She told them to turn it off, that it was inappropriate, it's offensive. She said the N-word that was in the music. It wasn't directed at anyone. I don't think she did right or wrong. The fact the kids heard those words triggered things."
A group of McNab supporters are planning a march around Taft at 7:45 a.m. Wednesday to protest the district's attempt to demote McNab, who has declined comment. She has been going through the appeals process within LAUSD and continues to serve as assistant principal.
Wellington Bristow passed for three touchdowns and ran in the clinching two-point conversion for Taft in a 21-20 victory over Panorama on Friday.
"She's an amazing administrator," said Kearin, a former coach at Loyola who was recruited to Taft by McNab.
McNab is a former president of the City Section Board of Managers and a current CIF representative from the City Section on the State Federated Council and a member of the CIF executive committee. Her husband is former Sherman Oaks Notre Dame football coach Joe McNab.
"She's always there for all student-athletes," City Section Commissioner Vicky Lagos said.
Get our high school sports newsletter
Prep Rally is devoted to the SoCal high school sports experience, bringing you scores, stories and a behind-the-scenes look at what makes prep sports so popular.
You may occasionally receive promotional content from the Los Angeles Times.