Column: These Cathedral High soccer players are the definition of friendship goals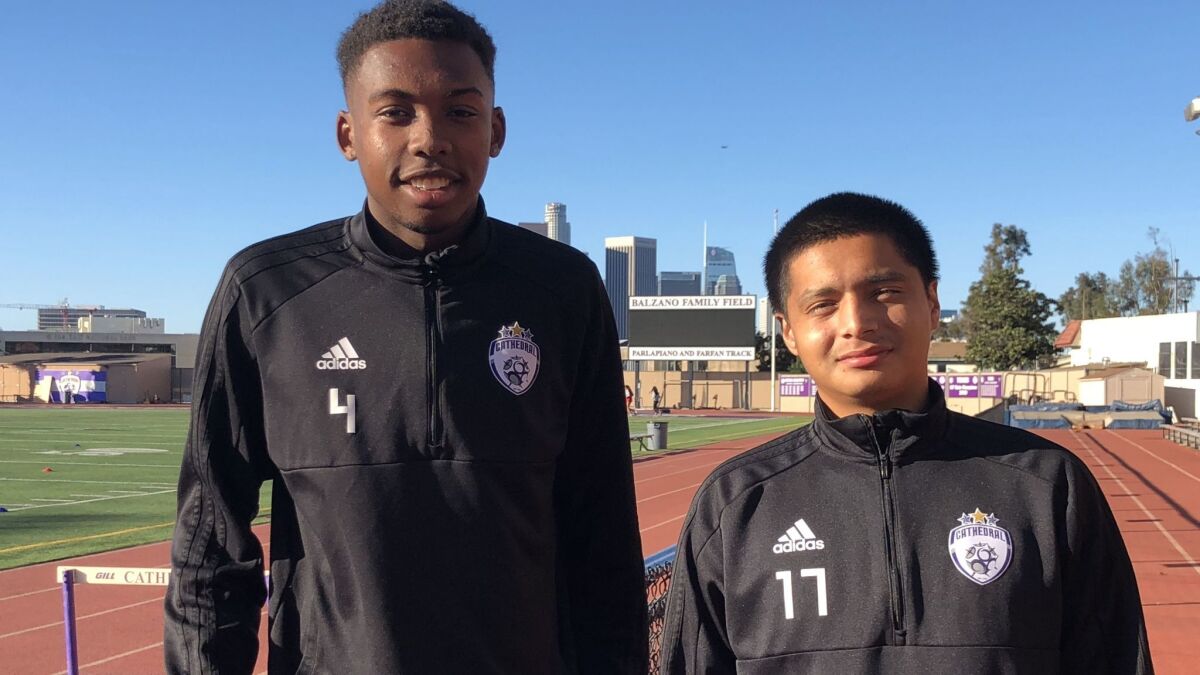 Dylan Robinson is a 6-foot-4 African American. Alejandro Lugo is 5-foot-7 and Latino. The juniors are inseparable at L.A. Cathedral, brought together by their love of soccer. Seeing them walk side by side offers a powerful example of how sports can help break down social barriers and eradicate stereotypes.
"We've grown so close to each other," Robinson said.
Said Lugo: "When I first met him, I was like, 'Why is he playing soccer?' I didn't know I was going to become as close friends as I am today. We always do everything together."
When they first arrived at Cathedral as freshmen, they'd take the Gold Line together from their homes in Altadena. Now Lugo has his driver's license and gives Robinson a ride to school.
They are standout forwards on a Cathedral soccer team that plays at Paramount on Wednesday in the second round of the Southern Section Division 1 playoffs. It's a terrific group of teams, with the Nos. 1, 2, 3 and 4 seeds still alive, led by Anaheim Servite. There could be great quarterfinal matchups if the top seeds continue to win.
Robinson, who's been known to dunk a basketball on Cathedral's outside court, has eight goals and eight assists. Lugo leads the team with 21 goals and 11 assists. Cathedral is 15-3-3 and won the Del Rey League championship.
"Their chemistry on the field is a direct correlation to their friendship off the field," coach Arturo Lopez said.
Robinson started playing soccer when he was 6. He also played basketball and baseball.
"I loved to run," he said. "I loved to drain my energy. Soccer was the sport that did that for me. Along came the joy and energy when we scored. I fell in love with it."
He first played against Lugo in the sixth grade, and the two eventually became teammates. Robinson's biggest challenge has been convincing people he played soccer, not basketball.
"It's been tough," he said. "I get that a lot on the train or on the street. People are asking, 'Do you play basketball?' My family has grown to accept it."
Robinson's size makes him stand out on any soccer field, and Lugo is always looking for his friend on corner kicks. Robinson also is probably Cathedral's fastest player, making him an intriguing college prospect.
"As tall as he is, it helps him and the team," Lugo said.
Robinson long ago realized that scoring a goal was more exciting than dunking a basketball.
"I feel I did it for the team," he said. "I put up a point. Dunking is for you. It's your personal points."
Still, Lugo says he wouldn't mind if Robinson would lift him up so he could experience what dunking a basketball would be like. He remembers Robinson picking him up and carrying him off the field after a game-winning goal as a freshman.
"I was like, 'I need this height,' " Lugo said.
Seeing the two interact shows the magic of sports.
"It shows how soccer brings a lot of races together," Lugo said. "He's not just a great player. He's a great person on the field."
Twitter: @latsondheimer
---
Get our high school sports newsletter
Prep Rally is devoted to the SoCal high school sports experience, bringing you scores, stories and a behind-the-scenes look at what makes prep sports so popular.
You may occasionally receive promotional content from the Los Angeles Times.