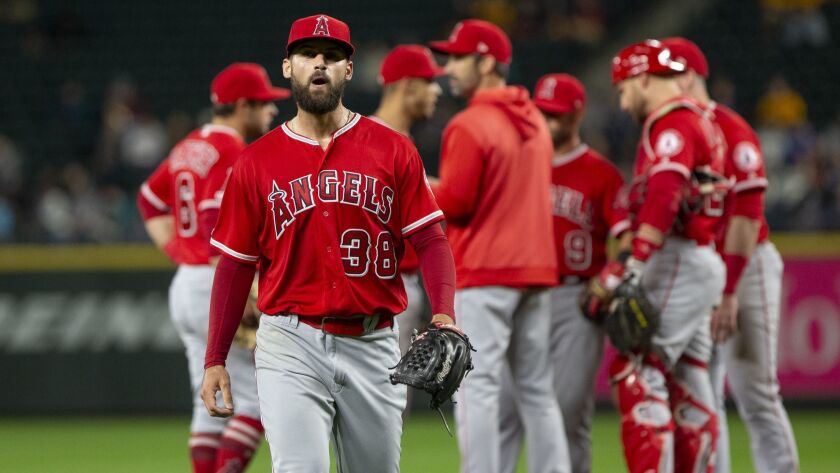 Justin Anderson's reward for escaping a bases-loaded, no-outs jam in Sunday's win over Texas was a demotion to triple A on Monday, the Angels reliever falling victim to a position-player crunch caused by Zack Cozart's injury and the roster needs for a weekend trip to Chicago to play the Cubs.
The left forearm bruise suffered by Cozart, who was hit by a pitch Sunday and wasn't in Monday's lineup, is not serious enough to send the infielder to the 10-day injured list, but to cover his absence, the Angels recalled third baseman Taylor Ward from triple-A Salt Lake City.
The Angels can't afford to play three games in a National League city with an injured position player, so Anderson, one of four relievers who have minor league options, was sent to Salt Lake.
"It's certainly not reflective of Justin Anderson's performance — he did outstanding for us," manager Brad Ausmus said. "We're a little banged up on the position-player side, and we're going into an NL city, where we're probably going to need one more position player."
Anderson replaced starter Chris Stratton with the bases loaded in the fifth inning Sunday and struck out the Rangers' Shin-Soo Choo and Rougned Odor with full-count fastballs and got Elvis Andrus to line out to third to preserve a two-run lead in an eventual 7-2 victory.
He did not allow an earned run in 5 2/3 innings over five games in which he struck out five, walked three and held batters to a .105 average. None of the eight runners he inherited scored. But there haven't been any weak links in a bullpen that entered Monday with a major league-leading 1.53 ERA.
"I'm not going to get into specifics," Ausmus said, when asked what he told Anderson, "but we let him know that it was not an easy decision."
Forearm shiver
Cozart, mired in a one-for-26 slump to start the season, did not swing a bat Monday but was confident he will be able to by Tuesday. Ausmus expects Cozart to play at some point in the series against the Milwaukee Brewers.
"I feel way better. My [range of] motion is like night and day from Sunday," Cozart said. "I couldn't rotate my wrist [Sunday], but today I don't have any issues.
"It was a big sigh of relief because I didn't want another setback after the calf [injury] and the [left shoulder] surgery last year. I just want my body to feel good to go out there and play. I got lucky on this one."
The injury could provide a brief respite for Cozart's struggles at the plate, but he doesn't think he needs a mental break.
Sign up for our daily sports newsletter »
"The only way as a baseball player to stay sane is to keep playing," Cozart said. "I feel like my whole career, I've been a grinder type of guy. You have those ups and downs, but you just play, you get through them."
Short hops
Mike Trout went six for 11 with five homers, nine RBIs and six walks — good for a 2.631 on-base-plus-slugging percentage — in the series against Texas. According to ESPN Stats & Info, it was the third-best OPS ever for a player in a four-game series behind Babe Ruth, who went eight for 12 with six homers and six walks in a series in 1921, and Mickey Mantle, who was six for 11 with five homers and six walks in a series in 1962. . . . Reliever Taylor Cole was reinstated from the injured list and optioned to Salt Lake.
---