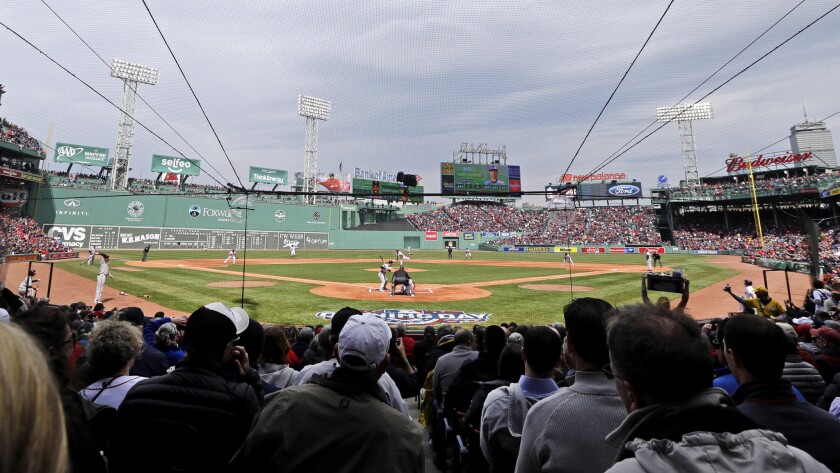 Novelist Stephen King on the new safety netting to protect fans from foul balls at Boston's Fenway Park: "It's one more step toward taking the taste and texture out of the game I care for above all others." It makes sense that King would want foul balls to be a little scary. . . .
How bad were the Minnesota Twins in their 0-9 start? They struck out 94 times in 293 at-bats and averaged only 1.56 runs a game. No team in history has started 0-9 and gone on to make the playoffs. . . .
Texas' Adrian Beltre is now second all-time among third baseman in fielding runs saved (one of those fancy sabermetric statistics) with 209, trailing only Brooks Robinson. He's also fifth overall behind Robinson, shortstops Mark Belanger and Ozzie Smith and outfielder Andruw Jones. . . . Best moment of the week: Lou Brock throwing out the first pitch at the St. Louis Cardinals' home opener, six months after his left leg was amputated. It's worth finding on YouTube. . . .
Former Dodgers coach Davey Lopes is now with Washington, and impressing Manager Dusty Baker with his baserunning knowledge: "There's something you can take advantage of [against every opponent]," Baker, a teammate of Lopes with the Dodgers from 1976-81, told the Washington Post. "And Davey Lopes is the best at picking that up . . . Davey sees things that very few people see in the young players." . . .
San Francisco pitcher Jake Peavy gave up 10 extra-base hits to Colorado on Wednesday, a franchise high and the most allowed by a pitcher since Curt Schilling gave up 10 for Boston on Aug. 10, 2006, against Kansas City. … Houston reliever Ken Giles gave up three homers in his first four games. He gave up three homers in 113 games in 2014 and 2015 with Philadelphia. … Tampa Bay is outfitting its hitters with virtual reality goggles that put them in the batter's box before each game to watch a simulation of that day's pitcher throwing to them. . . .
A former personal trainer for Pablo Sandoval told the Boston Herald that the Red Sox third baseman needs a baby-sitter to keep him from overeating, and likened Sandoval's penchant for eating all day long to alcoholism. Sandoval is on the disabled list with a sore shoulder after showing up to spring training overweight, and the Red Sox are looking to part ways with him.
--Houston Mitchell
NEXT UP FOR THE DODGERS
at Atlanta: Tuesday, 4 p.m.; Wednesday, 4 p.m.; Thursday, 9 a.m.
at Colorado: Friday, 5:30 p.m.; Saturday, 5 p.m.; Sunday, 1 p.m.
Braves start 0-9. GM: "We know we are better than our record indicates." Hope so.
NEXT UP FOR THE ANGELS
at Chicago White Sox: Monday, 5 p.m.; Tuesday, 5 p.m.; Wednesday, 11 a.m; Thursday, 11 a.m.
vs. Seattle: Friday, 7 p.m.; Saturday, 6 p.m.; Sunday, 12:30 p.m.
Mat Latos' ERA with Dodgers last year: 6.66; with White Sox this year: 0.75.
MLB SERIES OF THE WEEK
Chicago Cubs at St. Louis Cardinals
Monday through Wednesday
Who starts for Cubs in first game vs. St. Louis? John Lackey, who spurned Cardinals to sign with Cubs.
MLB TWEETS OF THE WEEK
From Friday's Jackie Robinson Day:
The courage to stand up for civil rights was the most impressive thing Jackie Robinson did.
—Chris Archer, Tampa Bay Rays pitcher (@ChrisArcher22)
Favorite day of the baseball season is today!! Thank you Jackie for all that you did
—David Price, Boston Red Sox pitcher (@DAVIDprice24)
Very fortunate to play for the Dodgers just like Jackie Robinson. #42
—Adrian Gonzalez, Dodgers first baseman (@Adrian_ElTitan)
--Bill Shaikin
---