Don't expect a level playing field in college football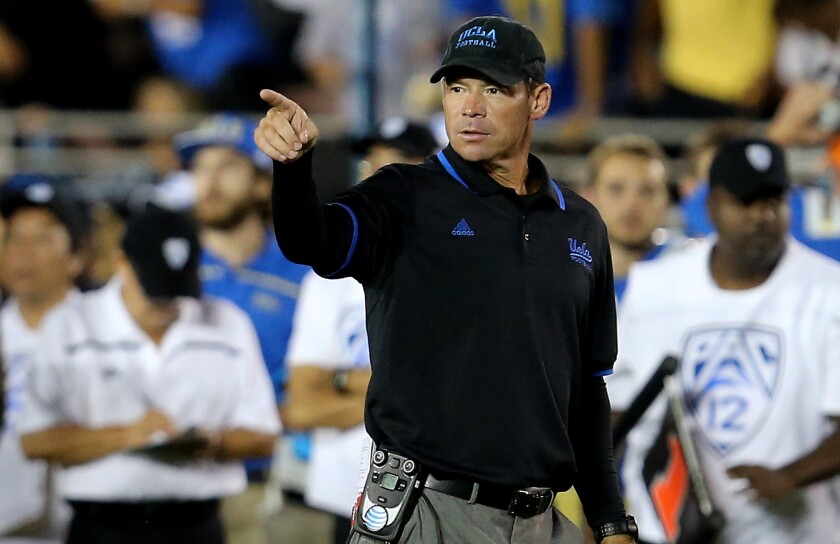 UCLA Coach Jim Mora was clearly upset after Saturday night's game against Arizona State at the Rose Bowl.
About the loss, sure, but what he mostly expressed anger about were two games UCLA had yet to play — at Stanford next week and at the Rose Bowl against California after that.
"It doesn't get any easier for us," Mora said. "Now we have two Thursday night games. It's unbelievable that we're forcing them to miss six days of class with two Thursday night games. … I think it's a real injustice for our young men."
There's injustice in college football — really?
Mora has a legitimate point about what television and money are making our kids do on school nights.
Part of the Pac-12 Conference's $3-billion deal with ESPN and Fox allows the networks to dictate and regulate programming. And it seems the network executives actually want to make back some of their investment — the nerve of these guys.
It is no surprise that every hardship seems to fall on the players. UCLA linebacker Myles Jack decided to declare for the NFL draft. Mora disagreed with the decision, calling it "a risky one."
Yet, everything a college player does is a risk. Was it fair that Jack has his knee blown out during a weekday practice?
What Mora also didn't mention: Through-the-roof television money has led to coaches' doubling, tripling and quadrupling their salaries.
Would he and other Pac-12 coaches be willing to take less money to play in more academic-friendly time slots?
Mora is savvy enough to know the real college game day is constructed not by Home Depot, but on a foundation of institutional inequities. The sport's pledge of allegiance should end with "Unequal injustice for most."
"Daddy, why do Alabama and USC get all the good players, year after year?"
"Well, son, sit down, this may take awhile …"
The playing field hasn't been level since Rutgers and Princeton teed it up in 1869.
The Unfairness Doctrine is rooted in the evilness of geography, pedigree and blind-luck philanthropy.
Why does UCLA's campus have to be so unjustly gorgeous? Oregon enjoys a huge football windfall because Phil Knight happened to attend school there, founded Nike, and wanted to donate millions to the cause.
Football has always been way more fun than fair.
About 60 of the 128 major-football schools make an exorbitantly disproportional amount of the money.
That started because, for years, the NCAA monopolized television rights.
Then, in the early 1980s, Georgia and Oklahoma sued the NCAA and won a historic antitrust Supreme Court case. Schools and leagues, suddenly deregulated, raced like Apple with its iPhones to the open market.
No surprise: Networks were more interested in televising Ohio State vs. Michigan every year than Louisiana Monroe vs. Louisiana Tech any year.
Money flowed to the traditional conferences because that's where the most soap was sold during Rose Bowl broadcasts.
Complaints from have-not conferences have been met with a pretty good comeback line: "You can't legislate tradition." That's the reason Notre Dame has its own TV deal with NBC no matter what its record was last season or will be next season.
It's hard to remember a single day in college football when justice prevailed.
Private vs. Public: Was it fair that Stanford could build a new stadium, with private funds, in only months? Yet, it took rival California years to sort through bureaucratic red tape within the UC system.
Quarter system vs. semester: Pac-12 teams play games with wildly different grades of academic brain drain. UCLA, which works on the quarter system, can get in three or four games before classes start — a distinct advantage. But then the edge flips the week quarter system players go back to school.
Arizona State, a semester-system school, defeated UCLA last week. "Our guys are back in class," Mora said. "There are a lot of new things happening to them. If you look at our history, we've struggled this week."
Why does Boise State, a perennially prominent program, get chump change in the Mountain West Conference? It tried to join a power conference, the Big East, but plans for that league fell apart and Boise State got left at the dock when the big ship sailed.
Utah and Texas Christian, also members of the Mountain West back then, made out like pirates. Utah got swallowed up by the Pac-12 and TCU was geographically advantageous to the Big 12.
Utah and TCU, by the grace of the power conference football gods, are flourishing and, this week, ranked in the top five.
Even in years it goes undefeated, Boise will be hard-pressed to ever compete for the four-team playoff.
Sorry about that…
Was it fair the Atlantic Coast Conference raided the Big East for schools and left it to die?
What about Colt McCoy playing four years at Texas without being injured, then getting hurt on the first drive of the 2009 title game against Alabama?
How did Lane Kiffin, before age 35, get hired by Oakland, Tennessee and USC?
How did Alabama not win the national title in 1966? Why did undefeated Auburn not even get a chance in 2004? How is it possible that Peyton Manning never won the Heisman Trophy?
If it's justice you want, Jim Mora, you're probably in the wrong profession.
---
Get our high school sports newsletter
Prep Rally is devoted to the SoCal high school sports experience, bringing you scores, stories and a behind-the-scenes look at what makes prep sports so popular.
You may occasionally receive promotional content from the Los Angeles Times.