Column: David Sills reflects on his journey from quarterback prodigy to West Virginia receiver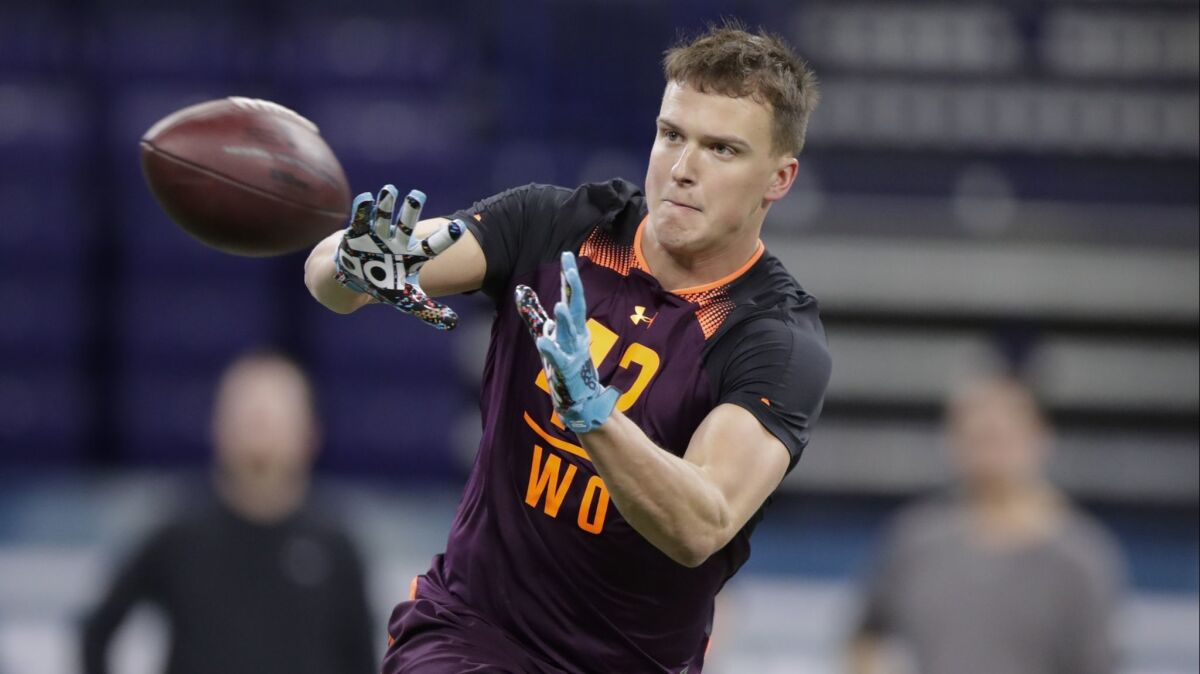 As you get older, the reminders that you're no longer as young as you once were begin to increase exponentially. I celebrated my 39th birthday this week, which may not seem old to some but that makes me older than 99% of the pro athletes I cover in Los Angeles, older than the head coaches of the Lakers and Rams, and older than the play-by-play voices of the Dodgers and Kings.
But I felt downright ancient Saturday when I saw West Virginia receiver David Sills for the first time in a decade.
I first heard about Sills in 2007 when he was a 10-year-old quarterback prospect working with quarterback coach Steve Clarkson, who had tutored Matt Leinart, Ben Roethlisberger and Jimmy Clausen. I was working at Sports Illustrated at the time and while I wasn't entirely comfortable covering a quarterback prospect who was about to turn 11, I thought it was worth a look. I ended up writing the first story on Sills and helping him through his first photo shoot.
Two years later he was in the national spotlight when Lane Kiffin offered Sills, who was 13, a scholarship to play quarterback at USC. That was the last time I saw Sills before we met for lunch Saturday after an NFL predraft workout in L.A.
The pint-sized quarterback I used to know had grown into a 6-foot-3, 221-pound receiver who is projected to be a second-day draft pick next month.
"I was so young when we first met," Sills said. "I didn't know what was happening. I was throwing passes with Joe Montana and getting a scholarship offer from USC. I thought I was going to win a Heisman and a national championship with the Trojans."
Life doesn't always go according to plan and Sills' dream of being the next star quarterback at USC began to unravel in 2013 when a helmet crushed his throwing hand during a high school game. Sills was never able to throw a football the same way again.
"I changed my throwing motion so it wouldn't be painful but it started to create bad habits," Sills said. "One bad habit turned into another and it turned into a really bad throwing motion and by the time my hand healed I had this hitch in my throwing motion I could never get rid of."
Shortly after that, his dreams of playing at USC were dashed following a meeting with Steve Sarkisian, who had just been appointed coach after Kiffin was fired during the season.
"Sark brings me into his office and it's just me and him and he says, 'Pat Haden is making me honor your scholarship but you'll never play a down here,'" Sills said. "At the time I'm like, 'Damn, that really sucks.' I thought we were meeting to get on the same page but looking back on it now, I appreciate his honesty."
Sills would end up going to West Virginia and began to impress coaches with his skills as a receiver on the scout team but insisted on playing quarterback. When coaches continued to ask him to make the switch, he transferred to El Camino College in 2016 to continue his dream of playing quarterback. He spent seven months sleeping on the couch of Khaliel Rodgers, his high school teammate who was an offensive lineman at USC. The quarterback prodigy who was supposed to be the star at USC was now sleeping on a couch near campus.
"I was picking him up from USC practice every day," Sills said. "I'm going on campus and picking this guy up and I'm walking around the place I was supposed to go and be the starting quarterback. It was just super ironic."
By the end of the season, Sills' throwing motion had still not improved and he didn't have any scholarship offers. He realized if he wanted to continue his football career, he would have to make the move to receiver. West Virginia was more than happy to welcome him back as a receiver. As much as they liked his potential no one could have expected what would happen next. Sills would go on to lead the nation in touchdown receptions and be a first-team All-American.
"I definitely took a weird path to get to where I am," Sills said. "I wouldn't change anything, though. Everything I've been through has gotten me here. It's definitely a good story but I think it's far from over."
::
The Mint 400 is taking place in Las Vegas this weekend. The only reason that race means anything to me is it plays a big role in Hunter S. Thompson's "Fear and Loathing in Las Vegas." As the story goes, Thompson was working on an expose on the death of Times writer Ruben Salazar and needed to go to Las Vegas to interview attorney Oscar Zeta Acosta, so he pitched Sports Illustrated a story on the Mint 400. It was meant to be a short story about the race accompanying a series of pictures but it turned into a piece 10 times longer than expected about the death of the American dream. Sports Illustrated rejected the article but Thompson had the foundation for what would become his most famous book.
::
With Brandon Ingram and Lonzo Ball out for the season because of injuries and the Lakers season effectively over, it's time for the Lakers to get LeBron James off the court too. He has only so much gas left in his tank and it would be foolish to continue to waste it on a season that is over.
::
The top four all-time scorers in the NBA — Kareem Abdul-Jabbar, Karl Malone, Kobe Bryant and James — played at least one season for the Lakers and scored their final or most recent points with the Lakers. No one really considers Malone a Laker but I wonder whether that would still be the case if he had been healthy in 2004 and helped the Lakers win a championship. James will be in L.A. longer than Malone but will also be viewed as an outsider just as Malone was unless he can win a championship in a Lakers uniform.
::
The Rams again are winning the offseason after signing safety Eric Weddle to a two-year contract. Weddle, who was born in Fontana and grew up in Alta Loma, is exactly what the Rams need in the secondary and in the locker room.
::
"Phantom of the Opera" star Davis Gaines performed the national anthem before Saturday's Lakers-Boston Celtics game. He was one of Jerry Buss' favorite singers and performed "Music of the Night" at Buss' memorial service in 2013. There was no bigger game on the home schedule every season for Buss than the one against the hated Celtics. As good as it was to see Gaines, it was even better to see the Lakers wear their classic gold uniforms and the Celtics wear their classic green uniforms in L.A. There's no reason for the Lakers to wear purple at home or gold on the road as they did this season in Boston.
Get our high school sports newsletter
Prep Rally is devoted to the SoCal high school sports experience, bringing you scores, stories and a behind-the-scenes look at what makes prep sports so popular.
You may occasionally receive promotional content from the Los Angeles Times.