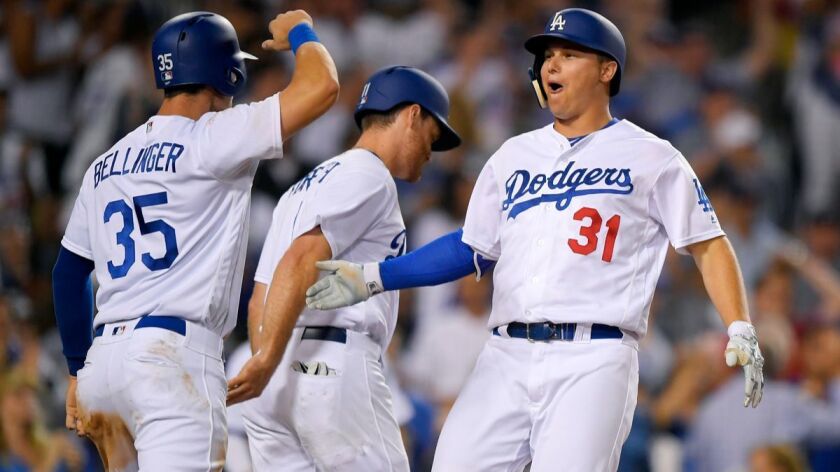 The Dodgers have an all-star record. They're been on an all-star winning streak. They play in the middle of an all-star town. They have the most all-star team in baseball, with one curious exception.
They probably won't have anyone starting for the National League All-Star team.
"It doesn't make any sense," manager Dave Roberts said Tuesday.
Believe it. When the fan voting ends Thursday for the July 11 game in Miami, only one Dodger even has a chance to make the starting lineup, and it would take a miracle finish for Corey Seager to make up 258,074 votes on Cincinnati's Zack Cozart.
That's right, the best shortstop in the National League plays for a team with the best attendance in the National League and he's second in the fan voting to a guy from . . . Cincinnati?
"I like to do things that make sense, I don't like things that make no sense," Roberts said.
Justin Turner, who could be leading the league in hitting at the All-Star break if he gets enough plate appearances, has no chance at third base. Cody Bellinger has no chance as a write-in candidate even though Dodgers fans put Steve Garvey into the 1974 starting lineup and then watched him become the game's MVP.
Meanwhile, last summer, those darling Chicago Cubs had six starters in the 2016 All-Star game, including the entire infield.
"The Cubs were the best team last year, they were pretty well-represented; how that is not parallel in any capacity is besides me," Roberts said.
Well, there's one difference. Most Cubs fans can actually watch their team on television.
Yep, sorry, this is not an All-Star story, it's a TV story. Disguised as a baseball story, it's a blackout story.
The four-year stalemate between DirectTV and Charter Communications that has left millions of Los Angeles homes unable to access televised Dodgers games is finally starting to leave deep and noticeable cuts in the Dodgers brand.
Shelve the spin, ignore the finger pointing, plow over all the numbers that show the Dodgers losing about half of their viewing audience since the blackout began, and a simple truth emerges.
When the majority of households in your market can't watch your games on TV, they lose interest in your team. While the blackout hasn't affected attendance, it's put a huge dent in attitude. The winning is there, but the buzz is not.
The Dodgers should be the biggest story in town this month, but doesn't it seem like everybody is talking about the Lakers? Everyone should be fawning over Bellinger, but just as many people are talking Lonzo Ball, and he won't even play in an official game for nearly four months.
Don't blame Dodgers fans. Don't dare blame the fans. Chavez Ravine is as loud and crowded as ever, rocking Tuesday night as the Dodgers won for the 17th time in 19 games, 4-0 over the Angels.
These are probably some of the same fans who used their little pencils to help Garvey make history. But the computerized All- Star voting can take place anywhere. And for many folks in Los Angeles who once connected with the team through television, the Dodgers are nowhere.
They don't hate them, they just don't really know them, and why would you vote for someone you don't really know? Even the great Dodger Stadium cheers are surely coming from those watching the team for one of the first times during the season, and a lack of connection is increasingly obvious.
Face it, if Dodgers fans really knew Bellinger, they wouldn't have waited until he hit his 24th homer to give him his first curtain call on Sunday.
"I don't really know what took so long," Dodgers pitcher Brandon McCarthy said to reporters afterward. "He keeps doing this over and over and over again. I feel like he should be three or four curtain calls deep right now."
But Bellinger joined the team after the start of the blackout, just like Seager and Turner, and perhaps many fans don't yet feel the bond.
It works both ways. By most accounts, one of the Dodgers' two most popular members is still Andre Ethier, even though he has played but 16 games in two years. He's a pre-blackout player. So is Yasiel Puig, who is still cheered like he was a rookie.
When asked about the effect of the blackout, Roberts shook his head and said, "I have no idea, all I'm trying to do is focus on one game at a time, that's way beyond my pay grade."
That was a smart answer, because there is seemingly no answer that wouldn't irk his bosses or alienate the fans. There are no winners here, only villains, but this year's All- Star voting has made one thing clear.
No matter who is technically to blame, it is Dodgers ownership that will shoulder the damaged legacy. It is Dodgers players who are feeling the long-term effects.
It is the Dodgers who are left to explain why a brilliant young shortstop from Los Angeles who is coming off a rookie-of-the-year season can't get more votes than some dude from Cincinnati — even though Corey Seager has more homers, RBIs, runs and doubles and fewer errors than Zack Cozart.
"I honestly don't know how that all shakes out," said a bewildered Roberts.
The Dodgers could have as many as six All-Stars on the squad once the players and managers votes for reserves — Seager, Turner, Bellinger, Clayton Kershaw, Kenley Jansen and Alex Wood. But if Kershaw is not the starting pitcher — and right now, the game would fall between his usual starts — they will all begin the game in shadows the approximate color of a darkened TV.
Get more of Bill Plaschke's work and follow him on Twitter @BillPlaschke
ALSO
Don't bet against Magic Johnson turning the Lakers around
As Lonzo Ball's play does the talking, his dad LaVar needs to quiet down
Jerry West, in many ways the ultimate Laker, is officially a Clipper now. That's just weird.
---