Column: Organist Dieter Ruehle wins over Dodgers fans with unique style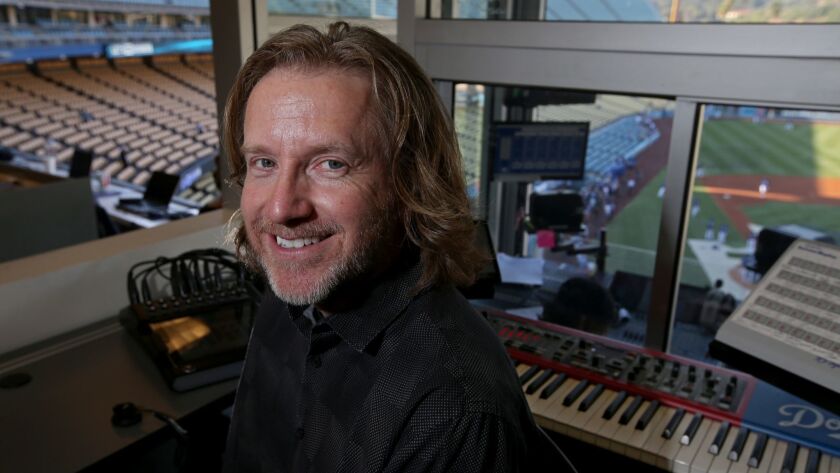 Before Monday's game against the San Francisco Giants, Dodgers organist Dieter Ruehle was busy practicing a song he had never performed before.
After hearing that rapper Nipsey Hussle had been killed Sunday, Ruehle went home and began to practice Hussle's "Racks in the Middle" on his keyboard.
"I figured I should do some kind of tribute to him," Ruehle said. "I listened to some of his songs last night and sat in front of the keyboard and played a few, just learning by ear."
It isn't easy winning over a fan base that had grown accustomed to hearing stadium classics such as "Take Me Out to the Ballgame" from the same person for more than a quarter century. Nancy Bea Hefley was the Dodgers' organist from 1988 to 2015. She famously played "Master of the House" from "Les Miserables" whenever Orel Hershiser took the mound and "Food, Glorious Food" from "Oliver!" when the scoreboard advertised food specials. There was a special bond between Hefley and Dodgers fans that would be almost impossible for any successor to duplicate.
Ruehle, who is also the organist for the Kings and had worked for the Lakers and Clippers, replaced Hefley after she retired in 2015. He quickly became a fan favorite. It was a dream job for a kid who grew up in the San Fernando Valley and fell in love with the organ listening to Hefley's predecessor, Helen Dell, at Dodger Stadium.
"I knew I had big shoes to fill, and during my first season in 2016 I think I tried too hard not to sound too different and I wasn't being me," Ruehle said. "It wasn't until my second year that I let loose …"
Being himself meant doing songs that had never before been performed by an organist at Dodger Stadium and occasionally ignoring his playlist in order to highlight something special or pay tribute to someone. That was never more evident than during the Dodgers' opening series against the Arizona Diamondbacks last week, when he played "Baby Shark" to razz the opponent and then "Baila Esta Cumbia" to mark Sunday's anniversary of Selena's death.
"Earlier [in March], Arizona did their own 'Baby Shark' music video and when it came out people were bashing them for it," Ruehle said. "So I thought I'd have some fun with that. I didn't play it until we were winning on opening day, I didn't play it Friday, but I played it Sunday because it was a day game and there would be more kids there. I'm poking fun at the Diamondbacks, but kids love that song. It got quite a reaction on Twitter."
Ruehle was at his creative best during the Dodgers' 13-inning loss to Arizona that started Friday night and ended after 1 a.m. on Saturday. Joe Davis and Orel Hershiser were basically playing "Name That Tune" between pitches in the broadcast booth as fans on Twitter praised Ruehle for his song selection in the wee hours of the morning.
"When we went past midnight I played, 'Oh, What a Beautiful Mornin' from 'Oklahoma!' and then I played 'Saturday in the Park' from Chicago because it was Saturday and we were at the ballpark," Ruehle said. "When it got to one o'clock I played 'One' by U2, but then later I was kicking myself because I should have played 'One' by Three Dog Night. I also played 'The Longest Time' by Billy Joel. I'll usually play that if the game is over four hours. You never plan on playing past midnight. Those are things you just think of on fly."
Dodgers executive Lon Rosen has known Ruehle since he was a kid. Ruehle was so determined to get his foot in the door as an organist for a team that he would write to Rosen, who worked at the Forum, inquiring about being an organist at the arena. Rosen gave him a shot to perform for the Lazers indoor soccer team in 1984, when Ruehle was 15.
"We were big fans of Nancy Bea, but when she retired Dieter was the first name that came to mind," Rosen said. "I remember when I first met him as a kid. His mother used to drive him to the games when I used to work there. I love what he does. He really adds so much to the experience. It's not just background music. You look forward to hearing what he's going to play next."
::
The Lakers waited a little too long to shut down LeBron James for the season but it was the right call. It's also smart of James to take the summer off instead of traveling to China to play in the FIBA World Cup. Some fans might be upset that he's skipping the tournament to film "Space Jam 2," but they should be more upset that somebody feels the need to do a sequel to the original "Space Jam."
::
USC and UCLA had down years in football and men's basketball and both were involved in the college admissions scandal, but it should be noted that both schools are excelling in sports that don't get as much attention as they should. USC and UCLA have teams in the top 10 in 10 different sports.
USC has the top ranked team in women's golf, women's water polo, men's water polo and women's track and field. UCLA has the top-ranked team in women's beach volleyball, baseball and softball. USC is second in women's beach volleyball. UCLA is second in women's gymnastics.
::
Congratulations to John Calipari, who reportedly parlayed an interview with UCLA into a pay raise and a lifetime contract at Kentucky. It'll be interesting to see how many other big name coaches follow Calipari's lead in order to get a better deal where they're at. UCLA athletic director Dan Guerrero is like the college basketball version of Sean McVay. If you're so much as seen out with him, you can expect a big payday in your future.
---
Get our high school sports newsletter
Prep Rally is devoted to the SoCal high school sports experience, bringing you scores, stories and a behind-the-scenes look at what makes prep sports so popular.
You may occasionally receive promotional content from the Los Angeles Times.