Column: LeBron James' inaugural Lakers season ends as a complete bust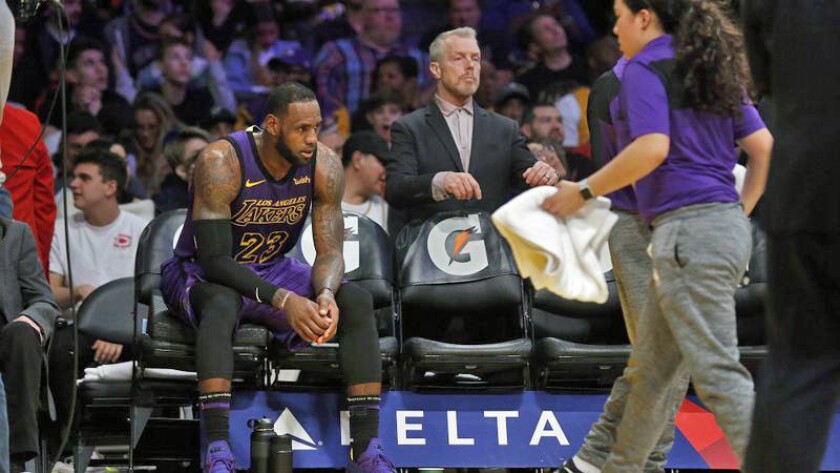 It was supposed to end in the playoffs. It was supposed to end with a heroic effort to drag an overmatched team back toward NBA greatness, the finish of a stirring run representing the beginning of new hope.
Instead, LeBron James' first season with the Lakers ended in a statement.
"After consulting with our team doctors and medical staff, we have decided to hold LeBron out of games for the remainder of the season,'' read the missive issued Saturday by basketball bosses Magic Johnson and Rob Pelinka. "This decision will allow his groin to fully heal, and is best for the future success of both LeBron and the Lakers.''
So that's that. It's over. It's done. The great debacle has mercifully been put to sleep, and the uncomfortable evaluation can finally be made.
LeBron James' first season as a Laker has been a complete bust.
The decision to shut him down, while completely understandable, serves as the perfect punctuation mark on a massive disappointment. James could be physically at risk if he finished out the final six games of the schedule, and it would be meaningless even if he did, and doesn't that tell you everything?
It's official now, the final curtain falling on what might be the most disillusioning individual season in Los Angeles sports history. Think about where this journey started. Think about where, nearly a year later, it has stalled. The drop in elevation has been staggering.
When James signed here in July, a certain sucker columnist was breathless in anticipation.
"Four words that were once whispers of dreams can now be shouted across Los Angeles with a force that will rattle our sports landscape down to its historic core,'' I wrote. "The King is coming.''
That landscape has been rattled, all right, with the outlandish realization that maybe the Lakers would have been better without James. With a 34-42 record, they are only one win better than last year at this time. They are not making the playoffs for a franchise-record sixth consecutive season. They will soon undergo another coaching change. Their youngsters, with the possible exception of a brief stretch by Brandon Ingram, did not substantially improve.
And the King still hasn't shown up.
There were far more words in Saturday's closing statement then exciting moments provided on the court by a guy who was supposed to entertain and connect and lead, yet did little of any of that.
What great moments do you remember? Do you remember anything?
Let's see, there was his 44 points against Portland, his 51 points in Miami, his postgame hug with Dwyane Wade, his "activated'' game against Houston, his late three-pointer against New Orleans. Does that about cover it?
The list of James' missteps is much longer, and starts from the beginning.
There was his failure to hold an introductory news conference upon his signing in Los Angeles, a missed opportunity to begin building the bond with fans. Instead, he staged a Twitter pizza prank that left many locals waiting for his arrival at a Culver City restaurant. In a sign of things to come on the court, he never showed up.
Once the season started, there was his constantly bad body language that told the world of his frustration with his younger teammates. The slumped shoulders, the shaking of his head, the turning of his back, the flailing of his arms, it was all indicative of a guy who had lost all hope.
Then there was his defense, which was glaring in its invisibility, so much that entire videos have been compiled of times when James simply stood there and watched a dude drive past him.
The individual images are just as striking. There was the time he sat far from his teammates on a bench in Indiana. There was the night during his injury rehabilitation when he showed up carrying a glass of red wine to a game. Or how about the moment he passed Michael Jordan on the all-time scoring list yet refused to acknowledge those fans who, while feeling scant connection with him, were at least politely cheering?
He once threw an inbounds pass off the back of a backboard. He let another inbounds pass roll past the half-court line before knocking it out of bounds. For his final indignity, in trying to create at least one dramatic game-winning moment, he had a last-second shot blocked by the New York Knicks' Mario Hezonja.
Equally as troubling was his behind-the-scenes plotting, which caused a locker room rift that could not be repaired. In essence, he sold out his teammates when his agent Rich Paul announced that Anthony Davis wanted out of New Orleans, thus leading the Lakers to offer up virtually all of their young talent for the star that James openly coveted. His camp also quietly pushed to fire coach Luke Walton, which created the perception of a leadership void, which won't be filled until the Lakers actually fire Walton and hire whomever James chooses.
It was pretty awful, and, to be sure, James was far from alone in causing the mess.
Much blame for the season certainly goes to Johnson and Pelinka, who, immediately after acquiring James, signed a nutty and mismatched veteran cast that made James' job much tougher than in previous years in Cleveland and Miami.
And to be fair, James' final averages of 27.4 points, 8.5 rebounds and 7.4 assists were either at or above his career numbers.
He had the stats. He showed up for the media. He was once again one of the NBA's leading citizens, smart and thoughtful and engaging. He even began the season in the coolest way possible, by opening an elementary school for challenged students in his hometown of Akron, Ohio.
But as a Laker, he was never completely invested. To many, it appeared he had come to Los Angeles mainly to promote his many entertainment projects. At times, it even appeared basketball was a glorified hobby.
Sign up for our daily sports newsletter »
While responsibility for this nightmare begins with owner Jeanie Buss and trickles down through the entire organization, the brunt of it is on James. If they had made the playoffs and even survived a couple of rounds as expected by many, James would have received all the credit. It is only reasonable to assign him the highest percentage of the liability.
What happens now? Veteran James observers warn against ever writing him off, but it seems he and the Lakers will have just one summer to save the remaining three years of this relationship. He needs a co-star to get him interested again, but where will they find it? Can they still trade for Davis? Will top free agents want to come here, knowing James' constant distractions and declining physical condition?
That's a lot of questions surrounding a guy who was supposed to be the answer.
Get more of Bill Plaschke's work and follow him on Twitter @BillPlaschke
---
All things Lakers, all the time.
Get all the Lakers news you need in Dan Woike's weekly newsletter.
You may occasionally receive promotional content from the Los Angeles Times.