Column: Kenley Jansen would welcome Craig Kimbrel to the Dodgers — but not as a closer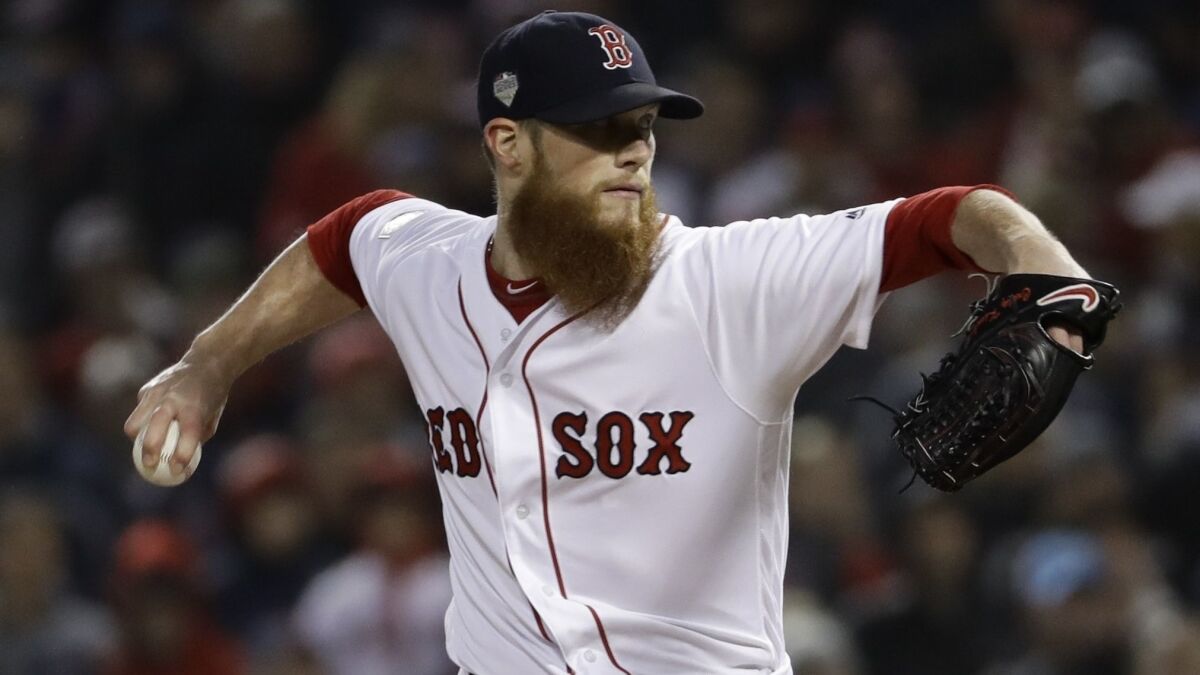 The solution appears to be simple.
The Dodgers need help in the bullpen. Craig Kimbrel needs a job.
And if the team signs Kimbrel, Kenley Jansen said he would welcome the fellow All-Star closer with open arms.
"Why not?" Jansen said. "We want to win a championship, right?"
Kimbrel could do what Andrew Friedman's latest free-agent calamity, Joe Kelly, was supposed to do.
Wait until after the draft next month and Kimbrel wouldn't cost the Dodgers a pick, in which case the only obstacle would be money. And the Dodgers should have plenty of that, courtesy of the infamous television contract that made their games unwatchable to much of the city.
Except this is where the hypothetical addition stops being simple and more human factors have to be considered.
Before a 9-4 victory over the Atlanta Braves on Wednesday, Jansen made clear he believes the ninth innings belongs to him, regardless of whom the Dodgers sign, regardless of his difficult start to the season.
"That's what I get paid for," Jansen said. "I get paid for closing ballgames."
Jansen has converted 12 of 14 save opportunities, but has a career-worst 4.67 earned-run average and is giving up home runs more frequently than he ever has. None of that has made him any more open to accepting new role, even if the Dodgers are positioned to land a reliever of Kimbrel's ability and track record.
"Why should I have to do anything different?" Jansen said. "That's my question. It doesn't make any sense."
Jansen glanced over at Justin Turner, who was a couple of lockers away.
"Would you tell JT to go pitch?" he said.
Of course, that's not the same as, say, moving from the ninth inning to the eighth. Or sharing the ninth inning.
"We have the best record in the major leagues," Jansen said. "It doesn't make any sense. If something was wrong or whatever, I mean … I don't see anything wrong right now. The team is doing good."
At 25-14, the Dodgers have the best record in the National League.
And Jansen has earned every right to be protective of his position on the team. He was an All-Star in each of the last three years and he is less than a quarter of the way into his current season.
The question is how Jansen would react to there being an equally accomplished closer on the roster, no matter their designated roles. The organization's decision-makers have privately expressed concerns about that. Hearing Jansen address the subject Wednesday, he sounded as if he could feel threatened to where it might adversely affect his performance.
Successfully integrating Kimbrel into the team would require not only for him to accept setting up for Jansen, but also for Jansen to pitch well enough to ensure their roles won't change. Jansen is known to be sensitive. A dejected Jansen figures to be an underperforming Jansen.
Whatever the Dodgers decide to do about Kimbrel, they will be gambling on Jansen to rediscover his old form. Jansen swore he would.
The average velocity of his trademark cutter is down to 92 mph, about a 11/2 mph slower than it was in his dominant 2017 season, according to FanGraphs Baseball.
"That's not a thing to put in your mind, man," Jansen said. "At the end of the day, it's learning how to pitch better."
In his blown save opportunity Sunday against the San Diego Padres, Jansen gave up a leadoff single to Eric Hosmer, followed by consecutive bunt hits to Manuel Margot and Wil Myers. Jansen utilized his cutter to strike out Greg Garcia and force Francisco Mejia to pop up to first base, prompting him to throw the pitch again to Hunter Renfroe. The result was a grand slam.
"I kind of got a little predictable," he said.
Then again, there was a time when Jansen could throw cutter after cutter and the opposition could do nothing about it.
"Yeah," Jansen conceded.
But Jansen thinks his greatest problem is his command, which he believes are the remnants of some bad habits he developed last season while dealing with hamstring problems.
"Instead of trying to throw hard, I have to put the ball where I want it," he said.
Jansen already has given up four home runs in 171/3 innings, an average of 2.1 home runs per nine innings. That figure was up from 1.6 last year, 0.7 in 2017 and 0.5 in 2016.
"That's being a reliever, man," he said. "You throw one inning. If I'm a starter, I can throw four more innings and get that thing down."
He emphasized that his early-season form hasn't affected him.
Sign up for our daily sports newsletter »
"Don't get me wrong," he said. "That first night, it hurts."
But, he continued, "You've got to have a strong mind. If you don't, you can't do the job. You've got to let it go."
Jansen said he understands why fans are concerned, but also wanted fans to understand why he doesn't share their worries.
"It's OK," he said. "It's a long season. They want to freak out, they need to know that I don't. I know who I am."
How the Dodgers perform in October will depend on it, regardless of whether they have Kimbrel.
Follow Dylan Hernandez on Twitter @dylanohernandez
Get our high school sports newsletter
Prep Rally is devoted to the SoCal high school sports experience, bringing you scores, stories and a behind-the-scenes look at what makes prep sports so popular.
You may occasionally receive promotional content from the Los Angeles Times.