Bill Plaschke previews game one of the NLDS between the Los Angeles Dodgers and the Arizona Diamondbacks.
This time will be different.
A mantra that has been quietly repeated throughout Los Angeles for the last couple of months has, at last, become a full-throated plea. It's October, and a city is now collectively begging its Dodgers to bust some ghosts.
This time will be special.
Can you hear the hope? If you've been watching any baseball at Chavez Ravine this summer, you certainly understand the reasons.
After four consecutive postseason failures, these Dodgers roll into the playoffs with their best chance in 29 years to advance to the World Series. They finished with the best regular-season record in Los Angeles history, the best record in baseball, and a fifth consecutive National League West championship.
They possess the best starting pitcher in the league, the best closer in the game, two of the best young players anywhere, and the most playoff experience of any team still competing.
These Dodgers seemingly have everything, including a mandate to show their eternally loyal yet forever frustrated fans that they have shed the nasty baggage of previous autumns. If they can't finally find their way into the Fall Classic, it will be a classic fall. If this group can't do it now, then when?
This time they'll survive.
They should. If they can't win the seven games required to reach the World Series, then something has gone terribly wrong. If they fail to win a division series that has vexed them twice, and a league championship series that flattened them twice, then the failure will loom as large as this summer's rousing triumphs.
They don't need to win a World Series championship for this to be considered a successful season, but they need to be one of the two teams competing for one, because that is the next step in their evolution, and the only step that matters.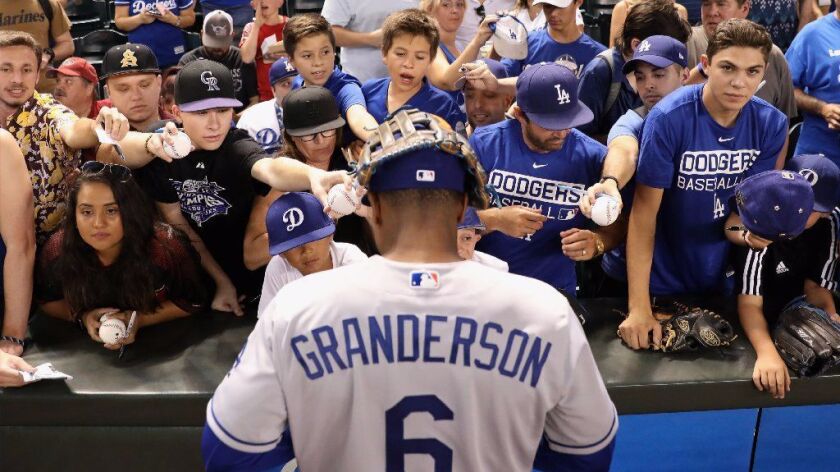 This time there will be no excuses.
There shouldn't be. The city has heard enough. The fans have endured enough.
After four years of depriving more than half of Los Angeles of their televised games because of a money grab partially designed to build a World Series team, Guggenheim Baseball Management needs to produce that team.
In a clubhouse that has rarely worked so well, with a lineup that has never clicked so consistently, with an age and contract expiration date on all of it, the Dodgers need to show they are that team.
The roster built by Andrew Friedman and Farhan Zaidi has taken away some of those excuses. The experience of those last four postseasons — twice coming within two wins of the World Series — have dissolved the other ones.
Asked if being eliminated before the World Series would mark this season as a failure, manager Dave Roberts acknowledged, "I don't know if failure is the word … it would be extreme disappointment. … Right now we've got a good feeling in the clubhouse … and we understand it's been almost three decades since Dodgers won the World Series.''
Roberts implied that the drought bugs the team as much as it bugs the city, saying, "I don't want to say there's a chip on our shoulders, but it's a confident group. … When you play for the Dodgers and you haven't won in a while, you've won the division five years in a row and haven't won a ring, it's a challenge you have to embrace. … You can't run from it.''
The Dodgers won't run from this, and the fans won't let them. There is real hope because, well, there should be real hope. The voices heard around town are not coming from a place of blind idealism, but one of reasonable expectation.
This time, everyone prays, won't be like the last four times.
This time, Clayton Kershaw has it figured out.
He does. The game's best pitcher chased away most of those postseason demons last October, remember? Before losing to the destined Chicago Cubs in an elimination game, Kershaw helped the team to victories in all four of his postseason appearances, including his monumental two-out save on one day of rest in the deciding Game 5 in Washington against the Nationals. Along the way, he had 29 strikeouts and just four walks while showing a big-game swagger.
And for once, Kershaw won't have to pitch on short rest. Friedman and Zaidi made certain of that when they acquired Yu Darvish from the Texas Rangers before the trade deadline, giving the Dodgers four legitimate postseason starters, including Rich Hill and All-Star Alex Wood.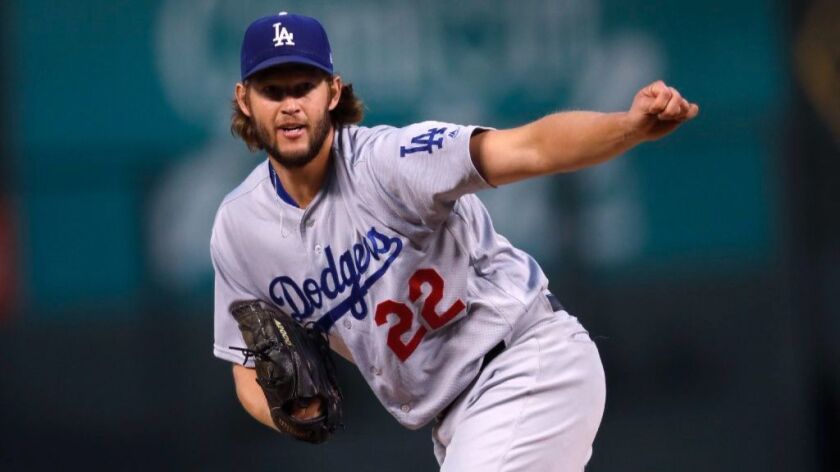 This time, Corey Seager will remember to cover third base.
It seems like ages ago when Seager ended his initial Dodgers season by failing to cover third in a deciding play of a Game 5 NLDS elimination loss to the New York Mets. Seager has become the most important player in the lineup, witness this summer's Dodgers 1-16 skid coinciding with his elbow injury.
Seager, who finished in the top 15 in the league in wins above replacement, says he's ready. The other great young Dodger, Cody Bellinger, finished second in the league with 39 homers and is clearly ready. Justin Turner was the league's third-leading hitter. Chase Utley makes every smart play at second base. Austin Barnes has been a revelation at catcher.
This time, Yasiel Puig won't strike out every time.
Remember when Puig struck out in seven consecutive postseason plate appearances against the St. Louis Cardinals in 2014? He's grown up, even if he still misses the occasional batting practice or runs into the occasional game-ending out.
Puig finished second on the team in homers, third in runs batted in, and has become a Gold Glove defender in right field. His production finally outweighs his distractions. In the other outfield spots, Chris Taylor catches everything and gives the team great at-bats, and there is still hope that struggling Curtis Granderson can use his October experience to fight out of his Dodgers-long slump.
This time, there will be no Jonathan Broxton.
Kenley Jansen has dulled the October memories of Matt Stairs going deep against one of his predecessors. In 17 postseason appearances, the closer has 35 strikeouts and only two walks with a 2.66 ERA.
More important, he has shown he can shorten the bridge from the starters by pitching more than one inning. Last October, he had one six-out save and one five-out save, and that's huge when your alternative could be, you know, Pedro Baez.
Actually, Jansen is backed by what statistically is the league's best bullpen, which, featuring setup man Brandon Morrow, held opposing hitters to a league-low .222 average
This time … this time … this time …
Yeah, it's time.
Get more of Bill Plaschke's work and follow him on Twitter @BillPlaschke
ALSO
Dodgers struggle to balance Corey Seager's zeal for playing with team's concern for rest
The L.A. Kings will honor employee Christiana Duarte, one of the victims of the Las Vegas massacre
---