On Horse Racing: If Donworth wins Big 'Cap, his team will feel like a million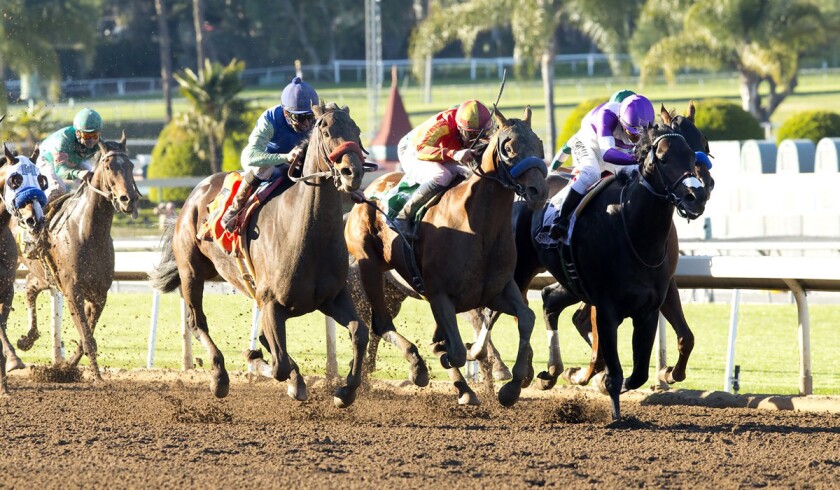 Dennis O'Neill arrived at Keeneland's November breeding stock sale last year with several missions, but one in particular. There was a lightly raced 3-year-old colt with no graded stakes wins who looked as if he had a very good future.
Owner Paul Reddam, who has Dennis' brother Doug train all his horses, was in a good mood because one of his 2-year-olds — Nyquist — had won the Breeders' Cup Juvenile less than two weeks earlier.
But the 3-year-old had a problem with a chip in his knee, so Dennis did his due diligence. All was good, and he told Reddam it probably would cost $800,000 to $900,000 to get the horse. Reddam's instructions: Don't go over $800,000.
So, when hip number 3324, also known as Donworth, walked into the ring on the ninth day of the sales, Dennis was ready. The bidding started and quickly stopped at $550,000.
Delighted at the bargain, Dennis called Reddam.
"Well, you must have screwed up this one," Reddam said, with a splash of mirth. "Obviously, you missed something."
If you listen to Doug and Dennis O'Neill, it will become apparent Saturday that nothing was missed when Donworth runs in the $1-million Santa Anita Handicap, the richest non-Breeders' Cup race at the track this year.
The favorite will be Effinex, a 5-year-old who finished second to Triple Crown winner American Pharoah in last year's Breeders' Cup Classic. The horse has shipped from the East Coast, where he has won seven of 20 starts. Donworth has won two of five races.
This year's Big 'Cap doesn't have the star power of the past. The race has been won by Seabiscuit (1940), Round Table (1958), Affirmed (1979), Spectacular Bid (1980), John Henry (1981-82), Lava Man (2006-07) and last year by Shared Belief.
The $10-million Dubai World Cup on March 26 has drawn some of the top older horses, such as California Chrome and Hoppertunity. First place in the world's richest race is $6 million, with $2 million for second and $1 million for third.
Dennis factors in this new racing landscape when looking for horses.
"One of the things we do is look for divisions that we think are kind of weak, and we thought distance older horses was one of those," Dennis said. "With California Chrome going overseas, I knew there was an opening for a horse like this."
Donworth ran his first race for Team O'Neill on Feb. 6 in the San Antonio Stakes at Santa Anita, finishing a game third in a race won by Hoppertunity.
"Paul and I were not on the same page to run that 1-1/8 mile race after such a long layoff," Dennis said. "I wanted to put him in an allowance race, but Paul wanted to shoot for that spot."
Reddam won, because he can.
Next was deciding whether to keep Donworth home or send him to Dubai.
"We talked about Dubai, but we only had one race," Reddam said. "Doug especially thought it would be really unfair to run him there, so we made a group decision to stay home.
"It was the conservative move, which we're not known for. If they had tried to talk me into Dubai, I would have probably gone for it."
Saturday's race at Santa Anita is a handicap, meaning the racing secretary assigns different weights to each horse. Effinex must carry 123 pounds, with Donworth getting a six-pound advantage at 117.
This brings up even more divergent views.
"It doesn't make sense with 1,000-pound animals, but a few pounds can slow one down because it's dead weight," Doug O'Neill said.
Reddam sees it differently.
"It's the most overrated part of handicapping," he said. "Horses don't run bigger speed figures with fewer pounds."
Any disagreements between Reddam and the O'Neills can only be viewed in the best of terms.
Dennis bought I'll Have Another, who won the 2012 Kentucky Derby and Preakness, for Reddam. He also bought Nyquist, undefeated and high on the list of Kentucky Derby contenders. Doug remains his trainer.
Reddam doesn't really know Donworth like I'll Have Another or Nyquist.
"I don't think I have that special emotional feeling for him yet," Reddam said. "But if he wins the Big 'Cap, we'll fall in love right after that."
john.cherwa@latimes.com
---
Get our high school sports newsletter
Prep Rally is devoted to the SoCal high school sports experience, bringing you scores, stories and a behind-the-scenes look at what makes prep sports so popular.
You may occasionally receive promotional content from the Los Angeles Times.