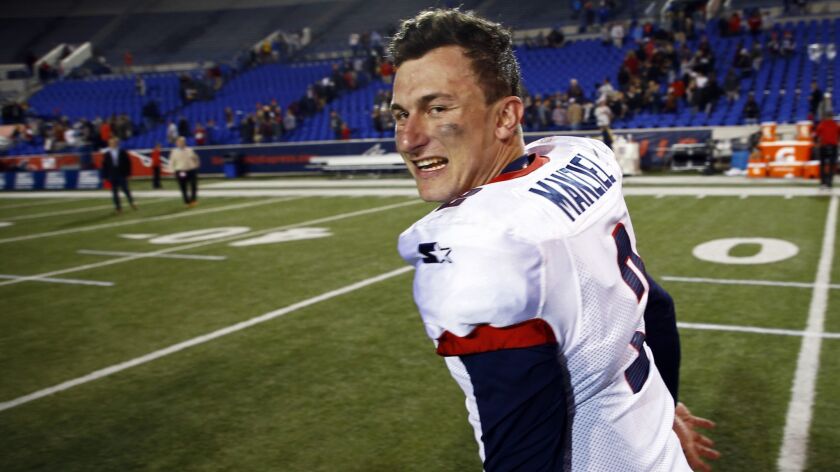 Johnny Manziel wasted no time in dropping a bombshell during an interview Monday on the "Dan Patrick Show."
He did it right after Patrick said, "Good morning, Johnny. How are you?"
After returning the greeting, Manziel informed the host: "I got a little update for you — I actually go by John these days."
Whoa.
It was Johnny Football, not John Football, who won the Heisman Trophy with Texas A&M and crashed and burned in the NFL amid all kinds of crazy partying and off-field troubles.
More recently, the "-ny" was still attached to his name during a stint in the CFL before being barred from that league and another in the AAF before that league shut down operations last week.
And now we reprogram our brains and start calling him John?
"I'm just kind of turning over the page and moving forward a little bit," he told Patrick.
Sign up for our daily sports newsletter »
Fair enough. As noted above, Manziel has a lot he's trying to leave behind him as he attempts to "get back to what I feel like I was, a little bit of a surgeon with a football in my hand."
He told Patrick, "I'm going to continue to keep my head down and just keep working on what matters most to me, and that's football."
Regarding the slight name change, Patrick asked, "So you're all grown up?"
Manziel answered, "Getting there, I guess."
Twitter: @chewkiii
---