Letters: Fans say goodbye to Mike Scioscia in their own way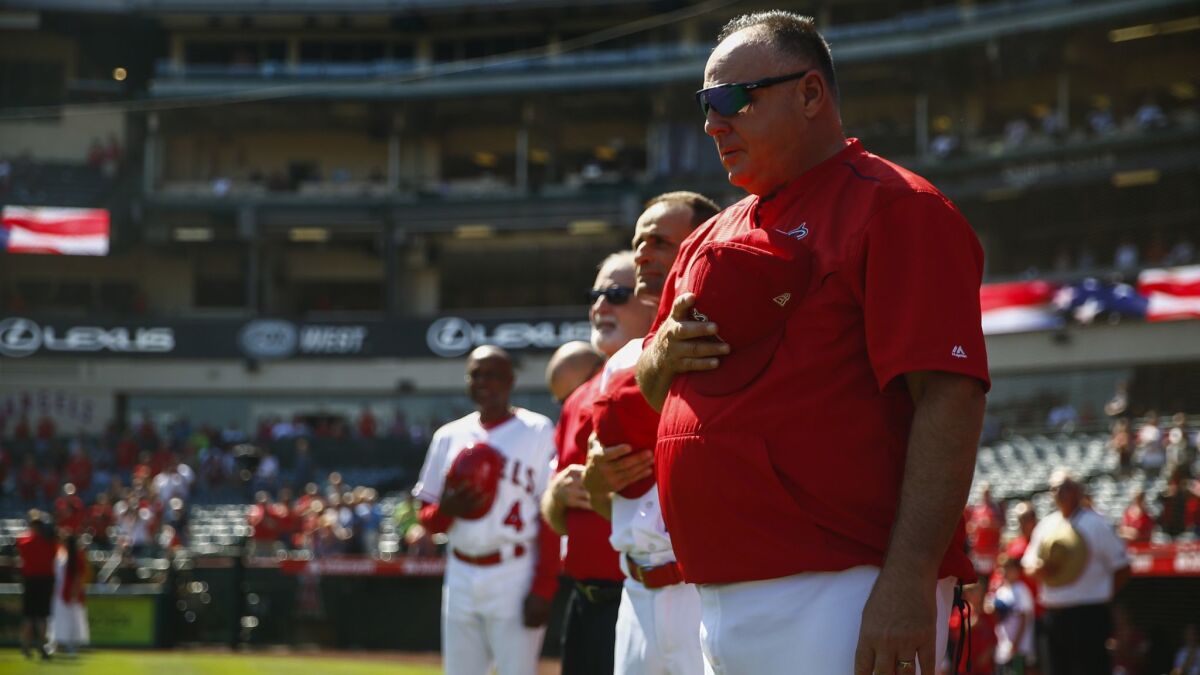 Thank you, Mike Scioscia, for 19 years of class, intelligence, patience and goodness. I was hoping that you would change your mind and stay at the helm of the Angels. My only regret for you is that you weren't given the players to succeed. It's like asking someone to build a house but not furnishing the necessary tools to complete the job.
Bob Sands
La Habra
::
Mike Scioscia took the Angels from pretenders to contenders and Arte Moreno took them from contenders back to pretenders.
Eddie Dawes
Hacienda Heights
::
What a disappointing Angels season. A team with a lame-duck manager, a few superb players, a gaggle of mostly minor leaguers, a $33-million aging anchor, and an owner nobody can figure out.
Joe Bonino
Glendale
::
Really? The Angels are considering the likes of Eric Chavez, Dino Ebel, various bench coaches and special assistants, Brad Ausmus, Joe Espada, Josh Paul ... who have been groomed and brainwashed by Mike Scioscia and Billy Eppler. Not a single word about Dusty Baker, Joe Girardi, or even Buck Showalter.
If this happens, it's going to be a very long time before another postseason comes along at Angel Stadium.
Steven DeMont
Orange
::
In last Friday night's game, the Angels' starting pitcher, Jaime Barria, had a five-run lead in the top of the fifth inning, pitching a no-hitter and had walked two men after two outs and what did Mike Scioscia do? He pulls Barria before he could qualify for the victory.
Don't let the door hit you on the way out, Mike.
Ken Blake
Brea
Feeling the Blues
I am very happy for the Dodgers and their two most recent achievements. But act like you've been there before. All of the beer and champagne going down the drain is ridiculous. Have a short toast for your accomplishment and move on. The money spent on the alcohol can and should be donated to charity.
Russell Morgan
Carson
::
After the Lakers gave a downward-sliding Kobe Bryant $50 million for his last two years, thus preventing the Lakers from adding pieces to help ensure a smooth transition, the Dodgers, with a self-imposed spending limit, should not handicap themselves by giving Clayton Kershaw any more than the $65 million he's still owed. All Dodgers fans love the guy, but six consecutive division championships are no substitute for 30 years without a World Series ring.
Allan Kandel
Los Angeles
::
Jorge Castillo's article on Kenley Jansen states: "His FanGraphs WAR plummeted from 3.6 to 0.4."
Forgive my ignorance, but what the heck is that??
Felice Klein Feinstein 
Northridge 
::
The Dodgers won the West despite Kenley "Home Run" Jansen. If Dave Roberts brings in his "All-Star closer" with less than a two-run lead, maybe Andrew Friedman should bring in Mike Scioscia.
Roy Reel
Culver City
::
If the Dodgers go all the way this year I have a sleeper candidate for MVP.
If Rich Hill contributes to the playoff run it will be the player who spent time watching film and was able to alert Hill that he was tipping his pitches and allow Hill to correct his delivery we will have to thank. If Manny Machado is a big factor in the playoff run it will be the player who took him aside and talked to him about hustle who turned the tables.
This player might not even play in the playoffs or ever again in his Hall of Fame career, but I certainly hope he is retained by the Dodgers because what he knows about baseball and about people will make him a huge asset moving forward.
Because he was in the on-deck circle when Game 163 ended and did not get his standing ovation from the Dodger Stadium crowd, let me say it loud and clear: Thank you, Chase Utley!
Larry Weiner
Culver City
College education
Two simple equations that best sum up our local college football teams thus far:
5-Star Recruits x 3-Star Coach = Mediocrity
3-Star Recruits x 5-Star Coach = Abysmal
Larry Herrera
Redondo Beach
::
After only four games this Bruins football team is already Bawl Eligible.
Wes Wellman
Santa Monica
::
In the wake of a 38-16 loss to Colorado in which the UCLA quarterback completed 17 of 35 passes for 138 yards and consistently threw either behind or over the heads of receivers, coach Chip Kelly proclaimed that even though veteran Wilton Speight was available, Dorian Thompson-Robinson "gave us the best chance tonight."
Is there any chance Kelly took this job because UCLA is heralded for its brain research?
Mario Valvo
Ventura
::
Either Chip Kelly still fancies himself as an NFL coach, where losing every game guarantees you the first pick in the draft, or the Bruins really stink.
Steve Ross
Beverly Hills
::
Unless USC ever puts up enough dough to lure a Nick Saban or David Shaw as their coach, I can only envision the Trojans as a fringe team moving forward. Clay Helton seems to be a nice man, but his teams are never disciplined or strong enough to compete against the heavyweights throughout the nation.
Chris Sorce
Fountain Valley
Mass appeal
Loved the picture of a bulked-up Kyle Kuzma. The headline goes on to say that he "may earn a new role as backup center." Given the tats on the front, can hardly wait to see the backup's back!
Ralph Martinez
Arcadia
::
Kuzma's photo shows why Kuzma is a marked man this season for the Lakers. 
Mark Sherwin
Los Angeles
Grid locked
In a recent Chargers report, The Times chronicled the suspension and return of Corey Liuget. It included the fact that during his suspension he met with young people, including some who were in juvenile detention, talking about life challenges.
That was commendable. But the picture of Liuget was not so commendable, as it clearly showed Liuget's right hand firmly attached to the facemask of Arizona quarterback Josh Rosen.
Dick Terrill
Torrance
::
Why are the Dallas Cowboys games aired every week on local TV? It would be great to see other teams get air time.
Bonnie Lynn Lawrie
Cerritos
Fore!
What is the definition of insanity?
Continuing to pick Tiger Woods and Phil Mickelson for the American Ryder Cup Team and expecting them to win a fourball or alternate-shot match.
Stan Shirai
Torrance
::
We shouldn't judge the U.S. Ryder Cup team too harshly. After all, who in their right mind goes to Paris for the golf?
Brian Lipson
Beverly Hills
::
The Los Angeles Times welcomes expressions of all views. Letters should be brief and become the property of The Times. They may be edited and republished in any format. Each must include a valid mailing address and telephone number. Pseudonyms will not be used.
Mail: Sports Viewpoint
Los Angeles Times
2300 E. Imperial Hwy.
El Segundo, CA 90245
Email:
sports@latimes.com
---
Get our high school sports newsletter
Prep Rally is devoted to the SoCal high school sports experience, bringing you scores, stories and a behind-the-scenes look at what makes prep sports so popular.
You may occasionally receive promotional content from the Los Angeles Times.